Busting This Intel Corporation Myth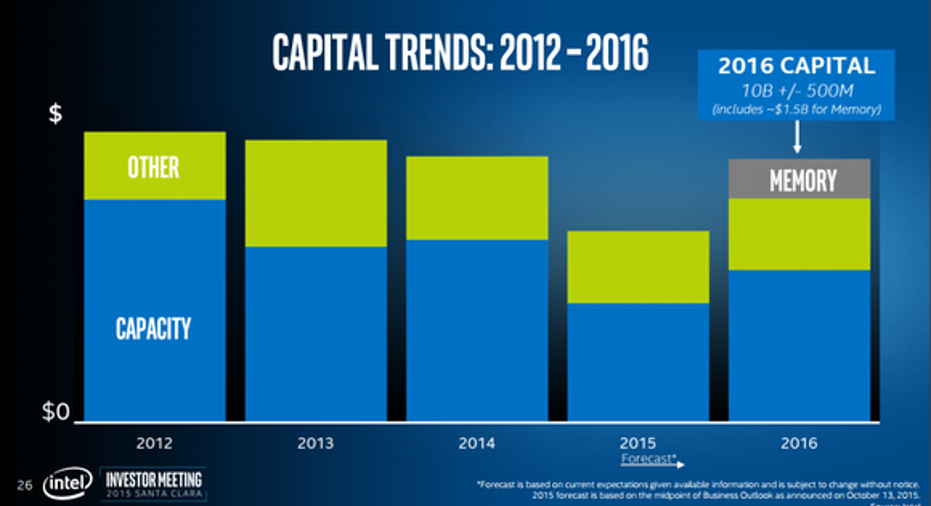 Image source: Intel.
The year 2012 wasn't great for microprocessor giant Intel (NASDAQ: INTC). The company, which at the time derived 64% of its revenue from the sale of chips that go into personal computers, was blindsided as sales of personal computers unexpectedly began to slump.
The cause of this deterioration was widely believed to be due to potential personal computer customers opting instead to purchase tablets like Apple's iPad.
The significant shortfall in demand for Intel's chips led the chip-maker to incur what are called "excess capacity charges" as it cut production of PC chips. Indeed, according to Intel's then-Chief Financial Officer Stacy Smith, factory utilization during the company's fourth quarter 2012 earnings call were "below 50%."
Remember, it costs billions of dollars to build these chip factories. The costs of these factories shows up in the income statement as depreciation, which adds to a company's cost-of-goods sold. The more revenue that a company can pump out of a factory in a given quarter, the higher the company's gross margins should be as those fixed depreciation costs are spread across a greater number of units.
So, when a company's factories are sitting there half-idle, the company is still bearing the full brunt of those depreciation charges while bringing in much lower revenue. Obviously, excess capacity isn't good.
To this day, there are still some investors who believe that Intel's chip manufacturing facilities are substantially under-utilized and that the company needs to succeed in new growth markets in order to fill those factories.
That's just not true.
Some background
Capacity planning for a given manufacturing technology is something that is done well in advance of the start of production. Indeed, on Intel's January 2013 earnings call, Smith told investors that the money that the company would be spending on capital equipment throughout 2013 would be in support of "the peak of 14-nanometer" unit demand as well as the "start of the ramp of the 10 [nanometer technology]."
This means that it's up to management to try to make their best guesses today as to what kind of unit demand it will see at least a year out.
Forecasting these things correctly is tough, especially when the majority of a company's unit demand is expected to come from highly volatile market segments. To make things even harder, there can be very severe consequences to either substantially under-shooting or over-shooting demand expectations.
Over-shooting (at least by too much -- Intel has indicated in the past that it intentionally builds some extra capacity, which Smith referred to as "white space," in order to handle potentially better-than-expected demand) means unproductive (and thus costly) capacity.
This hurts margins and ultimately eats into profits.
Under-shooting means that the company won't be able to satisfy all of the demand for its products, which means revenue (and profits) left on the table.
With that in mind, we're now in a good position to understand why the "excess capacity myth" is just that -- a myth.
Intel has brought down capacity substantially
In the table below, I show Intel's capital expenditures from 2012 through 2015 as well as its projected capital expenditures in 2016 for logic products (Intel says it will be spending about $1.5 billion on non-volatile memory related production capacity, so I've excluded this):
Data source: Intel.
Notice that there has been a clear trend downward in the company's capital spending over the last several years. This reduction in spending reflects the reality that Intel is selling far fewer personal computer processors today than it used to, so it doesn't need to build out as much capacity.
Further, if we take a look at the following slide from Intel's 2015 investor meeting, we see that the reductions in overall capital spending actually mask the true reduction in logic capacity related spending:
Image source: Intel.
Intel's capacity related spending dropped sharply in 2013 relative to 2012 (when it became clear that tablets were eating into the personal computer market) and stayed about flat in 2014. Intel then reported a large drop in capacity spending in 2015 and is expecting to see a modest increase in 2016.
The trend, however, is clear: spending on capacity has come down quite a bit over the last several years.
This reduction in capacity-related spending is indicative of Intel right-sizing the amount of capacity it puts in to make sure that it can keep its factories at reasonably high utilization rates. And, given that the company's gross profit margins over the last couple of years have been quite high (higher utilization usually means better margins, lower utilization hurts margins), it's quite unlikely that Intel has substantial amounts of capacity sitting there idle.
A secret billion-dollar stock opportunity The world's biggest tech company forgot to show you something, but a few Wall Street analysts and the Fool didn't miss a beat: There's a small company that's powering their brand-new gadgets and the coming revolution in technology. And we think its stock price has nearly unlimited room to run for early in-the-know investors! To be one of them, just click here.
Ashraf Eassa owns shares of Intel. The Motley Fool owns shares of and recommends Apple. The Motley Fool has the following options: long January 2018 $90 calls and short January 2018 $95 calls on Apple. The Motley Fool recommends Intel. Try any of our Foolish newsletter services free for 30 days. We Fools may not all hold the same opinions, but we all believe that considering a diverse range of insights makes us better investors. The Motley Fool has a disclosure policy.