Burger King Stock Is So Hot That It's Flame-Broiled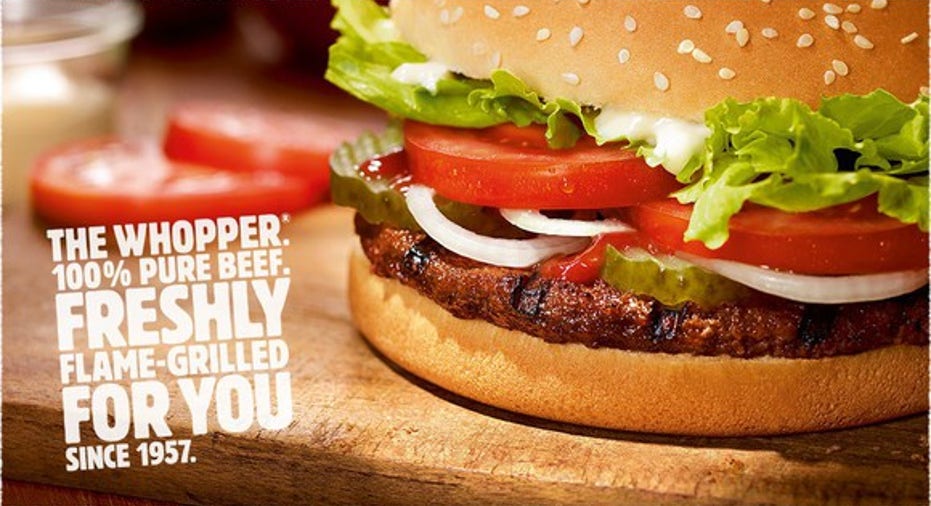 Shares of Burger King parentRestaurant Brands International(NYSE: QSR)jumped 5% on Monday after posting encouraging financial results, and this morning a few analysts are getting in on the new normal by propping their price targets higher.
Restaurant Brands International had a strong fourth quarter. Revenue rose 5% as expansion and positive comps at both its Burger King and Tim Hortons concepts helped push the top line higher.Adjusted earnings soared 38% to $0.44 a share.
Analysts were only forecasting an adjusted profit of $0.42 a share, but Restaurant Brands International making Wall Street pros look like low-ballers is not an unusual feat. It had beaten analyst bottom-line estimates by 7.5% or better in each of the four previous quarters, so this period's 5% beat is a pretty ho-hum event.
Comps rose 2.8% at Burger King, an impressive achievement compared to many of its burger-flipping rivals that struggled to grow sales at the unit level. Burger King's accomplishment is even more noteworthy because it follows a 3.9% pop in same-restaurant sales during the prior year's fourth quarter. Put another way, Burger King's comps for the holiday quarter have risen 6.8% over the past two years.
Tim Hortons saw its comps rise a mere 0.2%, but that's stacked up against a 6.3% spike in 2015's fourth quarter.
Image source: Burger King.
Home of the Whopper
A few analysts are pushing their price targets on Restaurant Brands International higher on Tuesday morning, following Monday's strong showing.
Cowen's Andrew Charles feels that the brisk pace of unit openings will continue to prop results -- and the stock -- higher. His price target on Restaurant Brands International is going from $43 to $51.
Credit Suisse analyst Jason West is pushing his price goal from $45 to $53. He cites a Reuters report yesterday, claiming that Restaurant Brands International recently approached Popeyes Louisiana Kitchen (NASDAQ: PLKI) about a potential acquisition. He has a neutral rating on the stock, but is intrigued by the possibility of Restaurant Brands International improving the pace of expansion at Popeyes and the realized cost savings along the way. The Popeyes chatter was being debunked by some media outlets on Tuesday.
Dennis Geiger at UBS raised his price target from $55 to $60. He feels that momentum at Burger King and new sales initiatives at Tim Hortons should continue to serve the parent company well.
Burger King is making things work, a big deal since it accounts for the lion's share of Restaurant Brands International's business at 74% of the parent company's systemwide sales in 2016. Burger King may be seen as this edgy player dabbling in short-lived Frankenfoods includingMac n' Cheetosand theWhopperito, but at the end of the day it's finding a way to keep customers coming.
10 stocks we like better than Restaurant Brands InternationalWhen investing geniuses David and Tom Gardner have a stock tip, it can pay to listen. After all, the newsletter they have run for over a decade, Motley Fool Stock Advisor, has tripled the market.*
David and Tom just revealed what they believe are the 10 best stocks for investors to buy right now... and Restaurant Brands International wasn't one of them! That's right -- they think these 10 stocks are even better buys.
Click here to learn about these picks!
*Stock Advisor returns as of February 6, 2017
Rick Munarriz has no position in any stocks mentioned. The Motley Fool recommends Popeyes Louisiana Kitchen. The Motley Fool has a disclosure policy.