Bulls Take Back the Reins; Dow Surges 180 Points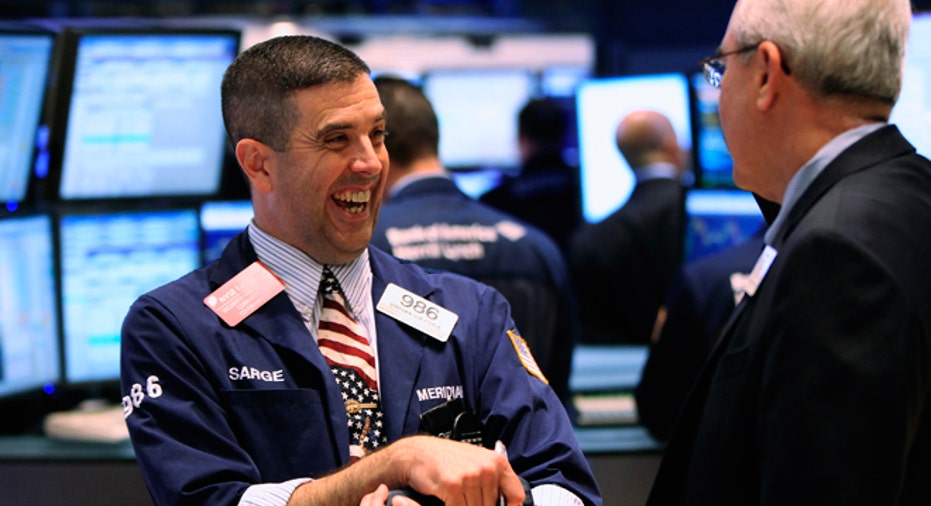 FOX Business: The Power to Prosper
Making an abrupt turnaround, Wall Street has powered higher over the last two sessions as traders have grown more hopeful about the prospects of more Fed easing and have adopted a brighter outlook for earnings season.
Today's Markets
The Dow Jones Industrial Average rallied 181 points, or 1.4%, to 12987, the S&P 500 climbed 18.9 points, or 1.4%, to 1388 and the Nasdaq Composite jumped 39 points, or 1.3%, to 3056.
It's been an unusually volatile week on Wall Street. The markets sold off on Monday and Tuesday amid concerns about the U.S. economy and the debt situation in Europe. However, they have made a powerful rebound over the past two trading days, with the broad S&P 500 soaring 2.1% over the period.
Cyclical stocks have been leading the gains, while traditional defensive plays like utilities and consumer staples have missed out on much of the rally. Indeed, energy, basic materials and industrial shares were the best performers on Thursday. Looking at the Dow, Hewlett-Packard (NYSE:HPQ), Caterpillar (NYSE:CAT), Bank of America (NYSE:BAC) and Alcoa (NYSE:AA) posted the biggest gains.
Volatility plunged close to 12% and traders once again ditched the safety of U.S. Treasury bonds. The yield on the 10-year note, in fact, has jumped up 0.063-percentage points in the past two days.
More Fed Easing on the Way?
Market participants said they were focusing on commentary from Federal Reserve Vice Chair Janet Yellen made after the end of trading on Wednesday. While Fed officials speak fairly frequently, Fed watchers say Yellen's senior position on the central bank's monetary-policy setting board means she has considerable influence on decisions made.
Similar to statements from Chairman Bernanke, Yellen suggested: "further easing actions could be warranted if the recovery proceeds at a slower-than-expected pace, while a significant acceleration in the pace of recovery could call for an earlier beginning to the process of policy firming."
Analysts at Nomura wrote in a note to clients following the speech that while Yellen didn't suggest another round of easing was imminent, "she makes a strong case for maintaining a very accommodative policy for the foreseeable future."
Data Deluge
Traders also had a deluge of data to parse through on the day.
The U.S. trade gap narrowed far more than economists had expected in February. The deficit fell to $46.03 billion from $52.52 billion the month prior. Exports hit a record high, while imports edged slightly lower. While the report is a lagging indicator, it will factor directly into first-quarter economic growth readings. The smaller the deficit, the less it trims from GDP.
Inflation at the producer level held steady in March from the month prior, compared to expectations of a 0.3% increase. Excluding the food and energy components, prices were up 0.3%, a bigger gain than the 0.2% economists forecast.
First-time claims for unemployment benefits jumped to the highest level since late January last week. Jobless claims hit 380,000 from an upwardly revised 367,000 the week prior. Claims were expected to fall to 355,000 from an initially reported 357,000.
The labor market has come under close scrutiny after the jobs report for March showed a much weaker-than-expected increase in payrolls.
On the corporate front, Google (NASDAQ:GOOG) is set to report its earnings after the closing bell. Analysts are expecting the search giant to post first-quarter earnings of $9.65 a share on sales of $8.1 billion. Sony (NYSE:SNE) chief executive Kazuo Hirai revealed his plan to revive the ailing Japanese electronics company, which will involve slashing 10,000 jobs and leaning out struggling internal divisions.
Energy futures were to the upside. Crude oil traded in New York rose 94 cents, or 0.92%, to $103.64 a barrel. Wholesale New York Harbor gasoline jumped 6 cents, or 1.9%, to $3.357 a gallon.
In metals, gold gained $20.30, or 1.2%, to $1,681 a troy ounce.
Foreign Markets
European blue chips climbed 0.46%, the English FTSE 100 soared 1.3% to 5710 and the German DAX rallied 1% to 6743.
In Asia, the Japanese Nikkei 225 jumped 0.7% to 9525 and the Chinese Hang Seng rallied 0.93% to 20327.