Bulls Seize the Day: Stocks Gain as Oil Stabilizes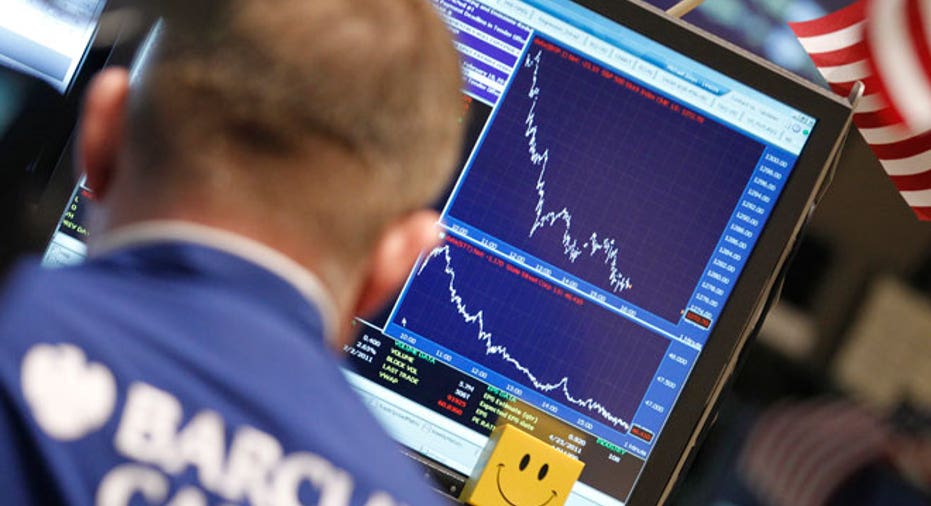 FOX Business: The Power to Prosper
Upbeat economic data, and slipping oil prices, sparked a broad rally Thursday, lifting the blue chips to their biggest percent gain since December.
Today's Markets
The Dow Jones Industrial Average climbed 191 points, or 1.59%, to 12,258, the S&P 500 gained 22.53 points, or 1.72%, to 1,330 and Nasdaq Composite Index tracked higher by 50.67 points, or 1.84%, to 2,798. The FOX 50 was up 13.11 points, or 1.41%, to 942.
Every major sector advanced, with industrial stocks (NYSE:XLI) and financials (NYSE:XLF) gaining the most. Indeed 28 out of 30 Dow components advanced Thursday. Equipment-maker Caterpillar (NYSE:CAT) and credit card company American Express (NYSE:AXP) led the charge higher, while technology-giant HP (NYSE:HPQ) and telephone company AT&T (NYSE:T) stumbled.
Initial jobless claims unexpectedly fell 20,000, to 368,000, in the prior week -- the lowest level since May 2008, the Labor Department said. Economists were expecting claims to edge higher to 400,000.
Crude settled lower by 32 cents, or 0.31%, to $101.91 a barrel, after surging 2.6% Wednesday. Prices came back from session lows after opposition forces in Libya rejected a proposal by Venezuelan President Hugo Chavez to peacefully end the strife that has pushed the oil-rich nation into turmoil.
Volatility in crude markets -- accelerated by tumult in oil-producing countries like Libya and Iran -- has been driving equities amid concerns high energy prices would dampen the pace of global economic recovery.
"The market seems to have entered a more manic phase of its cycle as the moves are getting a bit more violent in either direction following every tick in crude prices," wrote Peter Boockvar, managing director at Miller Tabak + Co. in a research note.
The jobless claims report comes a day before the release of monthly unemployment numbers from the Labor Department. The national unemployment rate stood at 9.0% in January, far higher than the so-called natural unemployment rate that economists expect in a healthy economy.
Productivity of U.S. workers was up 2.6% for the fourth quarter of 2011, beating expectations for a gain of 2.3%, according to a revised report by the Labor Department.
This report "is good news for employment growth, which is likely to accelerate over the course of the next few quarters," wrote Nariman Behravesh, chief economist at IHS Global Insight in a research note.
Also on the economic front, the European Central Bank [ECB] said Thursday that it would keep short-term interest rates at record-low 1%.  ECB President, Jean-Claude Trichet, said it "is possible" the central bank could hike rates at its next meeting.
Monetary authorities, such as the U.S. Federal Reserve and the ECB, reduce interest rates in a bid to spur economic growth.
However, with low interest rates comes the risk of increasing inflationary pressure. Recent data, including the Fed's beige book released Wednesday, suggest price inflation remains largely under control domestically.
In metals markets, gold gave back some of its steep gains from earlier in the week, tumbling $21.20, or 1.48%, to $1,416 a troy ounce, after settling at a record high Wednesday.
The U.S. dollar edged 0.13% lower against a basket of world currencies, as the euro gained 0.60% on the greenback.
Sales results among top retailers were largely higher in February, but fears about the toll high energy costs could take on already cash-strapped consumers looms for March and April. 
Overall, chain-store-sales, excluding Wal Mart, which isn't included in the report, jumped 4.2% on a year-over-year basis, the International Council of Shopping Centers said.
Macy's (NYSE:M) same-store-sales jumped 5.8%, far exceeding Wall Street's expectations for an increase of 3.7%.
Target (NYSE:TGT) said its same-store-sales edged higher by 1.8%, missing analysts' estimates for a gain of 2.2%.
Corporate Movers
Banco Santander (NYSE:STD) is reportedly mulling a joint bid for CitiFinancial, the consumer-finance unit put on the block by Citigroup (NYSE:C), according to a report by The Wall Street Journal.
Chrysler is recalling more than 248,000 vehicles because of potential engine shutoff issues.
Heinz (NYSE:HNZ) has reached a deal to take an 80% stake in Brazilian food-maker Coniexpress S.A. Industrias Alimenticias.
Valero (NYSE:VLO) was one of the top performing issues on the S&P 500 after the oil refiner boosted its outlook. The company expects to benefit from the increasing spread between the price of West Texas Intermediate crude and oil from the Gulf Coast.
Big Lots (NYSE:BIG) unveiled fourth quarter earnings of $1.46 a share, a gain of 4.5%, besting analysts' estimates of $1.38.
Wendy's / Arby's Group's (NYSE:WEN) shares surged more than 7%, after the company said it expects sales at its Wendy's fast food chain to grow, and announced plans to unload its under-performing Arby's restaurants.
Foreign Markets
Foreign markets were mostly higher Thursday.
In Europe, the English FTSE 100 jumped 1.5% to 6,005, the French CAC 40 was up 0.66% to 4,060, and the German DAX climbed 0.62% to 7,225.
Asian markets rallied as well: the Japanese Nikkei 225 increased 0.89% to 10,586 and the Chinese Hang Seng edged higher by 0.32% to 23,122.