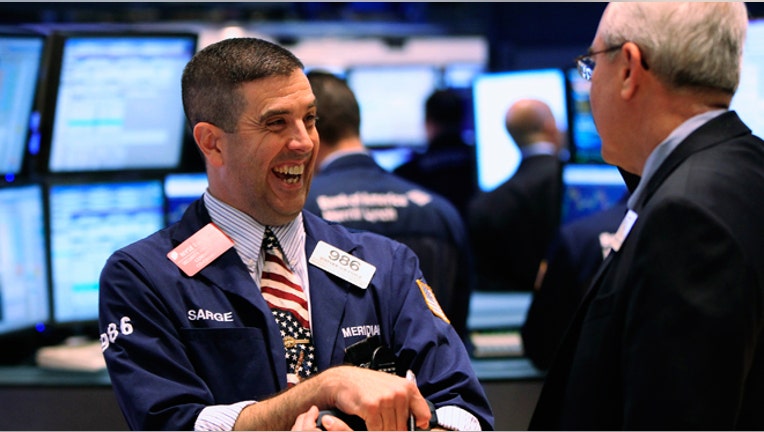 FOX Business: Capitalism Lives Here 
Stocks posted a comeback rally Monday after a dour performance last week as traders reacted to better-than-expected retail sales data and earnings from banking behemoth Citigroup.
Today's Markets
The Dow Jones Industrial Average climbed 95.4 points, or 0.72%, to 13424, the S&P 500 gained 11.5 points, or 0.81%, to 1440 and the Nasdaq Composite rose 20.1 points, or 0.66%, to 3064.
The Dow, S&P 500 and Nasdaq all slumped more than 2% last week in the worst slide since June amid continuing concerns about global growth and corporate profit prospects.
The gains were fairly broad based on Monday, with all but one major S&P 500 sector ending in the green. The health-care, financial and consumer discretionary sectors performed the best, while telecommunications was the biggest laggard. There were also about double the number of trades in advancing shares than declining shares on the New York Stock Exchange.
Earnings season was kicking into full gear on Monday.
Citigroup (NYSE:C) posted adjusted third-quarter earnings of $1.06 a share on $19.4 billion in revenues, topping Wall Street's forecast of 96 cents on $18.72 billion. Other corporate giant including Bank of America (NYSE:BAC), Goldman Sachs (NYSE:GS), General Electric (NYSE:GE) and Google (NASDAQ:GOOG) are on deck for later in the week.
Also on the corporate front, Japan's Softbank unveiled plans to buy a 70% stake in Sprint Nextel (NYSE:S) for $20.1 billion. The tie-up had been foreshadowed in several published reports last week.
The economic calendar is also quite full this week, with reports ranging the spectrum from manufacturing, to the retail and housing sectors and inflation.
The Commerce Department said U.S. retail sales rose 1.1% in September from August, more than the 0.8% expected. Excluding the auto component, sales were up 1.1%, the biggest rise since January and topping estimates of 0.6%.
Meanwhile, the New York Federal Reserve's regional manufacturing gauge rose to -6.16 in October, up from -10.41 in September. A reading of -4.55 was expected. Readings above zero point to expansion while those below indicate contraction.
Energy futures fell sharply before making a dramatic recovery. The benchmark crude oil contract traded in New York fell a penny to $91.84 a barrel. Wholesale New York Harbor gasoline dropped 1.5% to $2.85 a gallon.
In metals, gold dipped $22.10, or 1.3%, to $1,738 a troy ounce.
Analysts also pointed to two key developments as helping to lighten sentiment after last week's fall. Inflation in China cooled off slightly to 1.9% on a year-to-year basis in September from 2% in August, boosting hopes that policymakers may have more wiggle room to provide further stimulus for the world's second-biggest economy.
Then there was a report from Reuters over the weekend citing unnamed sources that said Spain may request a rescue in November. The eurozone's fourth-biggest economy is struggling with high borrowing costs, a stodgy economy and disagreements between its various regions.
Foreign Markets
The Euro Stoxx 50 gained 0.65% to 2485, the English FTSE 100 rose 0.21% to 5806 and the German DAX climbed 0.4% to 7261.
In Asia, the Japanese Nikkei 225 climbed 0.51% to 8778 and the Chinese Hang Seng edged up by 0.06% to 21148.