Bulls Are Back in Town: Stocks Surge on EU Optimism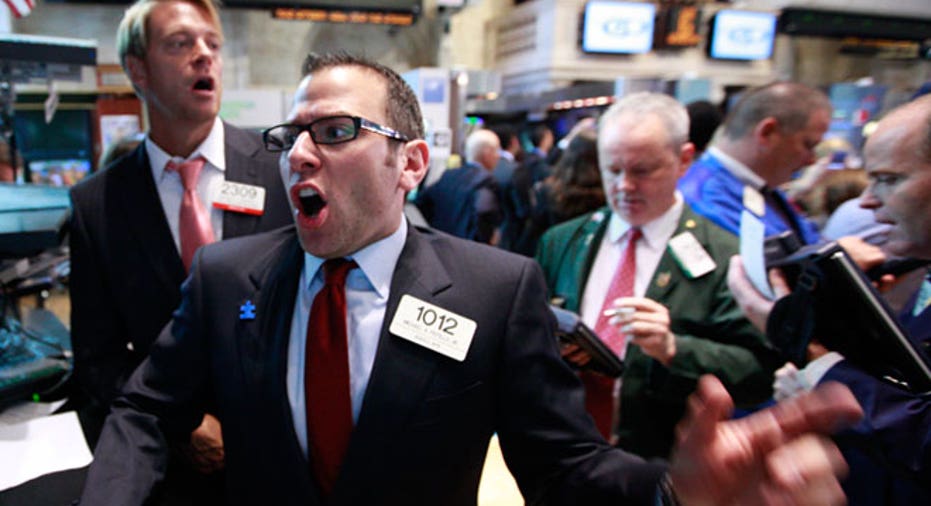 FOX Business: The Power to Prosper
After a four-session slump, Wall Street roared higher as traders cheered upbeat commentary from the European Central Bank and a round of generally positive U.S. economic data.
Today's Markets
The Dow Jones Industrial Average gained 212 points, or 1.7%, to 12888, the S&P 500 rallied 22.1 points, or 1.7%, to 1360 and the Nasdaq Composite jumped 39 points, or 1.4%, to 2893.
Every major sector posted solid gains on the day. The telecommunications sector was up by the widest margin, followed by energy, consumer discretionary and industrial shares.
European Central Bank President Mario Draghi said Thursday that he is "ready to do whatever it takes to preserve the euro" within the central bank's mandate, according to a report by Reuters. He also implied the ECB may be ready to purchase the debt of embattled eurozone countries to push their borrowing costs back down.
These remarks come on the heels of commentary from ECB governing council member Ewald Nowotny, suggesting it could make sense for the eurozone's permanent rescue fund, the European Stability Mechanism, to receive a banking license.
The moves would come as a relief to market participants who have seen the yield on Spain's 10-year bonds surge well above the 7% mark. Such high borrowing costs have prompted sovereign bailouts of countries such as Spain and Portugal.
The euro soared 0.83% to $1.2259, while the Euro Stoxx 50 surged 4.3%. Still, many analysts remained skeptical of the somewhat vague commentary.
"Boosting the ESM fire power may be required to stabilize peripheral funding pressures, but it may take further market stress for member countries to agree," analysts at Barclays wrote in a note to clients.
On the U.S. front, Wall Street is set to get another round of earnings news from big companies ahead of the opening bell.
3M (NYSE:MMM) revealed second-quarter profits of $1.66 a share, beating estimates by a penny. However, the Dow component's revenues came in at $7.5 billion, shy of the $7.79 billion Wall Street anticipated.There are also a slew of economic reports on tap.
Orders for long-lasting goods rose 1.6% in June from May, according to the Commerce Department, topping estimates for a 0.4% increase. Excluding the transportation segment, orders were down 1.1% from May, the biggest decline since January. Economists were expecting orders to be unchanged from May. The durable goods report factors into broader measures of economic growth.
New claims for unemployment benefits fell to 353,000 last week from an upwardly revised 388,000 the week prior, according to the Labor Department. Claims were expected to fall to 380,000 from an initially reported 386,000. The Labor Department said claims remain volatile as a result of issues relating to auto-plant shutdowns, according to Reuters.
A report on the housing market came as a disappointment.
Contracts for pending sales of previously-owned homes fell 1.4% in June from May, according to the National Association of Realtors. Sales were expected to rise 0.2%.
Commodities markets moved to the upside. The benchmark crude oil contract traded in New York gained 47 cents, or 0.47%, to $89.39 a barrel. Wholesale New York Harbor gasoline rose 0.75% to $2.814 a gallon.
In metals, gold climbed $7.10, or 0.44%, to $1,620 a troy ounce.
Foreign Markets
The Euro Stoxx 50 surged 4.3% to 2251, the English FTSE 100 jumped 1.4% to 5573 and the German DAX rallied 2.8% to 6583.
In Asia, the Japanese Nikkei 225 gained 0.92% to 8443 and the Chinese Hang Seng gained 0.08% to 18893.