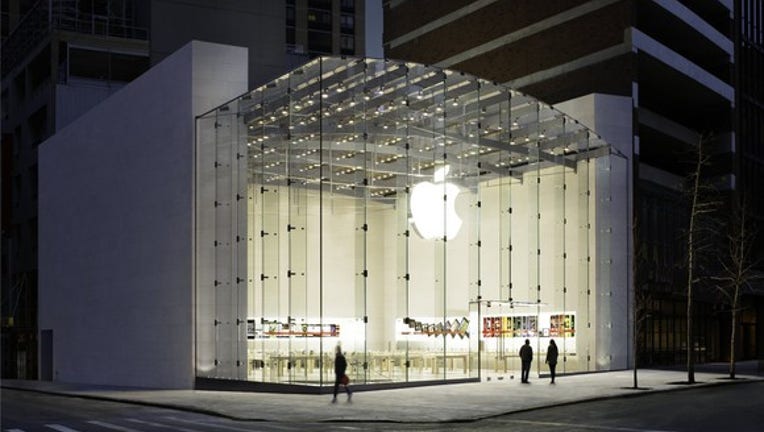 Apple's (NASDAQ: AAPL) 30% rally over the past 12 months surprised many investors, who likely assumed that waning interest in iPhones would limit its upside potential. Yet robust demand for the iPhone 7 helped Apple beat both top and bottom line expectations for three straight quarters. Its sales are now expected to rise 6% this year, compared to an 8% decline in 2016.
If you think that Apple still has room to run, you should also check out three of its top suppliers -- Cirrus Logic (NASDAQ: CRUS), Analog Devices (NASDAQ: ADI), and Skyworks Solutions (NASDAQ: SWKS) -- which could all be lifted by the tech giant's rally.
Image source: Apple.
Cirrus Logic
Cirrus Logic makes audio chips forApple devices. Two-thirds of its revenue came from Apple in fiscal 2016, making it a top supply chain bet on the iPhone 7 and the upcoming iPhone 8. Sales rose28% to $1.2 billion in 2016, and analysts anticipate another 31% growth this year.
Cirrus' heavy exposure to Apple is certainly risky, but it's gradually diversified away from its top customer -- which generated 80% of its sales back in 2014. One growing customer is Samsung, which accounted for 15% of its 2016 sales. Looking further ahead, digital headsets, MEMS mics, voice biometrics, andgrowth among China OEMs could all boost its content share and diversify its top line beyond those two top smartphone makers.
Cirrus' non-GAAP earnings dipped 10% in 2016 due to the impact of a patent deal. But looking ahead, its earnings are expected to risea whopping 82% this year. Cirrus already rallied more than 60% over the past 12 months on Apple's strength, but it still trades at just 17 times earnings -- which is well below its industry average of 75.
Analog Devices
Analog Devices sells the sensor controllers which power Apple's Force Touch feature, which senses how much pressure is applied to a touchscreen or trackpad. The feature is used on new iPhones, MacBooks, and Apple Watches. The company's "largest single customer" (widely assumed to be Apple) accounted for 12% ofits sales in 2016.
The Apple Watch. Image source: Apple.
That lower percentage makes Analog a more diversified play than Cirrus. It also provides other analog chips, amplifiers, digital signal processing products, and software to a wide variety of companies across the industrial, communications, and automotive markets. Nonetheless, analysts expect Apple's growth to help lift itssales by 44% this year, compared tonearly flat growth in 2016. Its non-GAAP earnings are expected to rise 30%.
Analog also pays a forward dividend yield of 2.2%, which is comfortably supported by a payout ratio of 57%. It's hiked that dividend annually ever since its IPO in 2012. The stock's P/E of 28 is admittedly higher than its industry average of 22, but that premium can likely be justified by its above-average growth rates.
Skyworks Solutions
Skyworks Solutions provides radio-frequency (RF) chips for the mobile, automotive, broadband, wireless infrastructure, smart home, industrial, and military markets. However, Apple is widely believed to be its biggest customer, accounting for40% of its sales in fiscal 2016. Teardowns of the iPhone 7 reveal fourSkyworks components inside, compared totwo components in the iPhone 6s.
That's whySkyworks' revenue is expected to rise 9% this year, compared to less than 1% growth last year. Non-GAAP earnings are expected to grow 11% this year. Skyworks pays a seemingly low forward dividend of 1.1%, but its low payout ratio of 23% indicate that there's plenty of room for annual hikes -- which it has done for two straight years.
Skyworks is gradually reducing its dependence on Apple by expanding into adjacent markets like connected cars, smart homes, and other Internet of Things (IoT) devices. It's also scoring more design wins with Android OEMs. Skyworks currently trades at 21 times earnings, which is slightly lower than its industry average of 22.
But beware the fate of Imagination Technologies...
If I had to buy just one of these stocks, I'd pick Analog Devices for its diversified business and solid dividend. Cirrus and Skyworks are still great Apple plays, but investors should realize that Apple could switch suppliers at anytime or develop its own first-party components to replace third-party parts.
If that happens -- just as it recently did to GPU chip designer Imagination Technologies -- their shares could be crushed. Therefore, investors should carefully weigh those risks and rewards before investing in these top Apple suppliers.
10 stocks we like better than Analog DevicesWhen investing geniuses David and Tom Gardner have a stock tip, it can pay to listen. After all, the newsletter they have run for over a decade, Motley Fool Stock Advisor, has tripled the market.*
David and Tom just revealed what they believe are the 10 best stocks for investors to buy right now and Analog Devices wasn't one of them! That's right -- they think these 10 stocks are even better buys.
Click here to learn about these picks!
*Stock Advisor returns as of April 3, 2017
Leo Sun has no position in any stocks mentioned. The Motley Fool owns shares of and recommends Apple and Skyworks Solutions. The Motley Fool has the following options: long January 2018 $90 calls on Apple, short January 2018 $95 calls on Apple, short August 2017 $87 calls on Skyworks Solutions, and short August 2017 $85 puts on Skyworks Solutions. The Motley Fool recommends Cirrus Logic. The Motley Fool has a disclosure policy.