Bull vs. Bear: Caterpillar Inc.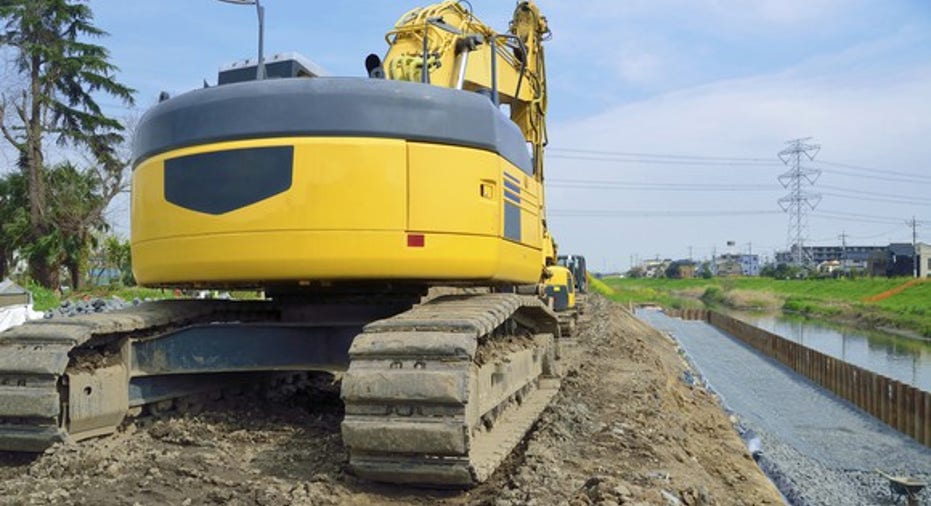 No. 3 on the "Dogs of the Dow" list for 2016, industry stalwart Caterpillar Inc. has fallen upon hard times -- and now ranks No. 2.
That may sound like a good thing, but what it means is that since the year began, Caterpillar has underperformed other large Dow dividend-paying stocks -- and as its stock price has lagged, its dividend has loomed larger.
Nor is this a recent development. While there's no denying Caterpillar pays a nice dividend -- 4.4% -- its stock is down 20% over the past year and is doing about seven times worse than the average stock on the S&P 500. But can Caterpillar turn things around and land on its feet (its many, many, teeny-tiny little feet)?
That's what we aim to find out, as two Fools lay out the bull and bear arguments on Caterpillar for you.
Some caterpillars move on tiny feet. This one rolls on tracks. (But is it rolling up or downhill?)
The bull case
Rich Smith:Let's start with the obvious: Caterpillar pays its shareholders a really good dividend. Has Caterpillar stock underperformed relative to some other big industrial stocks this year? No doubt. But even so, with a stock up nearly 4.5% this year already, if Caterpillar stock just flatlines for the rest of the year, then the gains it's made already, plus its generous 4.4% dividend yield, will add up to a respectable 8.9% total return for the year. That's not half-bad.
And Caterpillar could do even better if the stock perks up, as it very well might once more investors twig to the fact that the stock isn't nearly as expensive as it looks.
Consider: Right now, with its accounting earnings depressed, Caterpillar stock looks pretty pricey at a P/E ratio of more than 37 times. But Caterpillar boasts significantly stronger free cash flow than shows up on its income statement as "net income." Data from S&P Global Market Intelligence show that over the past year, Caterpillar generated positive free cash flow of $2.7 billion -- more than twice its reported net income. Weighed against a $41.5 billion market capitalization, that means the stock is selling for not much more than 15 times free cash flow.
Consider too that, between analysts surveyed on S&P Global projectinga 10% long-term profits growth rate at Caterpillar and the stock's 4.4% dividend yield, Caterpillar's total return -- 14.4% -- isn't that much worse than the stock's price-to-free cash flow ratio. While I wouldn't go so far as to say that Caterpillar is "cheap" today, it's getting there.
Or not. Next up, my Foolish colleague Neha Chamaria will explain why Caterpillar isn't anywhere near cheap, and why the collapsing commodities market might make its free cash flow, like its earnings, go "poof."
The bear case
Neha Chamaria: Rich presents a fair argument in favor of Caterpillar, especially considering the stock's attractive dividend yield of 4.4%. But is it worth paying a price of 15 times free cash flow for a company that's hardly expected to grow in coming years? According to Yahoo! Finance, analysts are calling for less than 1% annual growth in Caterpillar's earnings over the next five years versus an industry growth estimate of nearly 11%.
Think 1% growth is too conservative an estimate? Consider that Caterpillar's first-quarter revenue hit near six-year lows, and earnings per share slumped more than 80% from 2012 levels. Caterpillar's earnings have been hammered in recent years.
CAT EPS Diluted (Annual) data by YCharts.
There's no chance of a revival just yet, as Caterpillar expects to earn only $3 per share at midpoint in 2016. It's important for investors to understand that a rally in the prices of commodities like the one we've witnessed in recent months means little for Caterpillar until spending activity in the mining and oil and gas sectors picks up. That may not happen anytime soon. Moreover, Caterpillar will first sell out of its existing inventories at the initial stages of a recovery before getting its factories up and running again. It's going to be an uphill task maintaining cash flows in such a situation, and there's only so much the company can do to cut costs even as it shoulders a debt burden of nearly $25 billion against cash and cash equivalents worth only about $5.9 billion as of March 31, 2016.
I wouldn't be surprised to see Caterpillar shares fall further, because at this point, chances of things getting worse appear higher than those of a recovery.
Caveat investor
There you have it, folks. We've laid out the cases for and against Caterpillar. But now it's up to you to tell us who's right. Will Caterpillar turn into a beautiful butterfly, or get squashed like a bug?
Give us your best guess in the comments section below. Or even better, stack your reputation up against The Motley Fool's best and brightest, and pick Caterpillar to outperform (or underperform) on our free stock-picking service, Motley Fool CAPS.
The article Bull vs. Bear: Caterpillar Inc. originally appeared on Fool.com.
Neha Chamaria has no position in any stocks mentioned. Rich Smith has no position in any stocks mentioned. The Motley Fool has no position in any of the stocks mentioned. Try any of our Foolish newsletter services free for 30 days. We Fools may not all hold the same opinions, but we all believe that considering a diverse range of insights makes us better investors. The Motley Fool has a disclosure policy.
Copyright 1995 - 2016 The Motley Fool, LLC. All rights reserved. The Motley Fool has a disclosure policy.