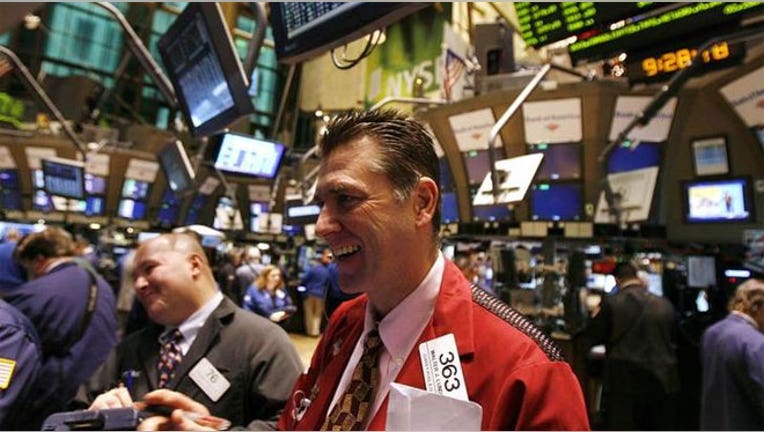 FOX Business: Capitalism Lives Here
2013 was a dazzling year for equity investors: Wall Street surged to record highs as the Fed kept the easy money flowing, corporate profits swelled and U.S. and eurozone political tensions cooled.
Today's Markets
The Dow Jones Industrial Average climbed 72.4 points, or 0.44%, to 16577, the S&P 500 gained 7.3 points, or 0.4%, to 1848 and the Nasdaq Composite advanced 22.4 points, or 0.54%, to 4177.
For the year, the Dow spiked 26.5%, the S&P 500 soared 29.6% and the Nasdaq surged 38.3%.
Both the Dow and the S&P 500 closed at their highest levels on record. It was the best year since 1997 for the S&P and best for the Dow since 1995.
Looking at the major sectors, consumer discretionary, health-care industrial and financial stocks fared the best -- zooming higher by more than 35%. Meanwhile, traditional safe-haven plays like telecommunications and utilities lagged far behind the broad markets.
The year was marked by some surprises. For one, Wall Street cheered the Federal Reserve's move to slow down its bond purchases, since the central bank smartly paired it was an easing of the forward guidance. Meanwhile, to many people's surprise, political tension in the U.S. and eurozone cooled down significantly throughout the year -- helping remove a major source of tension. At the same time, corporate profits climbed as firms cut costs.
The data calendar was actually moderate for the New Years Eve trading session.
The S&P/Case-Shiller report showed home prices in 20 major metropolitan areas rose 0.2% from September to October, missing Wall Street estimates of a 0.7% pick-up. Year-over-year, prices spiked 13.6%, slightly beating estimates of a 13% increase.
The Conference Board said consumer confidence ticked up to 78.1 in December, from an upwardly revised 72 the month prior, beating Wall Street views of an increase to 76.
The Institute for Supply Management – Chicago's PMI gauge fell in December to 59.1 from 63 in November, missing Street estimates of 61. The index fell to its lowest level since April. Readings above 50 point to expansion, while those below indicate contraction.
In commodities, U.S. crude oil futures dipped 57 cents, or 0.57%, to $98.72 a barrel. Wholesale New York Harbor gasoline dipped 0.28% to $2.78 a gallon. Gold fell $4.20, or 0.35%, to $1,200 a troy ounce.