Bulgaria pledges opportunities for Japanese firms in Balkans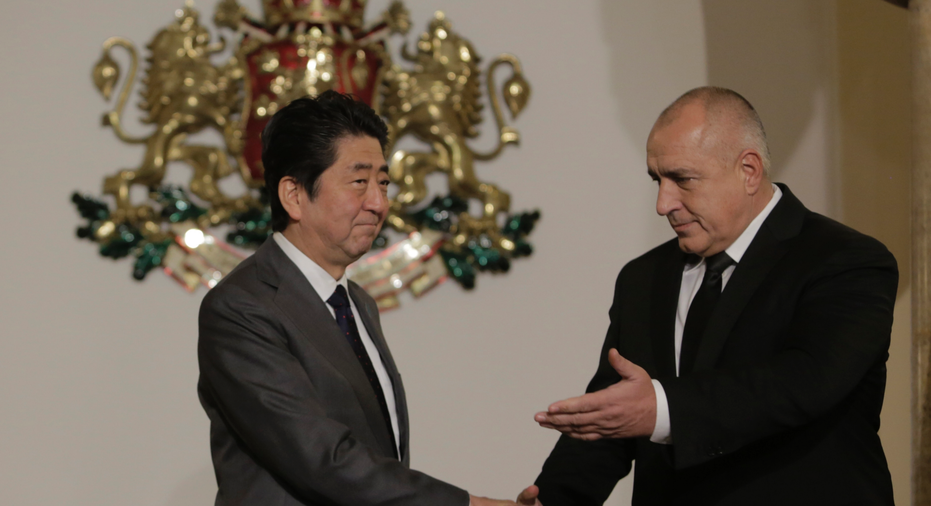 Japanese Prime Minister Shinzo Abe and Bulgarian Prime Minister Boiko Borisov promised Sunday to create opportunities for Japanese businesses in the Balkans and agreed on the need to counter the weapons threat posed by North Korea.
Abe is on a six-country European tour that makes him the first Japanese prime minister to visit the region. Before arriving in Bulgaria, he was in Estonia, Latvia and Lithuania. Serbia and Romania are his next stops. A delegation representing more than 30 Japanese companies is traveling with him.
Abe said Japan favors a united Europe, and he hailed Bulgaria's efforts to bring the countries that were part of the former Yugoslavia into the European Union. Japan is keen to beef up its presence in Eastern Europe as China bolsters its footprint there.
Borisov said options would be found for Japanese companies to implement large infrastructure projects in Bulgaria and across the Western Balkans.
Bulgaria currently holds the rotating presidency of the EU's legislative arm, the European Council. Borisov said his country will work in that role for quick ratification of the EU-Japan Economic Partnership Agreement trade deal.
Abe and Borisov agreed that close cooperation is needed on North Korea, both on Pyongyang's arms program and the status of Japanese citizens kidnapped by North Korea decades ago.
"We categorically condemn the launching by North Korea of ballistic missiles and its nuclear program. We believe firmly that all problems should be resolved on the negotiating table," Borisov told reporters.
Briefing reporters on Sunday, Japanese Foreign Ministry spokesman Norio Maruyama said both leaders stressed the necessity of maintaining pressure on North Korea.
"Both sides cannot accept a nuclear North Korea," Maruyama said.
"We would like to emphasize that this threat is an imminent threat, an unprecedented imminent threat not only to Japan but also to the international community, now that the missiles can reach this region of Europe," he said.