Buffalo Wild Wings Weathers Another Tough Quarter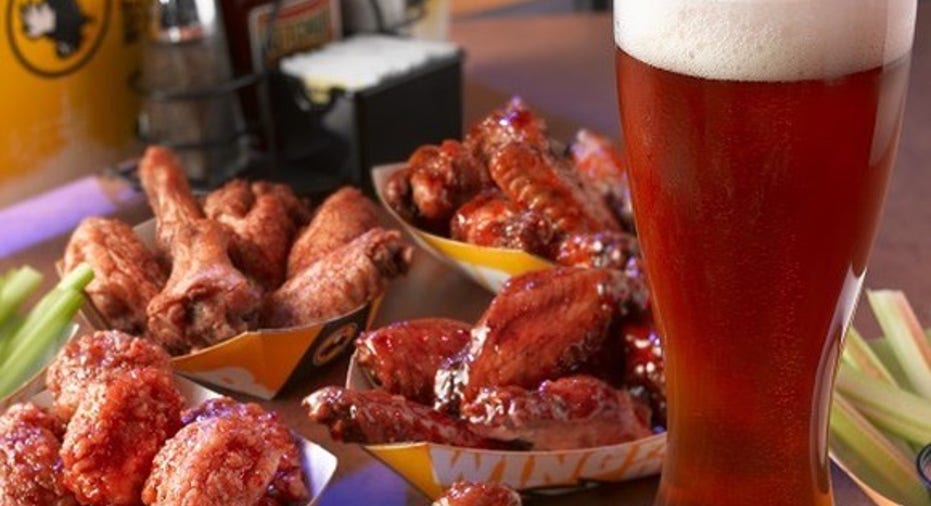 Buffalo Wild Wings(NASDAQ: BWLD)released first-quarter 2017 results on Wednesday after the market closed, including a return to same-store sales growth despite continuing headwinds for the casual dining industry. Even so, Buffalo Wild Wings followed by reducing its full-year guidance.
So let's get comfortable and take a closer look at the progress B-Dubs made to start the year, as well as what investors can expect going forward.
Image source: Buffalo Wild Wings.
Buffalo Wild Wings results: The raw numbers
Data source: Buffalo Wild Wings.
What happened this quarter?
Restaurant sales climbed 5.2%, to $509.2 million, while franchise royalties and fees rose 5%, to $25.6 million.
Same-store sales climbed 0.5% at company-owned locations, and 0.6% at franchised restaurants -- both significant improvements from last quarter's 4% and 3.9% declines at company-owned and franchised locations, respectively.
Repurchased 1,362,890 shares during the quarter for $212.3 million.
Generated cash flow from operations of $48.9 million, down 36.6% from the same year-ago period. Also generated free cash flow of $31.7 million, down from $43 million in last year's first quarter.
Cost of sales was 31.4%, up from 29.7% this time last year due to a combination of higher promotions, sales mix, and a 4.1% increase in the cost of traditional wings, to $2.05 per pound.
Ended the quarter with cash of $38.6 million, and a balance of $343 million on the company's credit facility.
Ended the quarter with 1,250 total restaurants (including Buffalo Wild Wings, R Taco, and company-owned PizzaRev locations).
Expanded the Blazin' Rewards program to nearly 1,000 restaurants (up from 480 last quarter), with the systemwide rollout scheduled to be complete next month.
Expanded third-party delivery to 180 restaurants (up from 100 last quarter), with plans to make it available in 250 company-owned locations by the end of 2017. Take-out and delivery orders represented 18.2% of company-owned restaurant sales, up from 16.6% last quarter.
What management had to say
According to Buffalo Wild Wings CEO Sally Smith:
As a result of these profit headwinds, Smith elaborated that Buffalo Wild Wings retained The Cypress Group to undergo a "thorough review" of its business that "identified areas to streamline work and improve efficiencies." Buffalo Wild Wings anticipates realizing $40 to $50 million in cost savings related to those areas over the next two years.
Looking forward
But Buffalo Wild Wings now expects 2017 same-store sales growth of 1% (the low end of previous guidance for 1% to 2% growth), and adjusted earnings per diluted share of $5.45 to $5.90 (down from $5.60 to $6.00 per share previously). Based on generally accepted accounting principles (GAAP), which most notably includes roughly $6 million to $8 million in recentactivist advisory and proxy solicitation fees,Buffalo Wild Wings' per-share earnings should be in the range of $5.20 to $5.50.
Buffalo Wild Wings also reiterated its plans for new unit development this year, including the opening of 15 new company-owned restaurants and 15 new franchised locations in the U.S., 20 franchised Buffalo Wild Wings locations internationally, and two company-owned and 12 to 15 franchised R Taco restaurants.
In the end, it's disappointing to see Buffalo Wild Wings' freshly reduced guidance, so I won't be surprised if the market bids down Buffalo Wild Wings stock in the near-term as a result.But I'm also happy to see the company's sales-driving initiatives proving effective in helping it return to same-store sales growth just as management indicated last quarter -- even if Half-Priced Wing Tuesdays is negatively affecting margins given high costs for B-Dubs' flagship menu item.Taken together with the fact its location expansion initiatives remain intact, and that its efforts to focus on cost efficiencies should leave the company better positioned when restaurant industry headwinds begin to abate, I think long-term investors should be content with where Buffalo Wild Wings stands today.
10 stocks we like better than Buffalo Wild WingsWhen investing geniuses David and Tom Gardner have a stock tip, it can pay to listen. After all, the newsletter they have run for over a decade, Motley Fool Stock Advisor, has tripled the market.*
David and Tom just revealed what they believe are the 10 best stocks for investors to buy right now... and Buffalo Wild Wings wasn't one of them! That's right -- they think these 10 stocks are even better buys.
Click here to learn about these picks!
*Stock Advisor returns as of April 3, 2017
Steve Symington owns shares of Buffalo Wild Wings. The Motley Fool owns shares of and recommends Buffalo Wild Wings. The Motley Fool has a disclosure policy.