Buffalo Wild Wings Looks Forward to Better Days Ahead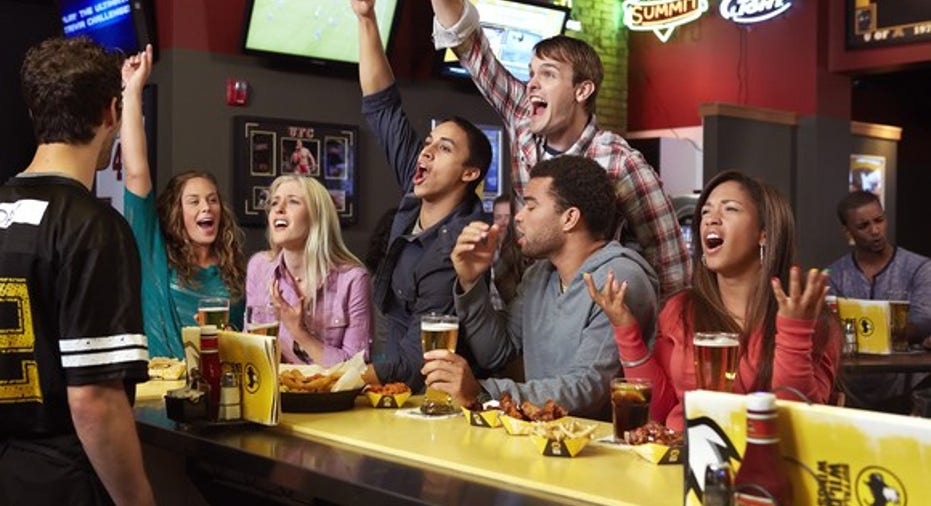 Buffalo Wild Wings(NASDAQ: BWLD)released fourth-quarter 2016 results Tuesday after the market closed. And despite its slight revenue growth still being driven entirely by new locations, shares of the wings, beer, and sports-centric restaurant chain are up modestly in Wednesday's afternoon tradingas the market digests what it had to say.
Let's have a seat, then, to see how Buffalo Wild Wings wrapped up the year, as well as what investors should expect going forward.
Image source: Buffalo Wild Wings.
Buffalo Wild Wings results: The raw numbers
| Metric | Q4 2016 | Q4 2015 | Year-Over-Year Growth |
| --- | --- | --- | --- |
| Revenue | $494.2 million | $490.2 million | 0.8% |
| Net income | $15.6 million | $25.3 million | (38.2%) |
| Earnings per share | $0.87 | $1.32 | (34.1%) |
DATA SOURCE: BUFFALO WILD WINGS.
What happened this quarter?
Revenue growth was comprised of a 0.9% year-over-year increase in company-owned restaurant sales, to $470.5 million, and a 0.4% decline in franchise royalties and fees, to $23.7 million.
Same-store sales declined 4% at company-owned restaurants, and fell 3.9% at franchised locations.
Repurchased 827,639 shares for a total of $126.9 million, bringing full-year 2016 repurchases to 1,586,533 shares, for a total of $232.7 million.
Cost of sales was 31.1% of restaurant sales, up from 29.5% in the same year-ago period driven by a 9.9% increase in traditional wing costs, to $1.99 per pound in the fourth quarter.
Cost of labor increased 90 basis points, to 31.8% of restaurant sales, as the benefit of lower Guest Experience Captain hours was more than offset by sales deleverage.
Restaurant-level profit declined 3 percentage points, to 15.6% of restaurant sales, or $73.2 million.
Cash flow from operations declined 2.5% year over year during the quarter, to $68.7 million.
Free cash flow more than doubled year over year, to $44.8 million.
Ended the year with $49.3 million in cash, and a credit facility balance of $170 million.
Subsequent to the end of the quarter, approved a $400 million increase to the company's share-repurchase program, and accelerated its goal to achieve a leverage ratio target of 1.5 times net debt to earnings before interest, taxes, depreciation, and amortization (EBITDA) by the end of 2017.
Ended the year with 1,240 total restaurants (including Buffalo Wild Wings, R Taco, and PizzaRev locations), including 631 company-owned restaurants and 609 franchised restaurants.
Expanded the Blazin' Rewards loyalty program to more than 480 locations, with the rollout to the entire Buffalo Wild Wings system set to be complete by the end of the second quarter.
Expanded third-party delivery to 100 company-owned restaurants. On average, delivery order checks are 30% higher than takeout checks.
Saw positive same-store sales for weekday lunch in Q4 thanks to the rollout of the new FastBreak Lunch program, under which lunch is free if not received in 15 minutes or less. Under the program, 99.2% of lunch orders were delivered on time.
The new Half-Price Wing Tuesday promotion has proven "effective" in driving incremental sales and traffic.
What management had to say
Buffalo Wild Wings CEO Sally Smith stated,
Looking forward
For the full year of 2017, Buffalo Wild Wings anticipates returning to same-store sales growth of 1% to 2%, while restaurant-level margin should improve 10 to 30 basis points from 2016. Free cash flow for 2017 should be in the range of $160 million to $170 million. As for new unit development this year, Buffalo Wild Wings expects to open 15 new company-owned restaurants and 15 new franchised locations in the U.S., 20 franchised Buffalo Wild Wings locations internationally, and two company-owned and 12-15 R Taco restaurants.
Buffalo Wild Wings also plans completing share repurchases of $450 million to $500 million this year and -- asI noted above -- anticipates achieving a leverage ratio of 1.5 times net debt to EBITDA by the end of 2017. Finally, on the bottom line, Buffalo Wild Wings expects 2017 earnings per diluted share in the range of $5.60 to $6.00, representing growth of 8.6% to 17.2% from earnings per share of $5.12 in 2016.
All in all, there were no big surprises in this report, as we knew Buffalo Wild Wings was operating in a difficult market. But it's encouraging to see that Buffalo Wild Wings' sales- and traffic-driving initiatives are beginning to bear fruit. As the company works its way back toward sustained positive same-store sales in the coming year, while at the same time continuing to steadily increase its restaurant count in both domestic and international markets, I suspect its share price will follow suit.
10 stocks we like better than Buffalo Wild WingsWhen investing geniuses David and Tom Gardner have a stock tip, it can pay to listen. After all, the newsletter they have run for over a decade, Motley Fool Stock Advisor, has tripled the market.*
David and Tom just revealed what they believe are the 10 best stocks for investors to buy right now... and Buffalo Wild Wings wasn't one of them! That's right -- they think these 10 stocks are even better buys.
Click here to learn about these picks!
*Stock Advisor returns as of February 6, 2017
Steve Symington owns shares of Buffalo Wild Wings. The Motley Fool owns shares of and recommends Buffalo Wild Wings. The Motley Fool has a disclosure policy.