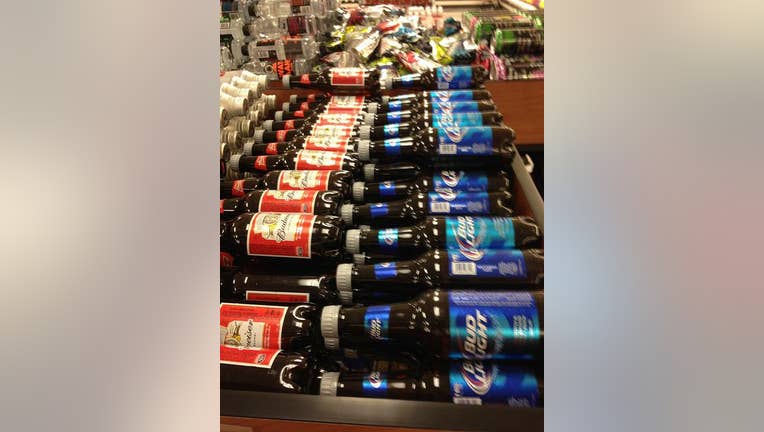 Anheuser-Busch InBev may call its Budweiser brand the "King of Beers," but more often than not the brewery leaves customers feeling flat.
There's no doubt when it comes to the amount of beer brewed, Anheuser-Busch InBev reigns supreme in the U.S., where it accounts for 46% of the market all by itself, as well as globally, where it is also the largest brewer in the world.
In 2015 AB InBev brewed 413 million hectoliters of beer-- that's some 10.9 billion gallons, or over 351 million barrels, for you non-metric types -- while No. 2 brewer SABMiller reported it produced 324 million hectoliters last year, or 276 million barrels. In comparison, leading craft brewer Boston Beer produced...4 million barrels. And the 4,100 craft breweries in existence in the U.S. today collectively produced just 22 million barrels.
Crafting big tasteBut if bigger were always better, then Anheuser-Busch, Miller, and No. 3 brewer Molson Coors would be seeing sales grow, and here in domestic markets that is not the case. According to the Brewers Association's mid-year report last July, craft production volumes were up 16% over 2014 and had reached an 11% share of total volume production for beer, which on a retail dollar basis, gave the industry almost 20% market share.Considering the total beer market itself was up just 0.5% in 2014, it's been the craft brewers and not the mass-brewed beers that have been carrying the industry higher.
Although Anheuser-Busch InBev's Budweiser brand terms itself the "King of Beers" and has reveled in its vast size for years -- its Super Bowl ad last year where it crowed about being a "macro" brewer comes to mind -- it's obvious volume isn't everything.
Going flatThe American Customer Satisfaction Index recently released its latest annual survey of more than 70,000 consumers on how satisfied they are with more than 300 companies across 43 industries and 10 economic sectors. Based on the responses, the market researchers assign a score to the companies between 100 and -100.
The latest index results gave Anheuser-Busch InBev a 74 rating in customer satisfaction, a 3.9% drop from last year's ranking of 77, and almost 12% below its score of 84, recorded back in 1994 when ASCI first began tracking customer opinion. Significantly, A-B's score is also below the industry average of 76.
When it comes to mass brewers, there really are only a handful of breweries to compete against. So which one was deemed best? MillerCoors, the joint venture of SABMiller and Molson.
While the survey doesn't break out by brands which beer might have generated such consumer support, by looking at the brewer's financial results, it's probable it was its Coors brand that carried the day.
Although mass-brewed beer volumes barely register growth, MillerCoors, the joint venture between SABMiller and Molson Coors, continues to satisfy consumer tastes.
Rocky Mountain highMillerCoors reported both the Coors Light and Coors Banquet brands grew market share in their respective segments in 2015, with the light beer enjoyingits best quarterly volume performance since the second quarter of 2014, while the full-bodied version achieved its ninth consecutive year of growth.
However, in light of the merger that may happen between Anheuser-Busch and SABMiller, this could be the end of the line for MillerCoors. As part of A-B's effort to smooth the regulatory path to approval for its $107 billion takeover of Miller, it hammered out a side agreement to sell to Molson for $12 billion the 42% share in MillerCoors that it doesn't already own, giving Molson the global rights to the Miller brand.
As a result of adding that portfolio to its own, Molson Coors will be launched it into the No. 2 spot in the beer market with about a 25% market share, ahead ofHeineken , which is a distant third with a 9% share.
It's a small world after allThe world of the macro brewers is shrinking as a result of consolidation. Soon, perhaps, Anheuser-Busch InBev will be able to once again make "King of Beers" more than a branding slogan, but that might be because there's no left to really compete against it. Whether that leaves consumers satisfied is another question.
The article Budweiser Isn't the King of Beers Anymore. Guess Who Is? originally appeared on Fool.com.
Rich Duprey has no position in any stocks mentioned. The Motley Fool owns shares of and recommends Boston Beer. The Motley Fool recommends Anheuser-Busch InBev NV. Try any of our Foolish newsletter services free for 30 days. We Fools may not all hold the same opinions, but we all believe that considering a diverse range of insights makes us better investors. The Motley Fool has a disclosure policy.
Copyright 1995 - 2016 The Motley Fool, LLC. All rights reserved. The Motley Fool has a disclosure policy.