Brown's final budget plan proposes $132 billion in spending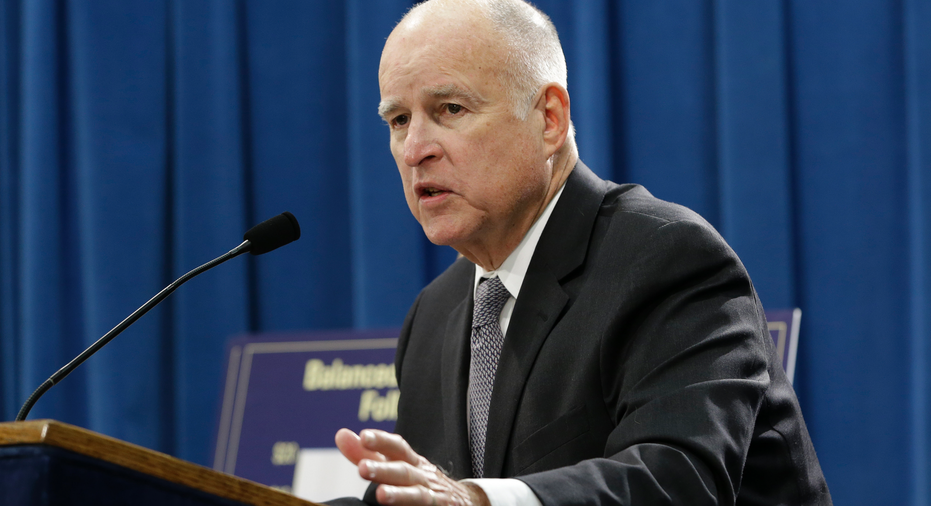 California is projecting one of its largest budget surpluses in years, but Democratic Gov. Jerry Brown on Wednesday proposed spending almost none of it, sticking with his traditionally restrained approach in his final budget.
Brown projects California will have $6.1 billion in extra cash. He proposed just $300 million in new spending next year with the rest going to reserves, including maxing out the state's Rainy Day Fund. His total general fund proposal spends $131.7 billion, plus an additional $59 billion in special funds and bonds used for specific purposes.
Brown used his annual budget address to warn, as he often does, that a recession will eventually occur and will inevitably lead to a severe drop in revenue. Saving money now will protect teachers' jobs and tamp down on college tuition hikes down the road, he said.
"What we can talk about is spending now and cutting later, or filling the reserves and continuing our spending right along," Brown said. "This is about steady as you go, or exuberance followed by regret and pain."
That potentially dark future Brown predicted is one he won't have to preside over; the 79-year-old governor will leave office after this fall's elections. He's termed out after serving four terms, first in the 1970s and 1980s and again since 2011.
Brown's budget does not reflect last year's federal tax changes out of Washington, which are expected to hit taxpayers in high-tax states like California the hardest. Brown had to finalize his budget in December, before the tax law was approved by Congress. But he can account for those changes when he submits budget revisions in May.
Brown said he's open to a proposal by Democratic Senate President Pro Tem Kevin de Leon that would change how Californians pay their state taxes to account for a change in federal law that caps the state and local tax deduction. The plan had its first hearing Wednesday and would allow taxpayers to give a charitable contribution to the state's coffers in lieu of paying taxes.
Brown must sign a budget by June 30, giving him and lawmakers about five months to negotiate on spending priorities.
Democratic lawmakers were pleased by Brown's moves to shore up the rainy day fund and put $3 billion toward a K-12 program aimed at boosting the state's neediest students. But they viewed his presentation as just the first step in negotiations they hope will eventually result in higher spending in some areas.
Democratic Assemblyman Phil Ting, chairman of the budget committee, is hoping for further discussion on topics like health care. Ting last month proposed $4.3 billion in new spending, including health care for immigrants living in the state illegally and to expand a tax credit for the working poor.
"Just like our blueprint is the beginning of a discussion, his is as well," Ting told reporters.
Sen. Holly Mitchell, who leads the Senate's budget committee, said the state must do more to aid Californians living in poverty and suggested Brown's plan doesn't do quite enough.
"Modesty is not good enough," said Mitchell, a Los Angeles Democrat.
Republicans, meanwhile, said the surplus should go back to Californians who are burdened with high taxes, including a new gas tax increase expected to generate $5 billion for road repairs.
"In a perfect world, the surplus would be returned to taxpayers," added Assemblyman Jay Obernolte of Hesperia, the top Republican on the Assembly budget committee.
Among the few new spending initiatives in Brown's plan is the creation of an online community college, costing $120 million for one-time startup and other costs. And his $12 billion spending plan for the state's prison and parole system includes new money to train ex-felons to become firefighters.
Brown's budget plan would also spend an additional $59 million in bonds and special funds, which are revenue sources dedicated to specific purposes, including taxes from marijuana sales that began Jan. 1.
Taxes on recreational pot sales, which launched Jan. 1, will bring in $643 million, Brown predicted. That's less than the $1 billion from earlier estimates. Brown and lawmakers have little say on how the money is used; it's dictated by a formula passed by voters in 2016 which includes spending on marijuana research, drug rehabilitation programs and helping communities disproportionately affected by past drug laws.
The budget includes $1.2 billion in new funding from a hike in gas taxes and vehicle registration fees approved last year. Republicans are looking to ask voters to overturn the tax hike but Brown said he's not concerned.
Brown's proposal is up 5 percent from the $125 billion budget plan he signed last year. It boosted payments for Medi-Cal doctors and dentists who provide care for the poor and increased funding for education and social services.
Brown has focused much of his second stint as governor on stabilizing the state's long-term budgeting during a period of fiscal prosperity. Taking the reins as the state clawed out of the devastating Great Recession, he backed ballot initiatives that raised taxes on the wealthy and forced the state to save money and pay down debts.
He's presided over a stark turnaround in California's fiscal fortunes. The state's budget has grown 45 percent since 2011, when he took office facing a $25 billion deficit.
___
Associated Press writer Don Thompson contributed to this report.