Brocade Sinks and Opower Inc. Jumps as Stocks Rise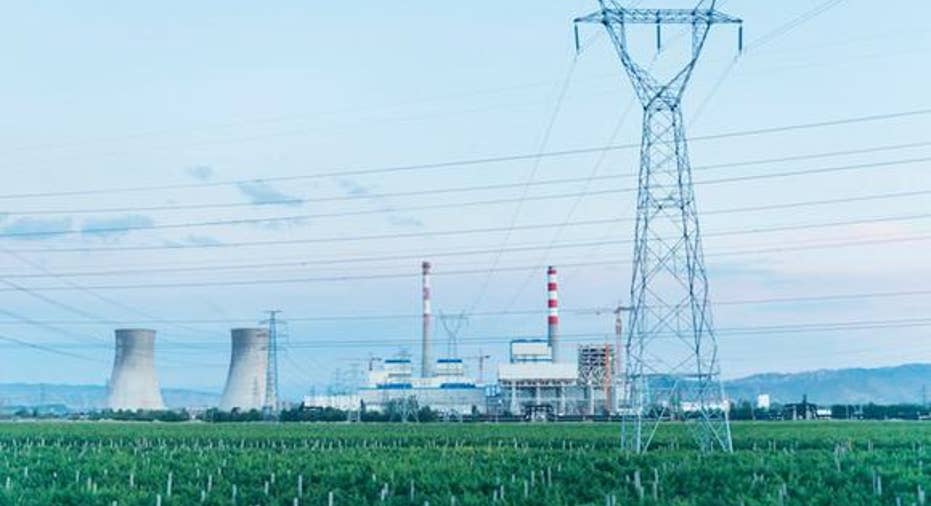 Stocks hesitated around break-even in May's first trading day, before rising in the afternoon to close near session highs. The Dow Jones Industrial Average gained 119 points, or 0.6% on Monday, and the S&P 500 added 16 points, or 0.8%:
In economic news: A new Institute for Supply Management report showed that the manufacturing sector grew for the second consecutive month in April, thanks mainly to a strong uptick in raw material prices. The PMI composite index fell to 50.8 from 51.8 (any number above 50 indicates expansion), as strength in industries like automotive and fabricated metal made up for continued weakness in the energy sector.
Image source: Federal Reserve Economic Data.
Meanwhile, stocks making notable moves on Monday included Brocade and Opower .
Brocade sees softness in IT spendingNetworking specialist Brocade's stock fell 12% after it announced preliminary earnings results. Sales for its fiscal third quarter will be roughly $523 million, the company warned, rather than the $552 million it had initially forecast in mid-February. Earnings will come in slightly below targets, meanwhile, with profit weighing in at $0.22 per share rather than the earlier $0.23 per share guidance.
Image source: Brocade.
A slowdown in the tech industry was to blame, management explained. "Consistent with the general softness in IT spending reported by many of our partners and peers, we expect revenue for the quarter to fall short of our original expectations," CEO Lloyd Carney said in a press release.
"We are addressing these near-term challenges by continuing our focus on sales execution in this weaker demand environment, maintaining prudent expense controls and managing our investments," he said.
Brocade will post detailed fiscal Q3 results on May 19, which should show investors the depth of the industry slowdown -- along with what effect its having on profitability. In the meantime, the company plans to keep moving ahead with its recently announced $1.5 billion purchase of peer,Ruckus Wireless.
Oracle buys Opower Opower, which specializes in producing cloud-based enterprise software for customers in the utility industry, jumped 30% after agreeing to be boughtby tech giant Oracle . The deal terms call for $10.30 per share of cash for Opower shareholders, which translates into $530 million, or about the market capitalization that the company had seen as recently as early January.
Image source: Opower.
Still, Opower executives sounded optimistic about the tie-up. "The combination willprovide the industry with the most modern, complete cloud applications for the entire utility value chain, from meter to grid to end-customers," CEO Dan Yates said in a press release.
The purchase gives Oracle exposure to a utility market that could see strong growth as companies upgrade their data management platforms so that they can deliver higher customer satisfaction while lowering their costs. Its best client success stories involve improvements like shifting call center volume onto the web, marketing smart meter purchases to customers, and reducing average energy demands across the user base.
Opower hasn't yet been able to profit from providing these services, despite their clear value to major utility companies. Oracle believes it can use its bigger, more comprehensive tech-solutions scale to extract a positive return on the offerings -- and its willing to pay over $500 million to find out.
The article Brocade Sinks and Opower Inc. Jumps as Stocks Rise originally appeared on Fool.com.
Demitrios Kalogeropoulos has no position in any stocks mentioned. The Motley Fool owns shares of Oracle. Try any of our Foolish newsletter services free for 30 days. We Fools may not all hold the same opinions, but we all believe that considering a diverse range of insights makes us better investors. The Motley Fool has a disclosure policy.
Copyright 1995 - 2016 The Motley Fool, LLC. All rights reserved. The Motley Fool has a disclosure policy.