Broadcom reduces Qualcomm board nominees before March 6 showdown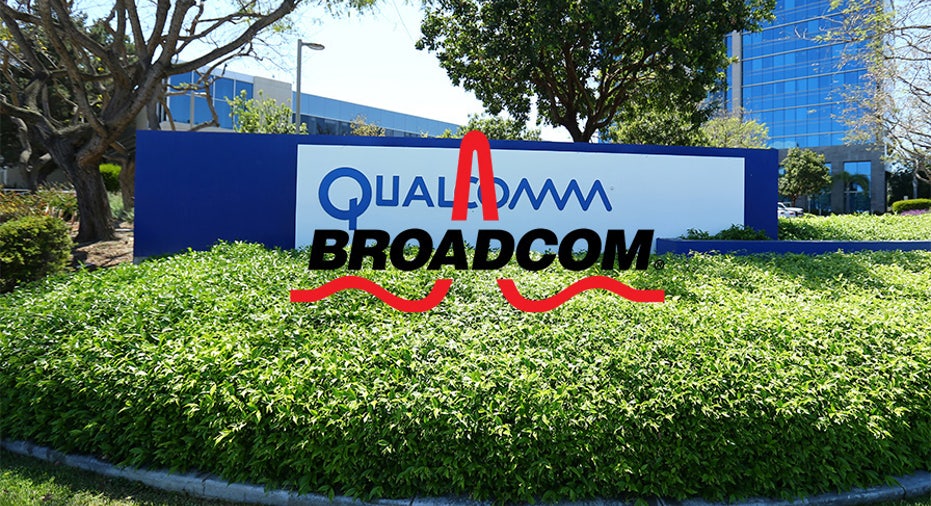 (Reuters) - Broadcom Ltd (NASDAQ:AVGO) on Tuesday cut the number of board seats it was trying to win at Qualcomm Inc (NSADAQ:QCOM) to six from 11, and reiterated that its offer for the company was only good until the conclusion of a March 6 shareholder meeting at the chipmaker.
Broadcom's move comes a day ahead of planned talks between the semiconductor companies to discuss the potential $121 billion deal, which will be their first such discussion, people familiar with the matter told Reuters on Sunday.
Broadcom said it would withdraw its offer if it was not accepted by Qualcomm's executives or unless its six nominees were elected at the shareholder meeting.
Qualcomm could not be immediately reached for comment.
Broadcom raised its cash-and-stock offer last week to $82 per share from $70, and made other concessions, including offering to pay Qualcomm an $8 billion breakup fee should antitrust regulators block the deal.
Qualcomm rejected the revised offer, as it did the first bid, saying the proposal undervalued the company and fell well short of commitments on regulatory issues.
Broadcom had nominated a slate of 11 directors to replace Qualcomm's board, after it rejected the first bid, worth $103 billion.
Broadcom's six nominees are Samih Elhage, David Golden, Veronica Hagen, Julie Hill, John Kispert and Harry You.
Moelis and Co, Citi, Deutsche Bank, JP Morgan, BofA Merrill Lynch, Morgan Stanley and Wells Fargo Securities were Broadcom's financial advisers.
Qualcomm's shares were up marginally premarket at $65.69, while Broadcom's stock dipped 0.5 percent to $243.18.
(Reporting by Aishwarya Venugopal and Supantha Mukherjee in Bengaluru; Editing by Savio D'Souza, Bernard Orr)