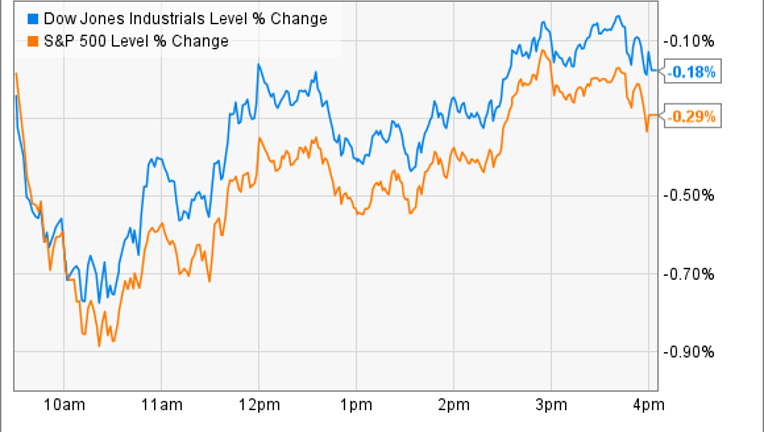 Stocks ended the trading week with minor losses as fresh data pointing to a weak U.S. job market helped push back expectations on the timing of the next interest rate hike by the Federal Reserve. The Dow Jones Industrial Average shed 32 points, or 0.2% on Friday, and the S&P 500 gave up 6 points, or 0.3%:
In economic news, the government announced that job growth slowed last month as 38,000 jobs were created, compared to 123,000 in April (economists expected 165,000 new jobs in May). Downward revisions of prior months brought March and April lower as well, and the average over the past three months fell to a lackluster 116,000. The fact that this jobs report was weaker than expected may help convince officials at the Federal Reserve to hold interest rates steady when they convene for a monetary policy meeting on June 15.
Meanwhile, Broadcom and Gogo stocks each made notable moves on Friday.
Broadcom's robust demand
Broadcom's shares rose 5% after its first quarterly earnings announcement including the Avago business segment impressed Wall Street. On a GAAP basis, the merger did serious initial damage to the bottom line. Broadcom generated a $1.2 billion loss compared to a $400 million profit in the prior year as profitability dove to 30% of sales from 53% of sales.
Aside from the short-term merger headwinds there are signs of a much brighter future for the business. Revenue for Broadcom's continuing operations doubled to $3.6 billion, and gross margin held up well, ticking down to 60% of sales from 61%. Its larger portfolio allowed the company to offset weakness on the wireless networking side with strength elsewhere. "Our increased scale and diversity is already proving very resilient," CEO Hock Tan said in a press release.
Executives issued an aggressive forecast for the current quarter, saying they expect "robust" results as the wireless business picks up. Broadcom projected $3.7 billion of sales in fiscal Q3, which would mark a 112% gain over the prior year. Gross margin should again weigh in at roughly 60% of sales.
Gogo loses out to a competitor
Gogo, which offers in-flight Wi-Fi services to airlines, fell 15% on heavy trading volume after rival ViaSat announced it had won a contract to outfit American Airlines' new 737 fleet beginning in September of next year. "ViaSatis able to deliver the fastest, highest quality in-flight Internet service toeachconnected device on a plane," the company boasted in a press release.
In a separate filing, Gogo said it has reached a deal to continue providing in-flight services on nearly 600 of American Airlines planes, but that the deep partnership might not last long. All of the Gogo hardware is "subject to deinstallation at any time," Gogo explained. What's more, the company expects "potentially all" of the American Airlines aircraft's to switch away from Gogo installations "from time to time over the next several years."
American Airlines has accounted for 22% of Gogo's revenue in each of the last three years. As the company warns in its 10-K report, "Our relationships with our airline partners are critical to the growth and ongoing success of our business." That's why Friday's news, which points to a cooler relationship between Gogo and American Airlines, understandably sent the stock lower. Gogo is simply losing an important piece of business to a rival Wi-Fi service provider.
The article Broadcom Ltd Jumps and Gogo Inc Dives As Stocks Fall originally appeared on Fool.com.
Demitrios Kalogeropoulos has no position in any stocks mentioned. The Motley Fool has the following options: long January 2017 $35 calls on American Airlines Group. The Motley Fool recommends Broadcom. Try any of our Foolish newsletter services free for 30 days. We Fools may not all hold the same opinions, but we all believe that considering a diverse range of insights makes us better investors. The Motley Fool has a disclosure policy.
Copyright 1995 - 2016 The Motley Fool, LLC. All rights reserved. The Motley Fool has a disclosure policy.