British Pound ETF Hits New Low as 'Flash Crash' Rattles GBP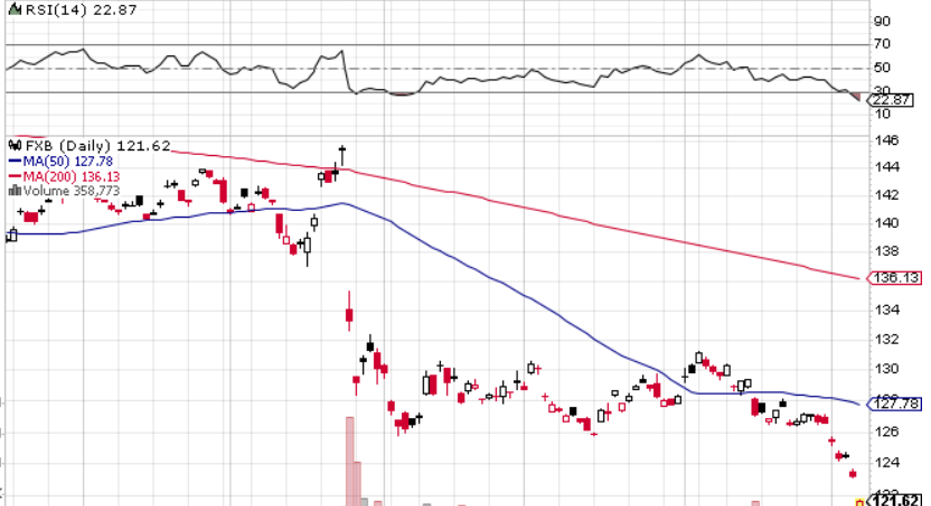 The British pound exchange traded fund dipped to a new low Friday after the sterling plunged earlier in the day on what some traders are calling a "flash crash" that pushed the currency to a 31-year low.
The CurrencyShares British Pound Sterling Trust (NYSEArca: FXB) fell 1.3% on Friday.
The GBP plummeted to as low as $1.1789 from $1.2600 early Friday during Asian hours in just two minutes, the Associated Press reports.
The pound pared most of the losses and was trading around $1.2453 mid-Friday.
Traders attributed the fall off to a "fat finger" mistake while typing in a market order during the so-called twilight period in markets – the time between the close in the U.S. and the start of Asia's trading day – when volume of trading was lower than usual and relatively smaller trades can cause a large impact.
SEE MORE: Pound Tumbles, But U.K. ETFs Rise
"Investigations are underway but a single reason may never be identified for last night's 'flash crash'," Mike van Dulken, Head of Research at Accendo Markets, told the AP.
The markets were already on edge with the British government setting a timeline for a break from the European Union in what some see as a potential "hard Brexit." Discounting the Friday flash crash, the pound has depreciated around 6% against the U.S. dollar since Monday and is on course for its worst weekly performance since the Brexit vote.
SEE MORE: Pound ETF Retreats as Sterling Slips Toward 31-Year Low
Moreover, at almost the same time that the pound began to retreat in early Friday, French President François Hollande warned that allowing the U.K. to get a good deal from the Brexit negotiations might embolden anti-European Union factions, potentially contributing to the price volatility, reports Ben Wright for the Telegraph.
"I think it's a warning shot from the markets to the UK about what type of potential volatility in sterling we may see down the line," Shahab Jalinoos, global head of FX strategy at Credit Suisse, told Reuters.
For more information on the GBP, visit our British pound category.
CurrencyShares British Pound Sterling Trust
This article was provided by our partners at ETFTrends.