Brexit Trounces Shares of American Airlines, Delta Air Lines, and United Continental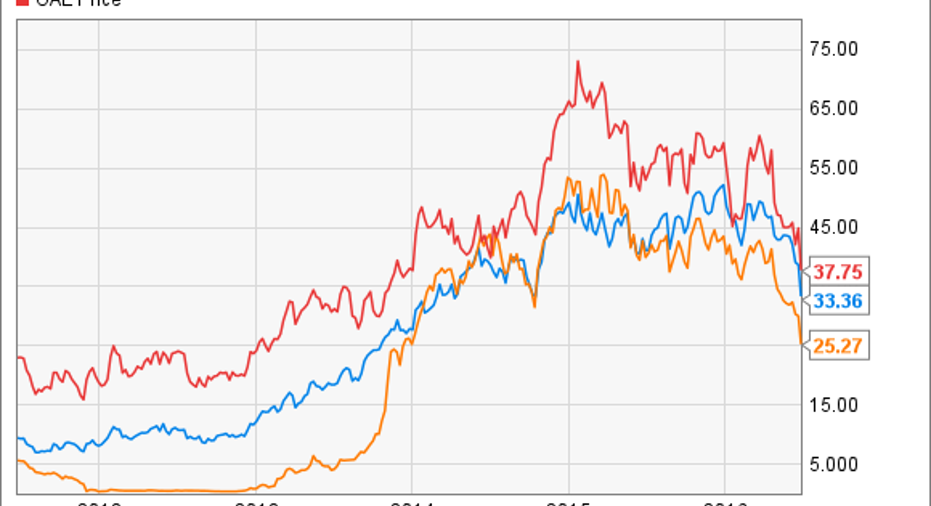 Even before U.K. voters opted to leave the EU, shares of the top three U.S. airlines were trading near their 52-week lows. After the vote results were announced, American Airlines , Delta Air Lines , and United Continental shares all plunged to levels not seen since 2014 or earlier.
American Airlines, Delta Air Lines, and United Continental Stock Performance, data by YCharts
"Brexit" will undoubtedly have a negative impact on American, Delta, and United. Nevertheless, investors appear to be overreacting to this news by sending all three stocks down by double digits over the course of the past two trading days.
Brexit will cause trouble
The U.K. is an important market for all three U.S. legacy carriers. Flights to the U.K. account for 6.2% of capacity at American Airlines, 5.3% at United Continental, and 2.7% at Delta Air Lines, according to a Buckingham Research analysis.
This actually understates the U.K. exposure of American and Delta. American Airlines has a joint venture with U.K. flag carrier British Airways, while Delta has a joint venture with -- and also owns 49% of -- Virgin Atlantic. As a result, profit declines on U.S.-U.K. routes at British Airways and Virgin Atlantic would reduce the earnings of American and Delta, respectively.
American Airlines has the largest U.K. exposure of any U.S. airline. Image source: American Airlines.
The International Air Transport Association estimates that Brexit could reduce U.K. air travel passenger volume by 3%-5% by 2020, due to a 2.5%-3.5% decline in GDP that will never be recovered. The falling British pound will have an additional impact on outbound travel from the U.K., but the IATA believes that this will be offset by more tourists flying to the U.K. to take advantage of the favorable exchange rate.
Brexit's impact on legacy carrier profitability would extend beyond lower passenger volumes, though. London has a high concentration of premium demand from business travelers. A fall in business confidence could reduce demand for pricey business class tickets between the U.S. and London, having a disproportionate negative impact on unit revenue and earnings.
Airlines can react
The good news for investors is that airlines can adapt to changing demand trends. In this case, American, Delta, and United are likely to start reducing their capacity in the U.K. at the first sign of unit revenue weakness there.
In a worst case scenario, airlines would have to ground some planes. Even that wouldn't be the end of the world, as they would presumably remove their least cost-efficient planes from service first. However, they may also be able to redeploy some capacity from the U.K. to domestic routes or better-performing international markets.
These stocks are too cheap
By the end of the day on Monday, American Airlines and United Continental both traded for less than five times their projected 2016 earnings. Delta's valuation was only slightly higher, at 5.3 times the average 2016 analyst earnings estimate.
Airline stock valuations may have fallen too far. Image source: The Motley Fool.
While the airlines' profit margins will probably decline a bit from their 2015-2016 highs in the next year or two, the stocks are currently pricing in extremely severe margin contraction. As long as airlines remain willing to cut capacity in underperforming markets when necessary, the probability of this "doomsday" scenario occurring is remote.
For example, a downturn in Europe may be offset by improvements in Brazil and Japan. These markets have been trouble spots in recent years due in part to currency weakness, but the Brazilian real and Japanese yen have appreciated against the dollar recently.
Longer-term, if Brexit causes multinational corporations to shift jobs from London to the rest of Europe, it could boost travel from the U.S. to major business centers like Amsterdam, Frankfurt, Paris, Rome, and Zurich. That would play into the hands of Delta and United, whose joint venture partners have hubs in those cities.
Legacy carrier airline stocks may not be worth as much today as they were one week ago. But after markdowns ranging from 13% (Delta Air Lines) to 17% (American Airlines) they are even better buying opportunities for long-term investors willing to ride out heavy volatility in the months and years ahead.
The article Brexit Trounces Shares of American Airlines, Delta Air Lines, and United Continental originally appeared on Fool.com.
Adam Levine-Weinberg owns shares of United Continental Holdings and is long January 2017 $40 calls on Delta Air Lines and long January 2017 $30 calls on American Airlines Group. The Motley Fool has no position in any of the stocks mentioned. Try any of our Foolish newsletter services free for 30 days. We Fools may not all hold the same opinions, but we all believe that considering a diverse range of insights makes us better investors. The Motley Fool has a disclosure policy.
Copyright 1995 - 2016 The Motley Fool, LLC. All rights reserved. The Motley Fool has a disclosure policy.