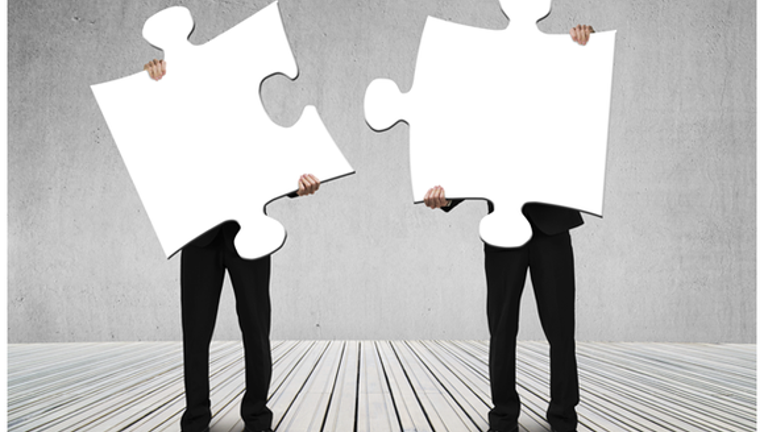 Is it time for Bank of America and Citigroup to break apart? Image credit: iStock/Thinkstock.
Analysts at two financial firms released reports this week suggesting that Bank of America and Citigroup may be better off if they each split into multiple companies. This seems like a crazy idea, but there's reason to believe that it's exactly what will eventually happen.
On Monday, KBW'sBrian KleinhanzlandMichael Brownmade the case with respect to Citigroup:
Kleinhanzl and Brown believe that Citigroup's value could increase by as much as 60% if it divests its international consumer business, as well as its Mexico-based subsidiary Banamex's consumer and small/medium enterprise businesses. This would leave Citigroup with its domestic consumer business and its institutional client group.
One day later, RBC's Gerard Cassidy made a similar case with respect to Citigroup and Bank of America:
What Cassidy is referring to with respect to the "GSIB equity buffer" is the fact that larger and more-complex banks are now required to hold more capital than their smaller, simpler counterparts. Citigroup must hold 3.5 percentage points in additional capital relative to regional banks that aren't classified by regulators as global systematically important banks. Bank of America, meanwhile, must hold three percentage points more than the typical bank. Because banks depend on leverage to generate returns that are on par with nonfinancial firms, this necessarily puts Bank of America and Citigroup at a disadvantage compared to their counterparts, as well as to nonbank investment alternatives.
This is a point I've made in the past with respect to Bank of America. Because of the heightened capital and liquidity requirements associated with being a too-big-to-fail universal bank, it can't produce the same type of returns that a traditional lender like Wells Fargo can. At the same time, because Bank of America trails JPMorgan Chase and Goldman Sachs in the investment-banking league tables, it isn't able to offset its disadvantage with a sufficient amount of high-margin investment-banking business.
To be clear, I still think that Bank of America's stock presents a compelling value at today's price. (I don't think the same about Citigroup, which I don't believe any retail investor has any business ever owning.) This is particularly true if Bank of America were to eventually split up, as the value that may be unlocked could translate into a handsome return for patient shareholders who are willing to assume the risk of owning shares of a presently underperforming bank.
The article Breaking Up Bank of America and Citigroup Isnt as Crazy as It Sounds originally appeared on Fool.com.
John Maxfield owns shares of Bank of America, Goldman Sachs, and Wells Fargo. The Motley Fool owns shares of and recommends Wells Fargo. The Motley Fool has the following options: short May 2016 $52 puts on Wells Fargo. The Motley Fool recommends Bank of America. Try any of our Foolish newsletter services free for 30 days. We Fools may not all hold the same opinions, but we all believe that considering a diverse range of insights makes us better investors. The Motley Fool has a disclosure policy.
Copyright 1995 - 2016 The Motley Fool, LLC. All rights reserved. The Motley Fool has a disclosure policy.