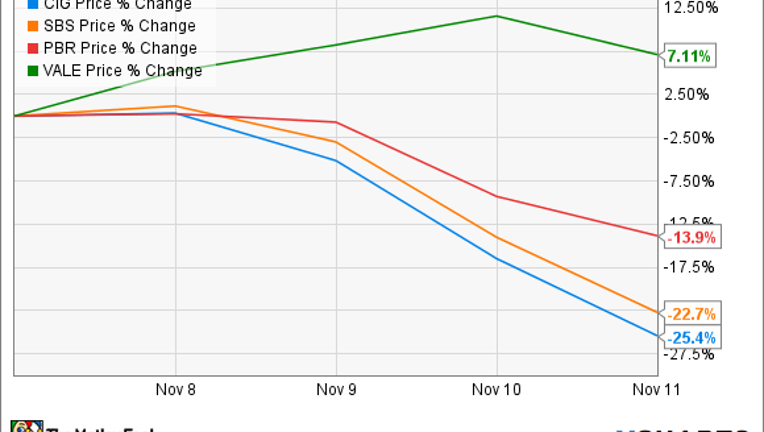 Image source: Getty Images.
What happened
Shares of Brazilian utility companiesCompanhia de Saneamento Basico do Estado de Sao Paulo (Sabesp)(NYSE: SBS) andCompanhia Energtica de Minas Gerais S.A. (Cemig)(NYSE: CIG) are down 11.7% and 12.3%, respectively, as of 11:30 a.m. EDT. The biggest reason for the major stock slide is the rapid decline in the value of Brazil's currency, the real, over the past couple of days. I'm assuming you can guess why investors may be afraid that the Brazilian real might lose value in relation to the U.S. dollar.
So what
2015 was an absolutely brutal year for the real as commodity prices -- most notably oil -- declined in value. Slowly but surely, though, the Brazilian currency was making a modest comeback in 2016 -- right up until trading started on Wednesday morning.
Since the results of the U.S. election came in, the Brazilian real has lost close to 10% of its value in relation to the U.S. dollar thanks to fears of potential trade barriers being placed in the United States -- as President-elect Donald Trump said he would do on the campaign trail this past year. To be clear, Sabesp and Cemig aren't the only companies that have seen their shares drop precipitously today. Brazilian oil giant Petrobras (NYSE: PBR) and iron ore miner Vale SA (NYSE: VALE) have seen their shares drop today as much as 7.7% and 5.5%, respectively.
All of these stocks are falling so precipitously with the Brazilian real because all of them have large portions of their debts denominated in U.S. dollars. So, as the real declines in value in relation to the dollar, these companies are forced to pay higher interest expenses in their local currencies. The impact of this isn't as great for Petrobras and Vale because both sell global commodities that are mostly bought and sold using U.S. dollars, so they're able to recover the higher interest expense costs because revenues in their local currencies increase.
Sabesp and Cemig, on the other hand, don't have the same luxury. Sabesp is a water utility for the state of Sao Paolo, and Cemig is a electric power utility for thestate of Minas Gerais. These companies' entire customer base is in Brazil, and their revenues are 100% in the Brazilian real, so there's no way to offset the changes in currency fluctuations between it and the U.S. dollar.
Now what
Aside from the changes in interest expenses, this doesn't really change the outlook for either Sabesp or Cemig. Both are deeply entrenched in their respective utility businesses in Brazil. Even when economic activity declines, electricityand water consumption trends don't change that much, so there isn't much fear that these foreign currency denominated businesses will see their prospects change much. Likewise, both Petrobras and Vale sell most of their commodities to the Asia Pacific market, so, not much change to their businesses, either.
More than anything, this seems like a knee-jerk reaction from the market to sell any foreign company listed on the U.S. markets. For investors in these businesses, there isn't much reason to panic. After all, we still haven't seen any details on these potential trade policies that may or may not have detrimental effects on American trade with Brazil -- or the rest of the world.
10 stocks we like better than Companhia Energetica de Minas Gerais When investing geniuses David and Tom Gardner have a stock tip, it can pay to listen. After all, the newsletter they have run for over a decade, Motley Fool Stock Advisor, has tripled the market.*
David and Tom just revealed what they believe are the ten best stocks for investors to buy right now...and Companhia Energetica de Minas Gerais wasn't one of them! That's right -- they think these 10 stocks are even better buys.
Click here to learn about these picks!
*Stock Advisor returns as of November 7, 2016.
Tyler Crowe has no position in any stocks mentioned.You can follow him at Fool.comor on Twitter@TylerCroweFool.
The Motley Fool owns shares of Companhia Vale. The Motley Fool recommends Companhia de Saneamento Basico. Try any of our Foolish newsletter services free for 30 days. We Fools may not all hold the same opinions, but we all believe that considering a diverse range of insights makes us better investors. The Motley Fool has a disclosure policy.