BP Oil Spill Trial Delayed for Settlement Talks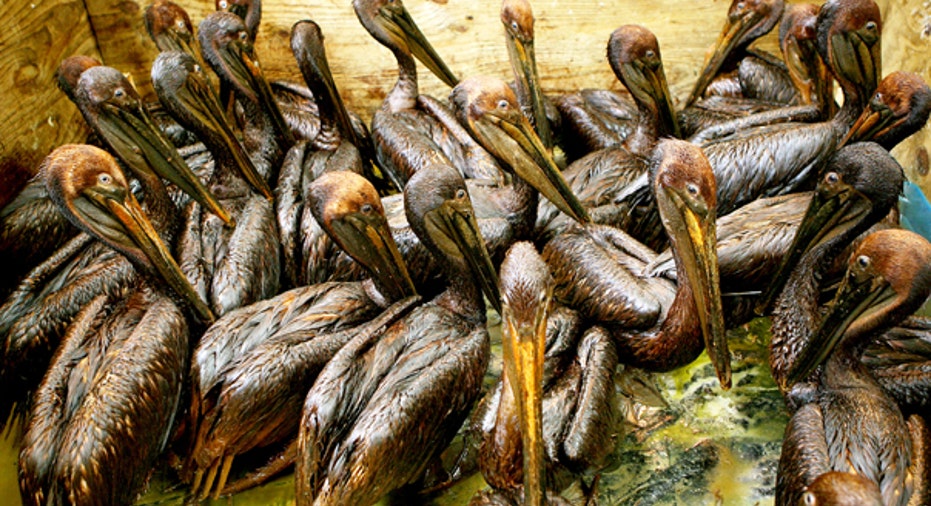 The trial to decide who should pay for the 2010 Gulf of Mexico oil spill has been delayed by a week, to allow BP Plc to try to cut a deal with tens of thousands of businesses and individuals affected by the disaster.
Less than 24 hours before the case was set to start in a New Orleans federal court, U.S. District Judge Carl Barbier pushed back the date to March 5 from Feb. 27.
The delay allows further talks between BP and the Plaintiffs' Steering Committee (PSC), which represents condominium owners, fishermen, hoteliers, restaurateurs and others who say their livelihoods were damaged by the April 20, 2010, explosion of the Deepwater Horizon drilling rig and subsequent oil spill.
Eleven people were killed, and 4.9 million barrels of oil spewed from the mile-deep Macondo oil well, in by far the worst offshore U.S. oil spill.
"BP and the PSC are working to reach agreement to fairly compensate people and businesses affected by the Deepwater Horizon accident and oil spill," BP said in a statement.
The London-based oil company said there was no assurance that the talks would lead to a settlement.
Bloomberg news agency reported on Monday that BP and the plaintiffs were discussing a $14 billion settlement that was nearing completion. It cited three people familiar with the talks.
A settlement between BP and the businesses would remove a significant portion of the complex litigation, the trial of which was expected to take nearly a year. It could also be a key step toward reaching a global settlement with its drilling partners, and with federal and state governments.
Much work would remain. The U.S. government has sued BP and others for violating the Clean Water Act and other laws, which could result in fines totaling tens of billions of dollars. Gulf states are also seeking compensation for their losses. BP is also suing and being sued by its drilling partners.
"Before today, I had almost given up on the possibility of a global settlement before a trial began," said Edward Sherman, a professor at Tulane University Law School and specialist in complex litigation. "Now, with an extra week, it seems to improve the chances."
Barbier, meanwhile, has kept the highly complex case moving forward, and had not changed the trial date since it was first set more than a year ago.
"Judge Barbier would not have delayed (the) trial unless (a) settlement was within reach," said David Uhlmann, a University of Michigan law professor and former chief of the Justice Department's environmental crimes section, in an email.
In an order dated Sunday, Barbier said the delay made sense "for reasons of judicial efficiency and to allow the parties to make further progress in their settlement discussions". He did not specify which parties he was referring to.
REASONABLE SETTLEMENTS SOUGHT
Apart from BP, which owned 65% of the Macondo well, the main corporate defendants are Vernier, Switzerland-based Transocean Ltd, which owned the Deepwater Horizon rig, and Houston-based Halliburton Co, which provided cementing services for the well. They are also suing each other. Several other companies are also involved in the trial.
A BP spokeswoman declined to comment further on the talks. Transocean spokesman Lou Colasuonno said BP's talks with the PSC "doesn't change the facts of the case", and that Transocean remains prepared for trial.
A spokeswoman for the U.S. Department of Justice declined to comment. The offices of Alabama Attorney General Luther Strange and Louisiana Attorney General James "Buddy" Caldwell, which are coordinating the states' case, did not immediately respond to requests for comment. Halliburton also did not immediately respond to a request for comment.
BP has accepted responsibility for the disaster, and estimated its legal and cleanup costs for the spill will total $43 billion. Some analysts have said that figure could top $60 billion, especially if there were a finding that its activities at the project were "grossly negligent".
Earlier this month, BP said it had set aside $6.1 billion to cover claims by businesses. Lawyers for those plaintiffs said the amount was too low, and that BP should also award punitive damages, which the oil company says are not warranted.
Many industry analysts and experts say a quick settlement is in BP's best interest.
Chief Executive Robert Dudley has said BP is willing to settle for reasonable terms, and on Sunday told The Sunday Telegraph in an interview that he hoped to reach "some agreements" and perhaps avoid litigation.
Other companies in the case are Anadarko Petroleum Corp , which owned 25% of the well; Mitsui & Co's MOEX USA unit, which owned 10% of the well; Cameron International Corp, which made a blowout preventer, and Schlumberger NV's M-I Swaco venture, which provided mud services. All have settled with BP. MOEX has settled with the government.
The case is In re: Oil Spill by the Oil Rig "Deepwater Horizon" in the Gulf of Mexico, on April 20, 2010, U.S. District Court, Eastern District of Louisiana, No. 10-md-02179. (Reporting by Tom Bergin in London and Jonathan Stempel in New Orleans; Additional reporting by Chris Baltimore in Houston, Ransdell Pierson in New York and Jeremy Pelofsky in Washington, D.C.; Editing by Marguerita Choy and Elizabeth Piper)