Boy Toys: Can You Guess the Hot Sellers This Christmas?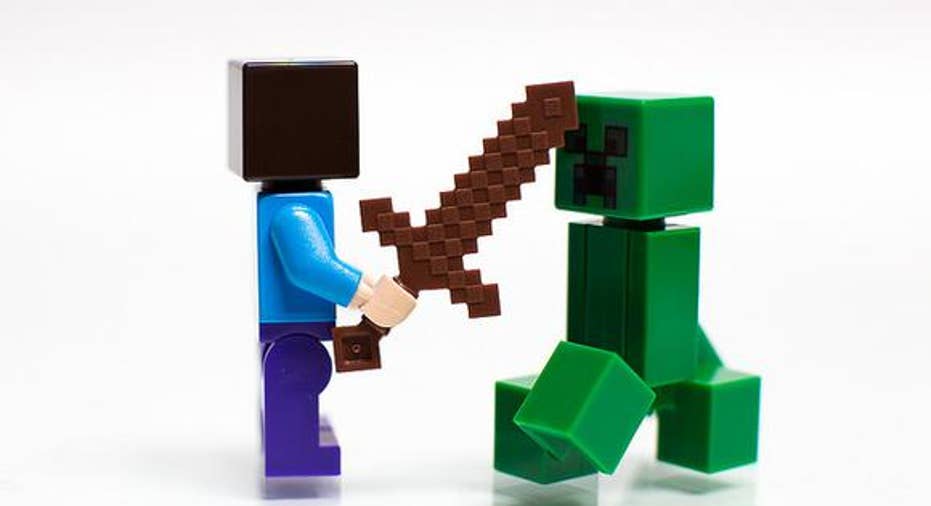 Minecraft toys are supposed to be big sellers this year, but parents say they're not at the top of the list. Source: Flickr.
Where the competition among toys for girls was decidedly lopsided in favor of Barbie this year, the elbows are much more sharp when it comes to boys.
Barbie lost her crown last year to Disney's Anna and Elsa from the blockbuster movie Frozen but this year came back strong, with over 21% of the parents surveyed choosing the iconic doll, compared with just 13% choosing Frozen characters again.
The disparity last year was understandable, though. The animated film burst onto movie screens in blockbuster fashion, so if any toys were going to take down Barbie, it would be the ones from Frozen and they'd do it in fine fashion.
Boys will be boysOn the boys' side of the ledger, though, things are much different. While industry watchers have predicted that things such as Sony's PlayStation 4 gaming console will be hot, as would games themselves such as Minecraft and Halo 5, those actually aren't the toys parents expect to put under the Christmas tree.
Sure, they're going to buy them this year; they're just not top-of-list material. Only 3% of the parents surveyed by the National Retail Federation said the PlayStation console was their must-get "toy" this year, while less than 1.5% of the parents felt they had to get Minecraft.
Not surprisingly, with the scheduled release of the Star Wars: The Force Awakens movie on Dec. 18, Star Wars toys shot up the NRF's Holiday Top Toy survey for 2015.
Star Wars is coming backDespite their perennial popularity, Luke Skywalker, Darth Vader, and Han Solo weren't garnering much in the way of mindshare with parents last year. No new movie had been out for a while, and they came in at No. 15, with just 1.2% of parents indicating they would be buying the Lucasfilms merchandise.
This year, however, it's No. 2 on the list, with almost 12% of parents saying they'll be out in force for Star Wars this year. But the fact that this franchise isn't the top choice in 2015 is pretty remarkable, considering the promotional machinery that's been engaged to hype the movie's release.
So what toy is it that's so popular, so strong, it's been able to keep even Star Wars out of the top spot?
Just face it: Legos are cool, and that's why its topped the must-have toy list for boys for four years running now. You know you want them, too. Photo: Lego Photo mureut.
Legos. Yep, the lowly plastic building block is repeating its performance for the fourth year in a row as the most requested toy for boys for 2015, with 12.2% of parents saying they want this playtime classic. Considering just over 14% of parents surveyed last year said they were buying Legos for Christmas, it's clear the gains Star Wars made really didn't come at Lego's expense.
The folks who conducted the survey for retail industry trade group Prosper Insights & Analytics have a simple explanation: "Timeless brands like Lego and Barbie will forever resonate with both children and the adults in their life who grew up playing with those same toys."
According to the NRF, this was the breakdown of the top five must-have toys for boys this year:
Lego, 12.2%.
Star Wars, 11.7%.
Cars and trucks, 7.1%.
Video games, 6.6%.
Hot Wheels, 5.7%.
Disney is the big winner here, as it owns the Star Wars franchise (and, of course, the Frozen characters, too), but Hasbro should do well as well, as it's a licensed partner for the Star Wars brand.
Maybe this is why Lego is the reigning champ of boys' toys each Christmas: It can be mashed up with everything, including Star Wars toys, combining the two biggest gifts parents plan on buying this year.
In its third-quarter earnings report, it identified the anticipation accompanying the coming release of The Force Awakens as helping to drive its revenues higher. It said sales in its boys' category surged ahead 14% from a year ago because initial shipments of toys tied to the movie went out in the period. It also benefited Hasbro's animated television programming, Star Wars Rebels.
Good for them, but privately held Lego is the ultimate beneficiary, as its commitment to simple play is what's winning Christmas once again.
The article Boy Toys: Can You Guess the Hot Sellers This Christmas? originally appeared on Fool.com.
Rich Duprey has no position in any stocks mentioned. The Motley Fool owns shares of and recommends Hasbro and Walt Disney. Try any of our Foolish newsletter services free for 30 days. We Fools may not all hold the same opinions, but we all believe that considering a diverse range of insights makes us better investors. The Motley Fool has a disclosure policy.
Copyright 1995 - 2015 The Motley Fool, LLC. All rights reserved. The Motley Fool has a disclosure policy.