Boston Beer Is Still Feeling the Heat of Competition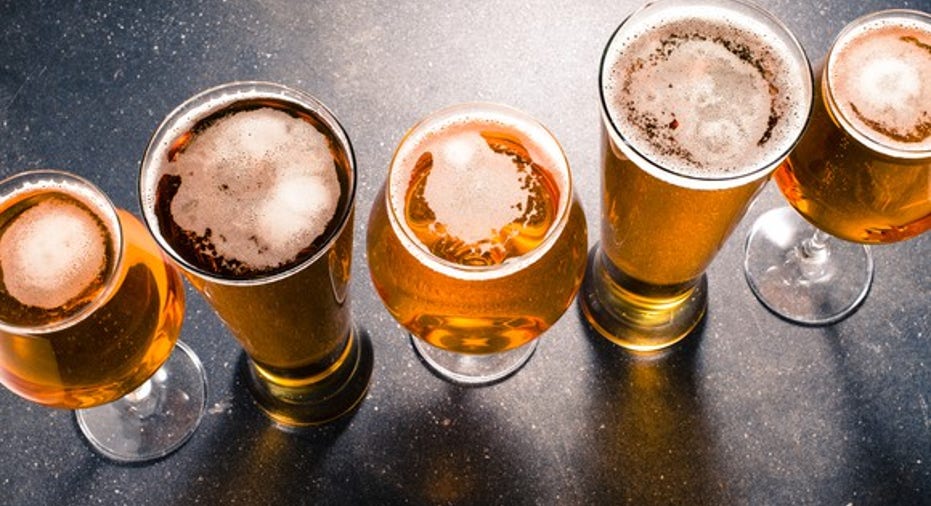 Boston Beer(NYSE: SAM)released first-quarter 2017 results Wednesday after the market closed. Shares declined a modest 0.7% on Thursday as investors attempted to digest disappointing sales of Boston Beer's new spring seasonal offerings.
Let's crack open a cold one and have a closer look at how Boston Beer kicked off the new year, as well as what investors can expect from the craft brewer going forward.
IMAGE SOURCE: GETTY IMAGES.
First-quarter revenue stumbled 14.6% year over year, to $161.7 million, as price increases were more than offset by a 15% decline in shipments, to 707,000 barrels. Net income also fell 18.8% year over year, to $5.7 million, and -- with the help of share repurchases over the past year, including 238,000 shares of stock bought back for $43.3 million in Q1 -- net income per diluted share dropped 15.1%, to $0.45. But these results also included a $0.28-per-share tax benefit from new accounting standards related to share-based compensation adopted at the start of the year. Adjusted for that benefit, first-quarter earnings would have been $0.17 per diluted share.
For perspective, analysts' consensus estimates predicted adjusted earnings of $0.21 per share on higher revenue of $169.5 million.
Another tough quarter
Depletions -- a key metric for how fast Boston Beer's products travel from warehouses to consumer outlets -- decreased 14% year over year, a steep drop from the 1% decline Boston Beer endured in the fourth quarter.
"These declines were mostly caused by weakness in the Samuel Adams brand, especially our seasonal beers, and a general softening of the craft beer category that continues to be very competitive," explained Boston Beer's founder and chairman, Jim Koch. "New craft brewers continue to enter the market and existing craft brewers are expanding their distribution and tap rooms, with the result that drinkers are seeing more choices."
Boston Beer CEO Martin Roper elaborated that most of Boston Beer's volume declines were caused by the relative underperformance of their 2017 spring seasonals, including Samuel Adams Hopscape and Samuel Adams Fresh as Helles, as compared to their more popular Samuel Adams Cold Snap launched in last year's first quarter.
"The weakness in our two new spring seasonals seems to have resulted from a combination of drinker confusion at retail, acceptability of these seasonal beer styles and the timing of our seasonal transitions compared to last year," Roper added.
Boston Beer also continued to see declines from its Angry Orchard brand amid headwinds in the cider category -- though trends here have shown steady improvement as the company has maintained its market share of this promising segment. Meanwhile, Boston Beer's Twisted Tea and Truly Spiked and Sparkling brands have sustained their momentum and continue to perform well.
Looking ahead
Going forward, Boston Beer's priorities for the rest of the year remain unchanged. As a reminder, last quarter Roper revealed their primary goal is to return both Samuel Adams and Angry Orchard to growth "through continued packaging, innovation, promotion, and brand communication initiatives."
Secondarily, Boston Beer will extend its focus on cost-efficiency projects to help fund the investments required to bring those initiatives to fruition, including adjusting short-term brewery capacity, realigning its organization behind brand and market priorities, revising spending policies, and optimizing its supply chain. And finally, Boston Beer will continue its stubborn knack for long-term innovation with new varieties to keep drinkers coming back for more.
In the meantime, Boston Beer maintained its full-year 2017 guidance for earnings per diluted share (excluding the impact of the new accounting standards) of between $4.20 and $6.20. All of its previous underlying assumptions for that range remain intact, including national price increases of between 1% and 2%, gross margin of between 51% and 52% (and increasing throughout the year with cost-cutting initiatives), and a depletions change of between minus 7% and plus 1%.
All things considered, this was another obviously painful quarter for Boston Beer as competition continues to bear down. But the company has done an admirable job of weathering this tough patch, and appears to be positioning itself well to emerge stronger over the long term for it. So with Boston Beer stock already down 17% so far in 2017, it's no surprise to see investors largely staying put today.
10 stocks we like better than Boston BeerWhen investing geniuses David and Tom Gardner have a stock tip, it can pay to listen. After all, the newsletter they have run for over a decade, Motley Fool Stock Advisor, has tripled the market.*
David and Tom just revealed what they believe are the 10 best stocks for investors to buy right now... and Boston Beer wasn't one of them! That's right -- they think these 10 stocks are even better buys.
Click here to learn about these picks!
*Stock Advisor returns as of April 3, 2017
Steve Symington has no position in any stocks mentioned. The Motley Fool owns shares of and recommends Boston Beer. The Motley Fool has a disclosure policy.