Boston Beer Co, Inc. Keeps Its Cool as Market Share Falls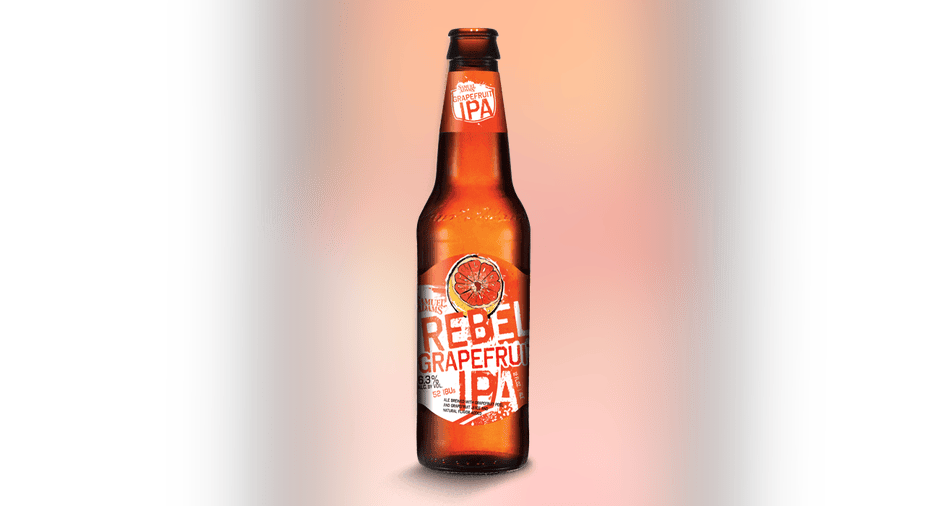 Boston Beer's new Rebel Grapefruit IPA is gaining momentum after a slow start. IMAGE SOURCE: BOSTON BEER
Despite the relative strength of its "better beer" niche, Boston Beer Co, continued to lose market share in the first quarter of 2016.
Shares of Boston Beer fell nearly 10% in Thursday's after-hours trading after the craft brewer revealed first-quarter revenue declined 5% year over year, to $188.8 million. That result was driven by a 6% decline in core shipment volume, to 830,000 barrels, and partially offset by Boston Beer's planned price increases.On the bottom line, that translated to a 48.8% decline in net income to just over $7 million, or $0.53 per diluted share.
Meanwhile, depletions -- an industry measure for how quickly Boston Beer's product travels from warehouses to consumer outlets -- fell 5% from the same year-ago period. Boston Beer CEO Martin Roper admitted this result was "significantly" below Boston Beer's expectations, and, similar to Boston Beer's past two quarterly reports, noted weakness in depletions was led once again by declines from Boston Beer's core Samuel Adams and Angry Orchard brands. To Boston Beer's credit, this weakness was partially offset by continued strength from the company's Twisted Tea and Coney Island varieties. But in the end, this also marked an unfortunate acceleration from the more modest 3% depletions decline through the first six weeks of the quarterdisclosed along with last quarter's earnings report.
"We believe Samuel Adams has lost share due to the increased competition and continued growth of drinker interest in variety and innovation," explained Boston Beer founder and chairman, Jim Koch. Koch also described "slow" starts for new beers rolled out during the quarter, including Samuel Adams Nitro varieties and Rebel Grapefruit IPA. At the same time, Koch expressed optimism the brands are building momentum.
Roper elaborated,
As such, Boston Beer is adjusting its guidance to reflect the exceedingly difficult task of predicting trends for larger craft beer brands and the cider category.
First, noting Boston Beer estimates depletions through April 9, 2016 have decreased 5% year over year, Boston Beer now anticipates depletions and shipments will be in the range of a 4% decline to 2% growth, a decrease from previous guidance for depletions and shipments growth in the mid-single-digit percent range. And though Boston Beer still anticipates implementing price increases in the range of 1% to 2% in 2016, it's simultaneously scaling back the amount it plans to increase investments in advertising, promo, and selling expenses to a range of between zero and $10 million, down from previous guidance for these investments to increase $10 million to $20 million over 2015. Next, Boston Beer estimates capital spending this year to be between $50 million and $70 million (down from $60 million to $80 million previously), and calls for gross margin between 51% and 53% (down from between 52% and 54% previously).
In the meantime, Boston Beer will focus on reducing its costs to a level commensurate with lower volume expectations, as well as driving operational efficiency to enable the company to strategically invest in its highest-potential growth opportunities. But while some of these efficiencies may yield fruit in 2016, Roper warns, "others may take more than a year to fully implement."
Of course, that should be of little consequence to patient, long-term shareholders who realize Boston Beer still commands less than 2% of the total U.S. beer market. And though that share is proving harder than ever to secure given increased competition, I think investors should be encouraged that Roper reiterated his stance that "We remain prepared to forsake short-term earnings, as we strive to return to long term profitable growth."
The article Boston Beer Co, Inc. Keeps Its Cool as Market Share Falls originally appeared on Fool.com.
Steve Symington has no position in any stocks mentioned. The Motley Fool owns shares of and recommends Boston Beer. Try any of our Foolish newsletter services free for 30 days. We Fools may not all hold the same opinions, but we all believe that considering a diverse range of insights makes us better investors. The Motley Fool has a disclosure policy.
Copyright 1995 - 2016 The Motley Fool, LLC. All rights reserved. The Motley Fool has a disclosure policy.