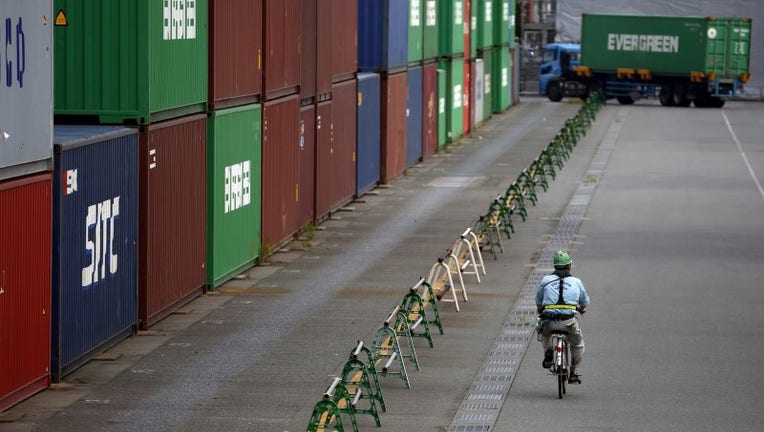 Bank of Japan Deputy Governor Kikuo Iwata on Thursday dismissed the need to raise interest rates any time soon, stressing that the economy still requires support from "powerful" monetary easing, with inflation far from the central bank's 2 percent target.
He also called for maintaining the BOJ's loose pledge to increase its government bond holdings by 80 trillion yen ($721 billion) per year, even though recently the pace of purchases has slowed significantly.
"Removing the pledge could cause unnecessary market turmoil," Iwata told reporters after meeting business leaders in Aomori, northern Japan.
Japan's low inflation expectations mean its short-term real interest rate, which is calculated by subtracting inflation expectations from nominal interest rates, remains higher than that of the United States, Iwata said.
The BOJ must therefore maintain its massive stimulus program, even if global long-term interest rates rise on expectations of stronger world economic growth and steady interest rate hikes by the U.S. Federal Reserve, he said.
"Japan is still distant from achieving the BOJ's inflation target and needs support from monetary easing," Iwata said in a speech.
"There is absolutely no need to raise interest rates and diminish the degree of monetary easing, which is not that big compared with that of the United States," he said.
BOND-BUYING PLEDGE STILL NECESSARY
Japan's economy expanded at an annualized rate of 1.0 percent in the first quarter on robust exports and a boost from private consumption, prompting the BOJ to upgrade its economic assessment in April.
But core consumer prices rose just 0.3 percent in April from a year earlier, well below the BOJ's target, as companies remain wary of raising prices for fear of scaring away cost-sensitive households.
The BOJ is set to upgrade its economic assessment but cut its inflation forecast at a quarterly review of its projections in July, sources have told Reuters.
Iwata countered the view that recent renewed falls in oil costs could force the BOJ to downgrade again its rosy inflation forecasts at next month's rate review.
"I don't think temporary falls in oil costs would affect Japan's inflation trend that much," he said. "Japan's economy is in a recovery phase and will do very well ahead."
After three years of heavy asset buying failed to drive up inflation, the BOJ revamped its policy focus last year to one capping long-term interest rates rather than targeting the pace of money printing.
But the central bank maintained a loose pledge to keep buying bonds so its holdings increase at 80 trillion yen per year, partly to appease proponents of aggressive money printing in the nine-member board such as Iwata.
Some analysts believe the BOJ will soon abandon the pledge as the pace of bond buying has recently slowed to around 60 trillion yen, making the guidance obsolete and largely symbolic.
Iwata dismissed such views, saying that removing the pledge now could cause market turmoilbecause the BOJ could be forced to ramp up bond buying again if external factors push up Japanese yields.
"The BOJ can guide monetary policy more flexibly by keeping the bond-buying pledge and purchasing bonds flexibly under the guidance," he said.
An architect of the BOJ's huge asset-buying program, Iwata has been among board members who place more emphasis on the boost the bank's massive money printing could have on the economy and inflation expectations.
Growing signs of life in Japan's economy have presented the BOJ with a fresh communications challenge, pushing it to be clearer with markets on how it might dial back its stimulus - even though such action remains a long way off.
($1 = 111.0000 yen) (Reporting by Leika Kihara; Editing by Shri Navaratnam and Richard Borsuk)