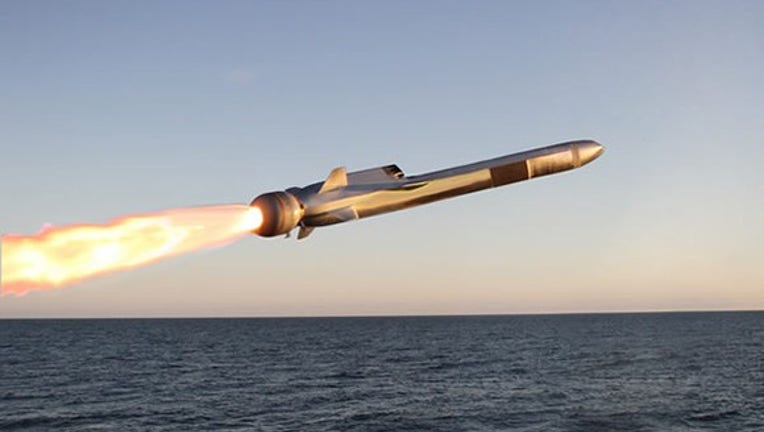 The U.S. Navy needs a new missile. Boeing would like to sell it -- but it may not get the chance.
Harpoon missile launch from the USS Lake Erie (CG 70). Image source: U.S. Navy.
Last year, we told you about the Navy's drive toward "distributed lethality." It's a project that boils down to arming as many Navy ships as possible with as long-ranged and as potent weapons systems as possible to ensure that any single Navy warship can undertake offensive, sea-control, and power-projectionmissions on its own -- so you won't need to drop an aircraft carrier in the middle of an ocean to ensure the Navy can control it.
Problem is, the Navy's current standard armament, the Harpoon anti-ship missile, doesn't cover a lot of territory -- about 67 nautical miles' range. To better serve the Navy's needs, Boeing has developed upgraded versions of the Harpoon, known alternately as the Harpoon Next Generation (Harpoon NG) and Harpoon II+, which feature smaller warheads but twice the range of the original Harpoon.
Boeing hopes that if the Navy chooses to deploy the Harpoon NG, it will tap Boeing to upgrade existing stocks of Harpoons to the new configuration. Such upgrades wouldn't bring as much revenue as selling all-new missiles (at $1.2 million a pop). But if you assume that, say, two-thirds of the 7,500 Harpoons sold since the missile's introduction in 1977 are still around today,and that the cost of upgrading an old Harpoon is half the cost of buying a new missile (as Boeing says it is), then that's still a $3 billion market opportunity for Boeing from upgrades alone. And there's additional money to be made selling new Harpoon NGs...
There is, however, one problem with this rosy scenario: Boeing has a rival.
Dueling missiles
According to data from S&P Global Market Intelligence, Boeing earns about a 9.8% pre-tax profit on revenues in its Military Aircraft division, which is responsible for production of the Harpoon. Upgrades on existing Harpoons alone, therefore, could be worth close to $300 million to Boeing -- about $0.46 per share over time. To win those revenues and earn those profits, however, Boeing must beat out a challenger from across the ocean -- and another from closer to home.
Competing with Boeing for the Navy's new missile contracts is a joint venture between Norwegian defense powerhouse Kongsberg and its U.S. ally Raytheon . Together, Kongsberg and Raytheon are trying to convince the Navy to buy Kongsberg's Naval Strike Missile instead of Boeing's new-and-improved Harpoon NG.
Kongsberg's weapon, with a similar-size warheadbut a range of only 107 nautical miles, seems somewhat inferior to the Boeing variant at first glance. But that hasn't prevented Norway from using the missile to arm its naval corvettes and frigates. On the other hand, Kongsberg describesthe Naval Strike Missile as "the only fifth generation long range precision strike missile in existence," which would seem to suggest that the weapon possesses "stealth" characteristics lacking in Boeing's offering, which could appeal to the U.S. Navy.
The Navy is currently testing both missilesfor compatibility with its Littoral Combat Ships, equipping the USS Coronado (LCS 4) with the Harpoon and the USSFreedom (LCS 1) with the Naval Strike Missile. Which missile performs better may determine whether $3 billion-plus in revenue goes to Boeing -- or gets shipped off to Norway instead.
With Kongsberg's Naval Strike Missile, Raytheon is taking aim at Boeing. Image source: Raytheon.
The article Boeing Faces Big Fight Over $3 Billion Missile Contract originally appeared on Fool.com.
Rich Smithowns shares of Raytheon. You can find him onMotley Fool CAPS, publicly pontificating under the handleTMFDitty, where he's currently ranked No. 299 out of more than 75,000 rated members.The Motley Fool has no position in any of the stocks mentioned. Try any of our Foolish newsletter services free for 30 days. We Fools may not all hold the same opinions, but we all believe that considering a diverse range of insights makes us better investors. The Motley Fool has a disclosure policy.
Copyright 1995 - 2016 The Motley Fool, LLC. All rights reserved. The Motley Fool has a disclosure policy.