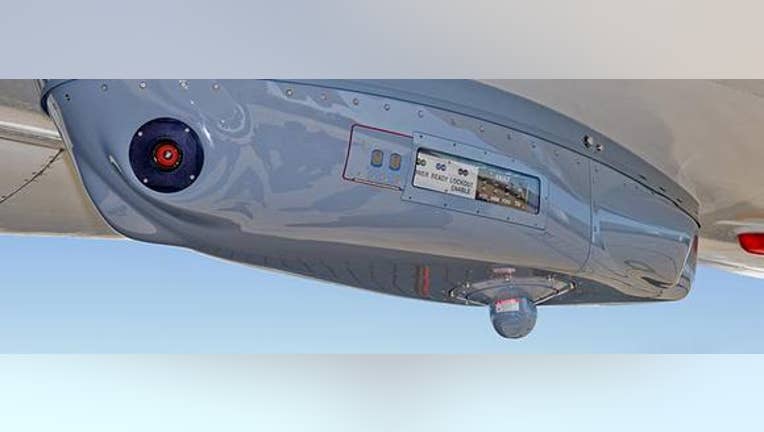 MANPADS are by definition "man-portable." But just one -- like this Iranian Republican Guard "Strela" -- can bring down a large aircraft. Image source: sayyed shahab-o- din vajedi via Wikimedia Commons.
Around the world, the use of cheap and deadly shoulder-launched infrared guided missiles is "growing in popularity among terrorist groups and in thirdworld countries." So warns Northrop Grumman . Lucky for flyers, though, Northrop Grumman has a solution to this threat: Directional Infra-Red Counter-Measures for on-plane missile defense.
What is DIRCM?Northrop's DIRCM system consists of several parts -- all working together to detect and track incoming anti-aircraft missiles, then defeat the threat by jamming and confusing the missile's infrared tracker, causing it to go off course. Northrop produces DIRCM in various formats:
LAIRCM "is required to defeat the latest and future advanced IR threats" to Large military Aircraft.
CIRCM is a more affordable "Common" system "built on open architecture to work with existing hardware" to protect a wide array of helicopters and medium fixed wing aircraft.
Northrop also offers a "pod-based" DIRCM system, dubbed Guardian, which incorporates "a multiband laser pointer/ tracker and an ultraviolet missile warning sensor." This all gets stuffed into a single, canoe-sized unit that can be bolted onto existing aircraft such as commercial airliners.
Who wants missile protection?Northrop Grumman has enjoyed some measure of success selling its DIRCM systems around the globe, including sales to the Canadian military and several other foreign governments in 2014, for example, and to the governments of Oman and Qatar the year before that. The U.S. military has also been investing billions of dollars in outfitting its aircraft with Northrop Grumman LAIRCM systems.
This month, Northrop landed a new client when, in a recent notification to Congress from the U.S. Defense Security Cooperation Agency (DSCA), the government of the United Arab Emirates expressed its interest in buying a set of eight "AN/AAQ-24 (V)N LAIRCM" missile defense systems from Northrop. UAE hopes to install the systems to protect its fleet of seven (current) and one (on order) Boeing C-17 military transport aircraft.
What it means to investorsAssuming Congress approves the UAE sale (and Congress has never rejected a foreign arms sale notified to it by DSCA), the contractors involved stand to win $225 million in new business. Not all the money will go to Northrop, however. in notifying Congress of the sale, DSCA named Boeing the prime contractor on the contract, relegating Northrop Grumman to the secondary role of "main sub-contractor."
That's not great news for Northrop this time. But future sales may offer better news. Here's why:
At roughly $28 million per LAIRCM unit (including all necessary incorporated equipment, servicing, and spare parts) these military anti-missile systems appear to be selling for several times Northrop's stated $3 million price tag on the civilian-market-targeted Guardian system. That's good news for Northrop, which has been having a hard time (and facing stiff competition from Israel) breaking into the civilian market. The fact that it's having more success finding military buyers, and at higher price tags, is a nice consolation prize.
With any luck, the next time we hear of a big LAIRCM sale, Northrop will be able to keep all the money, and not have to share the wealth with Boeing.
Northrop's Guardian plug-and-play anti-missile aircraft defense system. Image source: Northrop Grumman.
The article Boeing and Northrop Grumman Team Up To Protect Airplanes From Missiles originally appeared on Fool.com.
Fool contributorRich Smithdoes not own shares of any company named above. You can find him onMotley Fool CAPS, publicly pontificating under the handleTMFDitty, where he's currently ranked No. 260 out of more than 75,000 rated members.The Motley Fool has no position in any of the stocks mentioned. Try any of our Foolish newsletter services free for 30 days. We Fools may not all hold the same opinions, but we all believe that considering a diverse range of insights makes us better investors. The Motley Fool has a disclosure policy.
Copyright 1995 - 2016 The Motley Fool, LLC. All rights reserved. The Motley Fool has a disclosure policy.