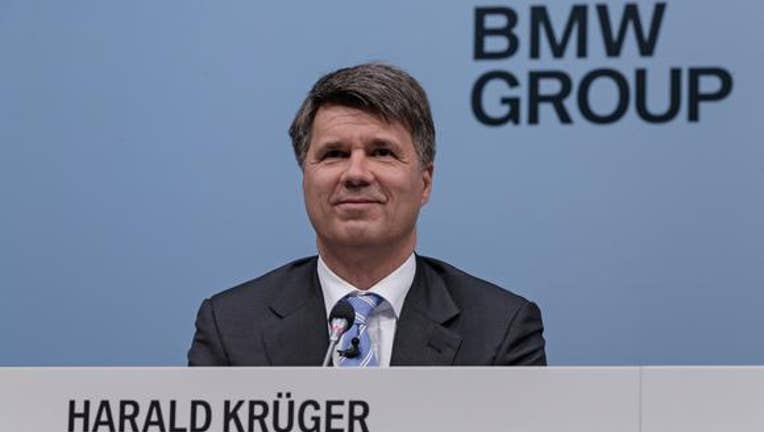 BMW CEO Harald Krueger discussed the company's 2015 results and future guidance at a press conference in Munich on March 16. Image source: BMW
Bayerische Motoren Werke , better known as German luxury-car giant BMW, released its 2015 annual report and guidance for 2016 on March 16. It also discussed its new business plan for the next several years, which includes major investments in advanced technologies.
Here's what investors need to know.
A recap of BMW's 2015 resultBMW released a summary of its 2015 financial results on March 9. (Learn more here.) In brief, sales, revenue, and net income were all up solidly over record 2014 results, with the bottom-line result getting an additional tailwind from exchange-rate moves that favored the euro. BMW's full-year earnings before interest and tax (EBIT) totaled 9.6 billion euros ($10.62 billion), up 5.2% from 2014.
The EBIT profit margin at BMW's Automotive unit was 9.2% in 2015, down somewhat from its 2014 result (9.6%) but still well within CEO Harald Krueger's target range of 8% to 10%. That result fell between the margins at BMW's two arch-rivals: Volkswagen's luxury subsidiary Audi posted an 8.3% margin, while Daimler's Mercedes-Benz unit generated a 10% EBIT return.
BMW's 2016 guidance: New highs in sales and profits"We are targeting new highs for sales volume and group profit before tax," Krueger said in a statement. But those "new highs" won't be dramatically above BMW's 2015 results.
Specifically, Krueger said that EBIT earnings are expected to improve "slightly." BMW said that its strong product range and the general upward trend of global markets should help it overcome "rising personal expenses, intense competition and high levels of upfront expenditure for new technologies."
BMW also expects sales volumes in both its Automotive and Motorcycle segments to improve "slightly" over very good 2015 results. In Automotive, the all-new 7 Series luxury sedan should drive incremental gains, the company said, along with the new BMW X1 crossover and Mini Clubman that were launched late last year.
BMW will continue to target an EBIT margin of between 8% and 10% for its Automotive unit in 2016.
In its Financial Services unit, BMW forecasts a return on equity roughly in line with its 2015 result (20.2%). It targets a minimum of 18%; that target remains unchanged for 2016.
BMW noted that all of its forecasts for 2016 "are based on the assumption that worldwide economic conditions will not change significantly."
Beyond 2016: "Strategy NUMBER ONE > Next"BMW also laid out its strategy for its next generation of products, called "Strategy NUMBER ONE > Next". (It's an awkward title in English, but perhaps it sounds better in German.)
In a nutshell, BMW is planning an aggressive high-tech strategy focused on electric vehicles and advanced self-driving features, while looking to bolster profitability in the near term by adding more SUV models and more variations of high-end BMWs like the new 7 Series sedan.
In the near term, BMW will add a roadster version of its existing i8 plug-in hybrid sports car and revamp its electric i3 sedan for longer range by the end of 2016. BMW said that "from 2016 onwards" it will have seven models in its range that are either pure EVs, or plug-in hybrids. A plug-in hybrid Mini is also coming, the company said.
BMW is also pushing ahead with hydrogen fuel cells and will continue to make substantial investments in automated-driving technology. All of these advanced efforts fall under what BMW calls the "iNEXT banner."
"BMW iNEXT heralds the next era of mobility," said Krueger. "This symbol of our technology leadership will demonstrate how we will bring the future of mobility into series production."
"Our focus is clear: We are securing the BMW Group's position as technological market leader," said development chief Klaus Froehlich in a statement. "With [this new project] we will lead the field of autonomous driving. We will turn research projects into new kinds of industrial processes, bringing future technology onto the road."
All that said, BMW also noted that the "combustion engine" will "continue to play a major role for many years to come." It promised new models at the upper end of the BMW portfolio, including a premium X7 crossover SUV, along with a new generation of models for super-luxury brand Rolls-Royce starting in 2018.
The upshot: BMW looks to keep pace with a fast-moving industry BMW's bold talk about "the transformation of individual mobility" echoes what we've heard in recent months from other leading global automakers, including General Motors, Ford, and Toyota as well as both of BMW's German rivals.
As the world moves toward greener cars, automated driving, and alternative models of mobility, BMW -- like its rivals -- faces the challenge of staying relevant. In the near term, it also -- again, like its rivals -- faces the challenge of convincing investors that it won't be "disrupted" by Silicon Valley upstarts.
So far, BMW's "i" models have successfully melded advanced technologies (including the extensive use of carbon fiber) with BMW's trademark fun-to-drive experience. It remains to be seen how BMW will bring its "ultimate driving machine" value proposition into a world in which most of the driving will be done by computers. But if it can manage to preserve the fun while bringing its customers the benefits of automated driving, it may have a bright future. So far, it looks like Krueger and his team are making the right kinds of moves in that direction.
The article BMW's Future Focus: Electric Cars, Self-Driving Technology -- and More SUVs originally appeared on Fool.com.
John Rosevear owns shares of Ford and General Motors. The Motley Fool owns shares of and recommends Ford. The Motley Fool recommends BMW and General Motors. Try any of our Foolish newsletter services free for 30 days. We Fools may not all hold the same opinions, but we all believe that considering a diverse range of insights makes us better investors. The Motley Fool has a disclosure policy.
Copyright 1995 - 2016 The Motley Fool, LLC. All rights reserved. The Motley Fool has a disclosure policy.