BMW Operating Profit Falls as Future Tech Costs Weigh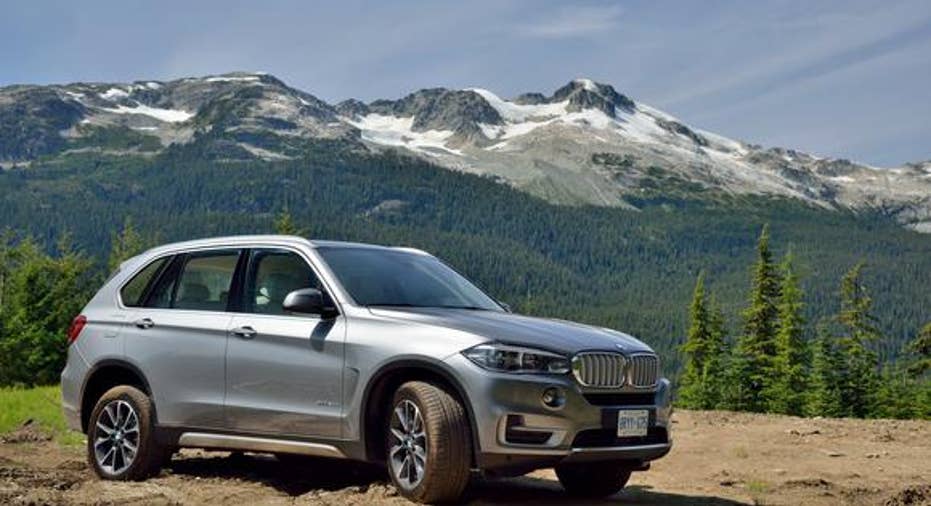 Like many of its rivals, the SUV boom is helping to fatten BMW's bottom line. Its challenge now is ensuring that it builds enough of its hot-selling crossovers like this X3 for key markets. Image source: BMW.
German luxury-car maker Bayerische Motoren Werke , better known as BMW, reported its first-quarter 2016 earnings on May 3. Here's what investors need to know.
The key numbers
| | Q1 2016 | Q1 2015 | Change |
| --- | --- | --- | --- |
| Revenue | 20,917 | 20,853 | +0.3% |
| Units sold: autos | 557,605 | 526,669 | +5.9% |
| Units sold: motorcycles | 33,788 | 31,370 | +7.7% |
| Earnings before interest and tax (EBIT) | 2,457 | 2,521 | -2.5% |
| EBIT margin (auto segment) | 9.4% | 9.5% | -0.1 point |
| Net profit | 1,641 | 1,516 | +8.2% |
| Operating cash flow (auto segment) | 1,219 | 1,830 | -33.4% |
All financial results are in millions of euros. 1 euro = $1.1561 on May 3.
What happened at BMW in the first quarterThe good news was that BMW was able to set new records for sales volume and net earnings in the first quarter despite slowing sales in key regional markets. Revenue was roughly flat year over year as exchange-rate shifts erased a modest gain, officials said. Operating profit fell slightly despite booming sales of BMW "X models," the company's line of premium crossover SUVs, as BMW ramped up its investments in future products.
Total auto sales rose 5.9% to 557,605 vehicles sold, a new record for the first quarter for BMW. But that came with some caveats: While sales were up in Europe (+9.5%) and Asia (+9.9%), including a good performance in China (+10.5%), deliveries in North and South America dropped by 8.7% -- including a 10.8% year-over-year decline in the United States.
CFO Friedrich Eichiner said that the drop in U.S. sales was to some extent supply related -- specifically, related to the supply of those hot-selling BMW crossover SUVs. As we've seen across the industry, more and more buyers are choosing to replace sedans with SUVs. The trend hasn't caught BMW by surprise, but it's possible that the company underestimated the extent of demand in the U.S.
Eichiner said that BMW "is now in the process of expanding the production capacity for X models" for North America, and that he expects that those efforts "will have a positive impact on the sales situation in the second half of the year."
Although supplies of SUVs were better in Europe and China, the story was similar: More and more buyers are choosing SUVs over BMW's sedans. The revamped 3 Series was also well received in China, Eichiner said.
Sales at BMW Motorrad, the company's motorcycle unit, rose 7.7%, mainly on strong demand in Europe and Asia.
BMW's cash flow fell significantly year over year. Capital expenditures of 405 million euros were higher than usual, which Eichiner attributed to "preparations for the ramp-up of new models." Research and development spending of 974 million euros was up 5.2% year over year, Eichiner said, and was focused on new-product development and "future technologies," including advanced driver-assistance systems and electric propulsion.
BMW had 17.5 billion euros in net liquidity available to its automotive unit as of the end of the first quarter.
What BMW executives said about the quarter"Our first-quarter performance is further proof of our ability to generate positive earnings with our core business, despite a volatile environment," CEO Harald Krueger said in a statement. "The decisive factor for us is not short-term profit but sustainable, profitable growth. From this position of strength, we intend to play a pioneering role in transforming and shaping the world of individual mobility going forward."
"The BMW Group made a positive start to 2016," Eichiner said in a statement. "In the first three months, automotive sales climbed to over 550,000 vehicles. Both deliveries and Group earnings before tax reached new first-quarter highs; the EBIT margin of 9.4% for the automotive segment was also within our target range.
"The company is looking to build on a successful 2015 financial year -- and has set itself ambitious targets for 2016. We are maintaining our guidance for the full year. The first quarter fulfilled our expectations in a volatile market environment."
Looking ahead: BMW's guidance for 2016 BMW maintained its full-year guidance. It still expects "slight increases" in overall pre-tax earnings, auto sales, motorcycle sales, and revenue from its automotive unit. It expects the EBIT margin in its automotive unit to come in between 8% and 10%, and the return on equity in its financial services arm to be above 18%, on par with its 2015 result.
But Eichiner noted that BMW's guidance assumes a stable global environment. "I would like to emphasise that all our targets depend on stable political and economic conditions," he said. "Actual business performance may deviate from our present forecast if global economic and political uncertainties become even greater than expected."
The article BMW Operating Profit Falls as Future Tech Costs Weigh originally appeared on Fool.com.
John Rosevear has no position in any stocks mentioned. The Motley Fool recommends BMW. Try any of our Foolish newsletter services free for 30 days. We Fools may not all hold the same opinions, but we all believe that considering a diverse range of insights makes us better investors. The Motley Fool has a disclosure policy.
Copyright 1995 - 2016 The Motley Fool, LLC. All rights reserved. The Motley Fool has a disclosure policy.