bluebird bio, Inc. Takes Flight Towards First Approval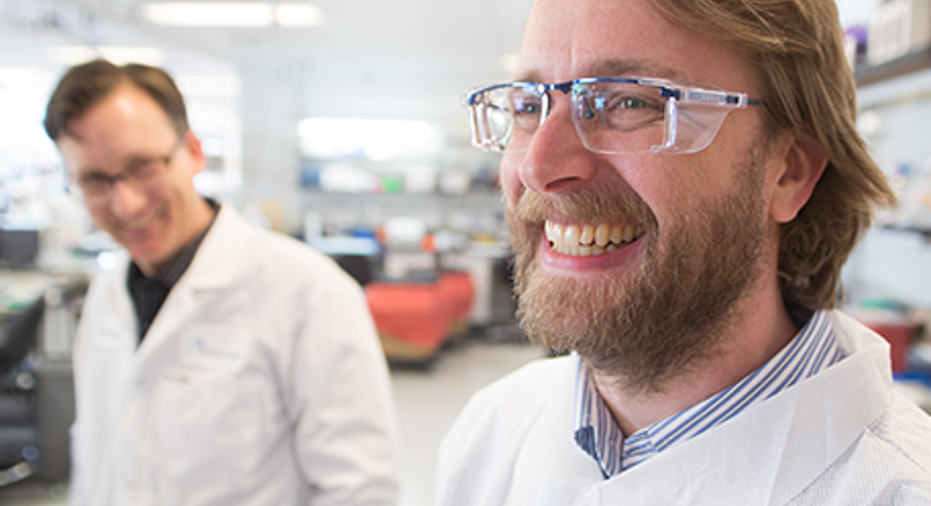 Image source: bluebird bio,
On Wednesday, April 20, at about 8:30AM, gene editing pioneerbluebird bio(NASDAQ: BLUE) reported interim results from the only study running right now that might earn it an FDA approval. Although it's interim data (meaning the study is not yet complete), the results are in a sense, 100% positive.The stock must be going through the roof, right?
Nope.
In fact Bluebirdstock finished the day down more than 7%.
Why nobody caresThe presented data involved patients withchildhood cerebral adrenoleukodystrophy, or CCALD, a deadly genetic disorder that involves destruction of nerve cells responsible for thought and muscle control.
The disease is generally treatable with dangerous allogeneic (i.e. from another person) stem-cell transplants. The trial, named Starbeam, is treating 17 patients with Lenti-D modified stem cells that come from the patients themselves, drastically lowering the danger ofgraft-vs.-host disease. Investigators will measure the number of patients that develop major functional disabilities at 24 months.
Image source: bluebird bio
At the interim, three patients have completed the two-year observation period, and the remaining 14 have been followed for at least six months. So far, so good, no major functional disabilities to report.
Some form of adrenoleukodystrophy occurs in about one of every 18,000 male births, and roughly 31-35 percent are of the cerebral variety that strikes during childhood.With at least 4 million births expected in the U.S. this year, roughly 114 boys will be diagnosed with some form of ALD. Somewhere between 35 and 40 will be of the childhood cerebral variety.
This leaves Lenti-D with an extremely limited patient population, although expansion to other forms of ALD isn't entirely unreasonable. Even though it's the company's most advanced program, it's generally considered a single-digit percentage of Bluebird's intrinsic value.It's important to remember that Bluebird is developing one-time cures, not chronic therapies.
All eyes are on LentiGlobin, another lentiviral vector based cellular therapy. It's currently in development for beta-thalassemia (a disease with roughly 1,500 new U.S. patients each year)and the immense sickle cell disease indication.
Why they should careLentiGlobin may have a far larger addressable patient population than Lenti-D, but the company desperately needs more data on lentiviral vector based cellular therapies in general, and it clearly could also use more revenue.
This is the only study running right now that could lead to an approval of a lentiviral vector based cellular therapy. In other words, if Starbeam's final results are consistent with recently released interim data, it will probably help Bluebird get the real-world data it needs and a product to sell, well ahead of its gene-editing cellular-therapy developing industry peers.
The morbidity rate of the only existing CCALD treatment, allogeneic stem cell transplant, varies based on the suitability of the donor -- think siblings vs. strangers -- but it's crazy dangerous. Bluebird is running a separate trial with 35 CCALD patients that have undergone or will undergo allogeneic stem cell transplant.Just 27 have completed the two-year post transplant observation period, but so far four have died, and graft failure occurred in 8% to 18% of patients.
Among the Lenti-D patients, there were no reports of graft-vs.-host disease or deaths.
The caveatRemember when I said these two studiescould lead to an approval? Well, Bluebird has a big hurdle to cross, in uncharted territory.
Image source: bluebird bio,
Generally, the FDA insists on data from one trial with at least two groups of patients, one receiving the experimental therapy and one receiving the standard-of-care and/or a placebo. They must be randomized into their groups, and only independent data monitors should be privy to who is getting the experimental drug and who isn't. We call this a randomized, blinded, controlled study, and without statistically significant improvements in efficacy, and/or safety from a trial like this, you've got nothing.
Occasionally, the agency considers mitigating circumstances, such as a complete lack of existing treatments for a very dangerous disease. In the case of a recently approved Anthrax treatment, Anthim, the agency didn't even have human data.Whew!
I honestly can't think of any humane way for Bluebird to design arandomized, blinded, controlled study of Lenti-D, or LentiGlobin for that matter. I think the combination of Lenti-D in 17 patients with a separate trial observing the standard-of-care in another 35 is as good as it's going to get.
If the results from the interim analysis during the 17-patient Lenti-D trial remain consistent a year and a half from now, I expect the FDA will accept an application supported with data from both trials. Given Lenti-D's safety profile compared to the standard of treatment thus far, I would also expect an approval.
Granted, it wouldn't push Bluebird into profitability, but it could pave the way for LentiGlobin -- from both a financial and regulatory standpoint.
The article bluebird bio, Inc. Takes Flight Towards First Approval originally appeared on Fool.com.
Cory Renauer has no position in any stocks mentioned. The Motley Fool recommends Bluebird Bio. Try any of our Foolish newsletter services free for 30 days. We Fools may not all hold the same opinions, but we all believe that considering a diverse range of insights makes us better investors. The Motley Fool has a disclosure policy.
Copyright 1995 - 2016 The Motley Fool, LLC. All rights reserved. The Motley Fool has a disclosure policy.