Blue Chips See Green: Dow Caps Week at '07 High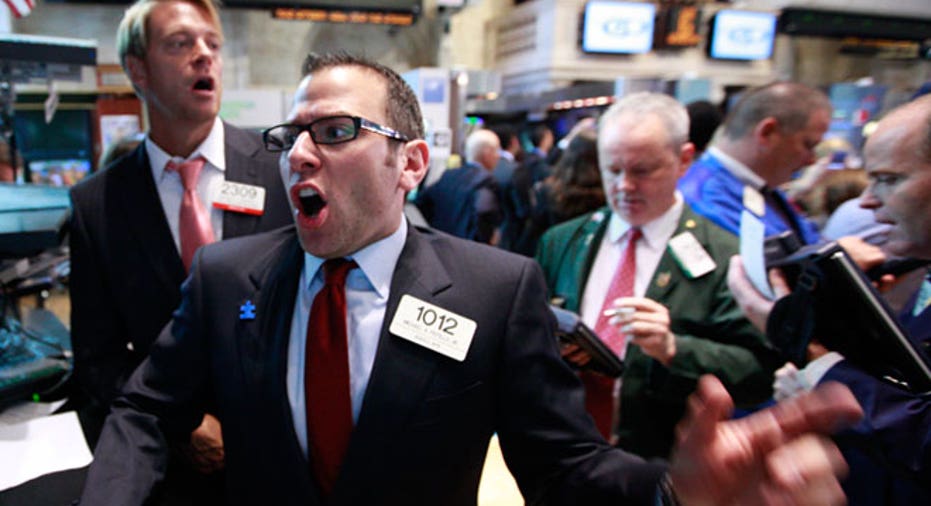 FOX Business: Capitalism Lives Here
The Dow rallied 1.2% this week to its highest level since December 2007 as traders reacted to optimistic economic data and a round of corporate earnings.
Today's Markets
The Dow Jones Industrial Average climbed 53.7 points, or 0.39%, to 13650, the S&P 500 jumped 5 points, or 0.34%, to 1486 and the Nasdaq Composite slumped 1.3 points, or 0.04%, to 3135.
The broader-market averages also had a strong week. The S&P 500 tacked on 0.95% and the tech-heavy Nasdaq rose 0.29%. The VIX, seen as Wall Street's fear gauge, also closed at its lowest level since June 2007.
Wall Street initially had little response to Friday's lone economic report, which showed that U.S. consumer sentiment unexpectedly fell in the beginning of January, perhaps in response to increased payroll taxes that sapped income at the beginning of the year.
The University of Michigan/Reuters preliminary January survey revealed U.S. consumer sentiment dropped to 71.3, down from 72.9 in December and well below forecasts from economists for a rise to 75.0. It also marked the lowest reading since December 2011.
Meanwhile, market participants were also paying close attention to corporate news as earnings season picks up steam.
The Nasdaq Composite posted steady losses as Intel (NASDAQ:INTC) tumbled 7% a day after reporting a beat on the bottom line, but slightly trailed estimates on the top line.
In addition to a deeper-than-expected 3% drop in revenue, Intel projected first-quarter sales that could miss forecasts. Other chip makers were also under selling pressure, including Advanced Micro Devices (NASDAQ:AMD) and Nvidia (NASDAQ:NVDA).
Likewise, American Express (NYSE:AXP) dropped almost 3% after reporting mostly in-line results.
On the other hand, blue-chip conglomerate General Electric (NYSE:GE) and financial giant Morgan Stanley (NYSE:MS) rallied after revealing beats on their revenues and profits.
The energy complex has been in focus as well, getting a boost on Thursday from worries about the security of supplies from North Africa sparked by the hostage situation in Algeria.
Futures cooled off mildly on Friday. The benchmark crude contract dipped 38 cents, or 0.40%, to $95.56 a barrel. Wholesale New York Harbor gasoline fell 0.42% to $2.757 a gallon.
In metals, gold slipped $3.00, or 0.18%, to $1,687.80 a troy ounce.
Corporate Movers
Capital One (NYSE:COF) tumbled 8% as the financial-services company was hit by a slew of price targets and a downgrade from analysts after reporting disappointing fourth-quarter earnings.
Sony (NYSE:SNE) rallied after revealing the sale of its U.S. headquarters in Manhattan for $1.1 billion. Sony sees a $685 million gain thanks to the move.
Foreign Markets
The Euro Stoxx 50 fell 0.31% to 2710.93, the English FTSE 100 rose 0.48% to 6160.77 and the German DAX slipped 0.29% to 7714.19.
In Asia, the Japanese Nikkei 225 soared 2.9% to 10913 and the Chinese Hang Seng rallied 1.1% to 23602.