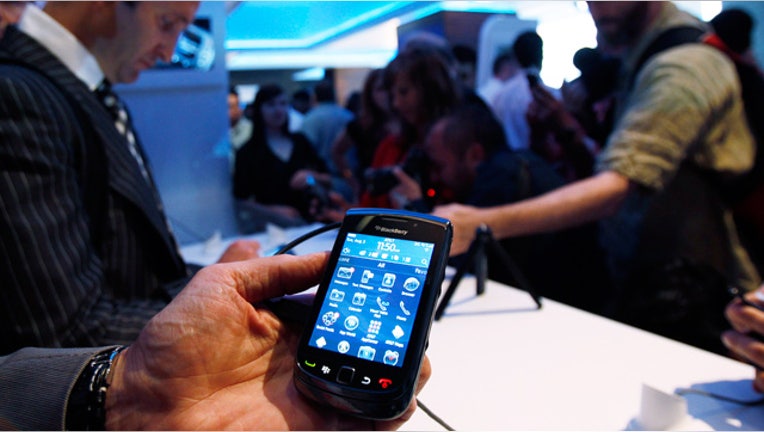 Slammed by a massive inventory charge and a 49% revenue plunge, BlackBerry (NASDAQ:BBRY) logged a massive second-quarter loss of $965 million on Friday, confirming the embattled smartphone maker's dire profit warning from a week earlier.
The results underscore BlackBerry's steep fall from the preeminent smartphone maker worth more than $81 billion in June 2008 to one forced to accept a preliminary buyout offer this week worth just $4.7 billion from billionaire Prem Watsa.
As BlackBerry detailed in its preannouncement last week, the red ink was driven by a non-cash, pre-tax charge against inventory and supply commitments of about $934 million as well as restructuring charges of about $72 million.
The company said it lost $965 million, or $1.84 a share, which is at the low end of its warning last week.
Excluding one-time items, the company lost $248 million, or 47 cents a share. Analysts had been bracing for a loss of 49 cents a share.
Revenue plunged 49% to $1.6 billion, matching the company's preannouncement but only about half of what Wall Street had been forecasting previously. The company said 49% of its revenue was from hardware, 46% for service and 5% for software and other sources.
"We are very disappointed with our operational and financial results this quarter and have announced a series of major changes to address the competitive hardware environment and our cost structure," BlackBerry CEO Thorsten Heins said in a statement.
The Waterloo, Ontario-based company disclosed plans last week to axe 40% of its workforce and cut operating expenses by about 50% by the end of the first quarter of 2015.
BlackBerry, which analysts have warned could run out of cash over the next year or two, said it ended the quarter with $2.6 billion in cash and investments.
"We are focused on our targeted markets, and are committed to completing our transition quickly in order to establish a more focused and efficient company," Heins said.
Watsa's buyout offer is subject to a six-week due diligence period and some on Wall Street have expressed doubt the deal will even get done.
BlackBerry's shares slipped below the $8-a-share bid price from Watsa on Thursday, closing at $7.95 -- down 24.4% from its close on September 19, the day before the profit warning.
The CEO of Fairfax Financial pushed back against that skepticism, telling Toronto's Globe and Mail his company has plenty of potential partners -- enough to make the equity part of the buyout oversubscribed.
"We've got more than we need," the billionaire told the paper. "Our offer is a definite offer. We wouldn't put our name to a deal with the board of directors of BlackBerry if it wasn't a good offer."
BlackBerry advanced 2.14% to $8.12 in Friday's premarkets following the results and Watsa's comments.