BlackLine's Lockup Period Is Set to Expire. Should Investors Be Worried?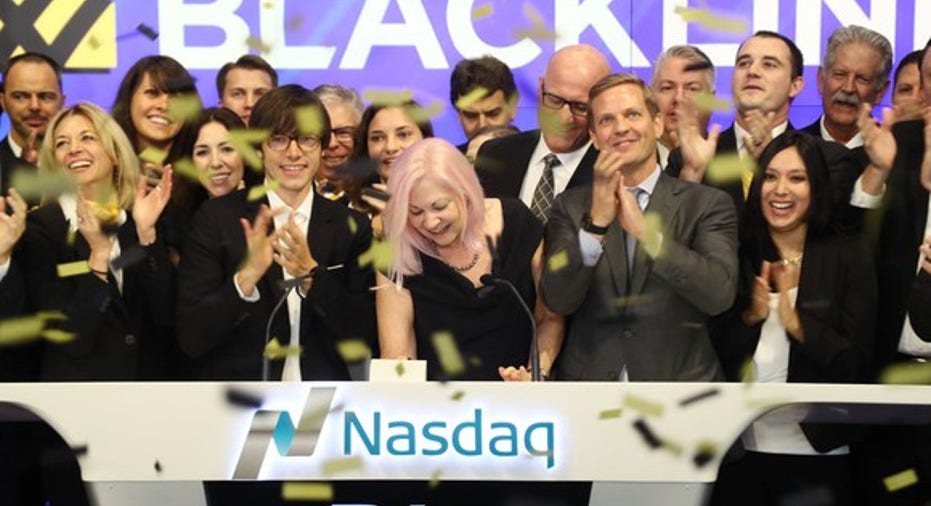 When a company conducts its initial public offering (IPO), there is typically a lot of uncertainty about the its future prospects. One of the mechanisms in place to give investors a level of assurance when investing in an IPO is the lockup period, or the length of time that insiders and pre-IPO investors are prohibited from selling shares in the company. This typically lasts between 90 and 180 days.
The reason investors want to be aware of a lockup period ending is due to the potential for a large volume of shares to be sold, and a plummeting share price, especially if the stock has risen significantly since the IPO. Insiders and early investors may be looking to recoup their investment and cash-out on the big gains.
BlackLine CEO Therese Tucker rings the Nasdaq opening bell in celebration of its IPO in October. Image source: BlackLine, Inc.
What's happened since the IPO?
BlackLine, Inc.(NASDAQ: BL), a provider of cloud solutions to automate accounting processes, went public last year on Oct. 28, pricing at $17 per share. The stock skyrocketed nearly 40% to close at $23.70 on its first day of trading. Since then, the stock is above $32 as of this writing. The company's 180-day lockup period will expire on April 26. It isn't unusual for pre-IPO investors to sell after the lockup period ends, as this is the only way for them to realize a return on their investment, particularly if they were invested long before the IPO. The stock price is nearly double its initial offering price, which would provide some early investors with a powerful incentive to lock in their gains.
While some investors might be inclined to sell, others might take a longer view and plan to keep their shares, if they believe the company has a bright future. BlackLine recently reported quarterly earnings as a public company, which might give us insight into investor sentiment regarding its prospects for success going forward.
How has the company performed?
In its most recent quarterly earnings release, BlackLine reported revenue that grew to $35 million, up 44% from $24 millionin the year-ago period. However, the company's losses doubled to more than $15 million from losses of $7 million. The company expects that to continue as it seeks to capitalize on the opportunity in the markets it serves, though it does expect to be cash flow positive late this year.
BlackLine has been investing in its future to take advantage of what it believes to be a vastly underpenetrated addressable market. To pursue these opportunities, it has been expanding its sales force; mounting aggressive expansion plans in Europe, South America, and Asia; and building out its partner network.
Why does the lockup expiration matter?
While the stock has produced impressive gains since its debut, insiders and major investors can have a significant negative effect on the stock price once they are free to sell their shares. BlackLine has a market cap of less than $1.7 billion, which places the company squarely in small-cap territory, which can exacerbate price swings.
Consider the poster child of cautionary tales for IPO lockup expiration, Twitter, Inc. (NYSE: TWTR). Early investors and insiders stampeded to sell their shares after its six-month lockup ended and the stock cratered a massive 18% in one day. It would have been difficult to predict the breadth of the sell-off, though disappointing earnings prior to the lockup expiration may have intensified the situation.
Should I stay or should I go?
BlackLine, meanwhile has chosen to invest in its future and continues to grow at an impressive rate. This is not an apples-to-apples comparison, and I don't believe BlackLine will see anything near as drastic as the Twitter example, though the stock price may fall on April 26. While I will be holding my shares, this does act to serve as an extreme example of what can happen when a lockup expires.
10 stocks we like better than BlackLine, Inc.When investing geniuses David and Tom Gardner have a stock tip, it can pay to listen. After all, the newsletter they have run for over a decade, Motley Fool Stock Advisor, has tripled the market.*
David and Tom just revealed what they believe are the 10 best stocks for investors to buy right now and BlackLine, Inc. wasn't one of them! That's right -- they think these 10 stocks are even better buys.
Click here to learn about these picks!
*Stock Advisor returns as of April 3, 2017
Danny Vena owns shares of BlackLine, Inc. The Motley Fool owns shares of and recommends Twitter. The Motley Fool has a disclosure policy.