BlackBerry's Next Smartphone Will Be a Lot Cheaper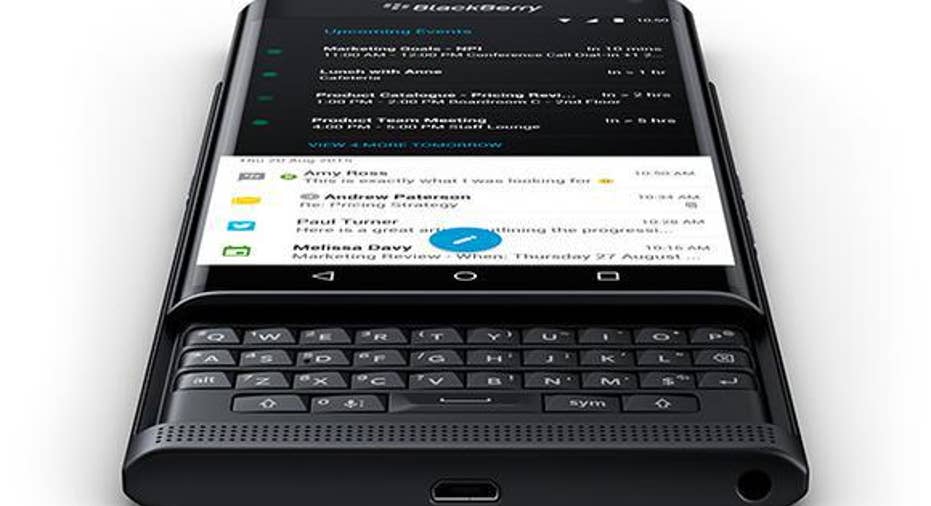 BlackBerry PRIV. Image source: BlackBerry.
BlackBerry is selling fewer and fewer smartphones.
The Canadian phone maker recognizedrevenue on 3.2 million handsets in its last fiscal year, which ended in February. That's down from 7 million in the same period 12 monthsearlier. As a percentage of total revenue, hardware slipped from 42.9% to 40%.During its fourth quarter, BlackBerry's handset sales contracted to just 600,00 units, down from 1.3 million devices in the same quarter last year.
This comes in the wake of a major transition in BlackBerry's handset business. Late last year, BlackBerry launched the PRIV, its first smartphone powered by Alphabet's Android operating system.Unfortunately, thehandset seems to have fallen short of management's expectations. On BlackBerry's earnings call earlier this month, CEO John Chen admitted that the company would change its strategy going forward.
Asking for far too muchIn the U.S., the BlackBerry PRIV retails for around $700 -- about the same price as a standard Android flagship, such asSamsung's Galaxy S7 and LG's G5. But it's not 2007 anymore: Although BlackBerry pioneered the smartphone market, it isn't as established as its now far more dominant rivals, particularly in the Android space. Moreover, the PRIV doesn't offer particularly impressive value. Its hardware keyboard is certainly unique, but the rest of its specs and its processor are downright pedestrian or even modest compared to its competitors.
It isn't particularly shocking, then, that the Priv failed to take the world by storm. There were other factors, to be certain -- the Priv suffered from limited carrier support and a sluggish rollout. ("Unfortunately, contractnegotiationstook longer than planned with certain major carriers," Chen said during the company's earnings call.) Still, it brought questionable value to a crowded smartphone market.
"[The Priv has] done reasonably well in the [United States]. We've done reasonably well...in Canada, in Hong Kong, in major metro cities like in Singapore and so forth," Chen said. As for emerging markets? "Because of the tiering of the PRIV and it's a pretty high-end product, it tends to be more of the developed economies."
Will a $400 Android phone fare much better?Chen fundamentally believes that the PRIV is a solid product, but suffers from a poor price point. He believes the company could sell far more PRIVs were it priced more aggressively:
Later, in an interview with The National, Chen was more specific:
In January, Chen said the company planned to release one or two new Android devices in 2016. It seems likely that they'll priced far more affordably than last year's PRIV. But will that be enough to jump-start BlackBerry's handset business? Before it moved to Android, BlackBerry was offering something unique in the form of an integrated hardware-software platform that emphasized security and a physical keyboard. Its move to Android did away with its proprietary software; now, Chen seems to be emphasizing security above all else.
"Our value proposition, that is to offer the most secure Android smartphone for the enterprise, is actually quite strong," he said on the earnings call. "We're the only people who really secure Android, taking the security features of BlackBerry that everyone knows us for and make it more reachable for the market," he told The National.
It's somewhat troubling that the PRIV's price point would be a problem among enterprise customers, perhaps the single group of buyers best able to absorb greater costs. In a report released last year, Good Technology (a company BlackBerry has since acquired) noted that the iPhone 6 was the single most popular smartphone among enterprise customers during the first quarter of 2015, and that Samsung's Galaxy S5 was the most popular Android phone. At the time, both handsets retailed for upwards of $600.
Either enterprise demand for high-end handsets just isn't what it once was just 12 months ago, or BlackBerry's handsets are facing much more pressing problems than price.
"If we cannot make money on the device business...then I will have to get out of that particular business," Chen said.
As quickly as it arrived, Alphabet could be down a hardware partner.
The article BlackBerry's Next Smartphone Will Be a Lot Cheaper originally appeared on Fool.com.
Suzanne Frey, an executive at Alphabet, is a member of The Motley Fool's board of directors. Sam Mattera has no position in any stocks mentioned. The Motley Fool owns shares of and recommends Alphabet (A shares) and Alphabet (C shares). Try any of our Foolish newsletter services free for 30 days. We Fools may not all hold the same opinions, but we all believe that considering a diverse range of insights makes us better investors. The Motley Fool has a disclosure policy.
Copyright 1995 - 2016 The Motley Fool, LLC. All rights reserved. The Motley Fool has a disclosure policy.