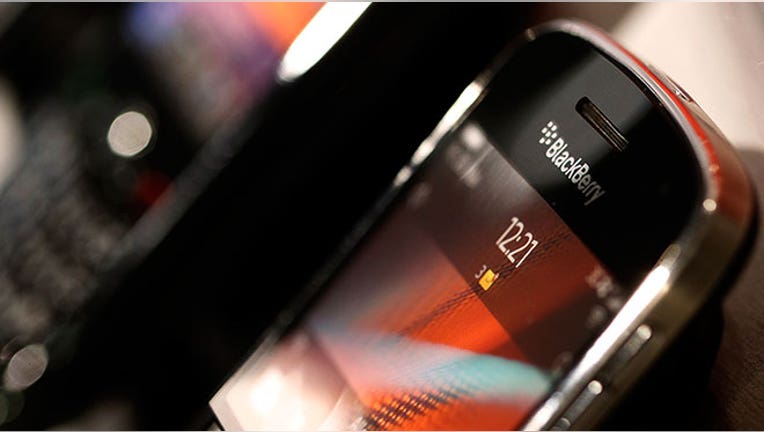 Slammed by gloomy subscriber figures, BlackBerry (NASDAQ:BBRY) revealed on Friday an unexpected adjusted quarterly loss and disappointing profit margins that sent the smartphone maker's stock careening 25% into the red.
The fiscal second quarter results and projections for more red ink ahead raise fears that the company's pivotal BlackBerry 10 launch has gone poorly, hurting its ability to compete against smartphone leaders Google (NASDAQ:GOOG) and Apple (NASDAQ:AAPL).
BlackBerry, also known as Research in Motion, said it lost $84 million, or 16 cents a share, last quarter, compared with a loss of $518 million, or 99 cents a share, a year earlier.
On a non-GAAP basis, the company said it lost 13 cents a share, widely trailing consensus calls from analysts for a profit of six cents a share.
Revenue rose 9% to $3.1 billion, but that missed the Street's view of $3.36 billion.
Gross margins rose to 33.9% from 28%, but analysts polled by StreetAccount expected a greater improvement to 39.2%.
BlackBerry reported 6.8 million smartphone shipments during the quarter, up 13% from the fiscal fourth quarter but well below the Street's view of 7.41 million. The company said 40% of its quarterly shipments were its new line of BlackBerry10 phones.
Looking ahead, BlackBerry warned it won't provide subscriber numbers going forward and will likely post a loss in the fiscal second quarter. Analysts had been anticipating a profit of 10 cents a share for the current quarter.
"Over the next three quarters, we will be increasing our investments to support the roll out of new products and services, and to demonstrate that BlackBerry has established itself as a leading and vibrant player in next generation mobile computing solutions for both consumer and enterprise customers," CEO Thorsten Heins said in a statement.
Once the leader in the smartphone category, BlackBerry has seen its market share evaporate amid heavy competition from devices powered by Apple, Google and more recently Microsoft (NASDAQ:MSFT) Windows.
Wall Street punished the Waterloo, Ont.-based company on Friday morning, sending its stock plummeting 23.69% to $11.06 in pre-market trading. The slide threatens to wipe out BlackBerry's rally of 22% so far this year.