Blackbaud, Inc. Delivers "Sky" High Revenue Growth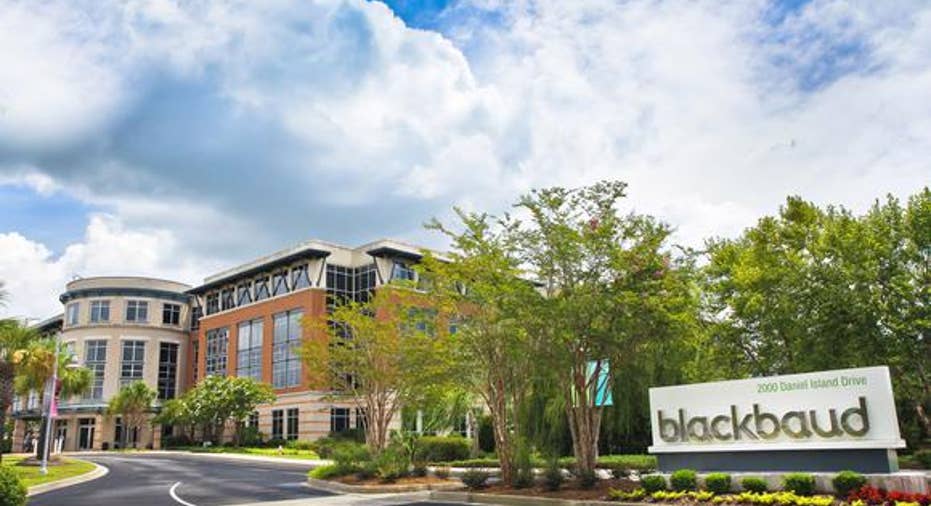 Image source: Blackbaud.
Blackbaud started 2016 off on a positive note, delivering solid first-quarter results after the market closed on Wednesday. Both revenue and earnings were up double digits because of strong growth in the company's cloud-based solutions. That solid start has the company on pace to meet its full-year guidance.
Blackbaud results: The raw numbers
| Metric | Q1 2016 Actuals | Q1 2015 Actuals | Growth (YOY) |
| --- | --- | --- | --- |
| Non-GAAP revenue | $171.0 million | $150.5 million | 13.6% |
| Non-GAAP net income | $19.6 million | $14.9 million | 31% |
| Adjusted EPS | $0.42 | $0.32 | 31.3% |
Data source: Blackbaud.
What happened with Blackbaud this quarter?Blackbaud's move into the cloud continues to pay off.
Blackbaud's non-GAAP revenue, which adds back acquisition-related deferred revenue writedowns, increased by 13.6%, thanks in part to acquisitions closed last year and strong organic growth. In fact, organic revenue was up 8.6% after adjusting for constant currency.
Subscriptions revenue growth continues to be robust, surging 33.6% year over year to $96.9 million. That offset flat to weaker revenue from maintenance, services, and licensing fees.
Overall, recurring revenue now represents 79.4% of total revenue, which is the highest total in the company's history.
Earnings jumped more than 30% thanks to strong revenue growth and a big year-over-year improvement in operating margin, which improved from 17.6% to 18.5%.
What management had to sayIn commenting on the quarter CEO Mike Gianoni said: "The philanthropic market remains very strong, and the success we're seeing across the portfolio positions us well for future growth. ... The market is excited about our next generation solutions, and we're just beginning to tap the extraordinary opportunity in the cloud with Blackbaud Sky."
Blackbaud continues to tout its Sky platform, which now powers six next-generation solutions. Since announcing Blackbaud Sky a couple of months ago, the company has already made nearly 1,000 functionality updates for its customers. That's by design, with the company planning to deliver an "ongoing stream of innovation and other benefits to customers, including better time-to-value, increased returns, greater choice and flexibility, and a compelling user experience," according to Gianoni. The company sees a lot of running room ahead of it as it continues to roll out new solutions, with the sky being the limit for the growth potential of this product.
Looking forwardGiven its solid start to the year, Blackbaud is reaffirming its full year guidance. It's guiding for non-GAAP revenue of $725 million to $740 million, which at the mid-point would be 14.8% ahead of last year. Meanwhile, non-GAAP earnings are expected to be in the range of $1.90 to $1.98 per share, which represents 29.3% growth at the mid-point, and finally, cash flow from operations is still expected to grow by 31.2% to a range of $145 million to $155 million.
The article Blackbaud, Inc. Delivers "Sky" High Revenue Growth originally appeared on Fool.com.
Matt DiLallo owns shares of Blackbaud. The Motley Fool recommends Blackbaud. Try any of our Foolish newsletter services free for 30 days. We Fools may not all hold the same opinions, but we all believe that considering a diverse range of insights makes us better investors. The Motley Fool has a disclosure policy.
Copyright 1995 - 2016 The Motley Fool, LLC. All rights reserved. The Motley Fool has a disclosure policy.