BJ's Widens 1Q Profit on Fees, Ups Forecast.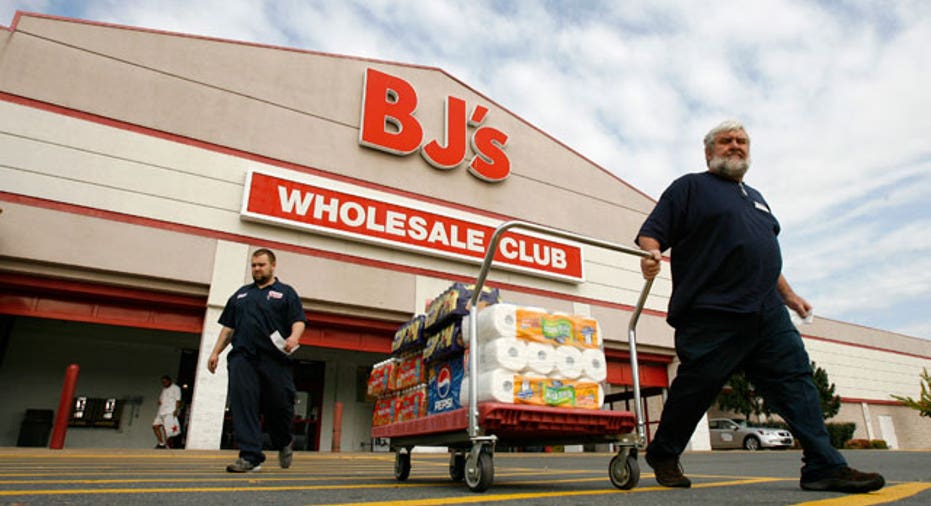 Helped by higher memberships and fees, BJ's (NYSE:BJ) revealed on Wednesday a stronger-than-expected 29% improvement in first-quarter profit, leading the company to lift its fiscal view.
The wholesale retailer posted net income of $33.7 million, or 62 cents a share, compared with $26.1 million, or 49 cents, in the same quarter last year. Excluding one-time items, the company earned 64 cents, ahead of average analyst estimates polled by Thomson Reuters of 56 cents.
Revenue for the Natick, Mass.-based company was $2.77 billion, up 10% from $2.52 billion a year ago, missing the Street's view of $2.82 billion. Membership fees led the results, climbing 8.7% to $50.4 million, while comparable club sales jumped 6.3%.
"BJ's is off to a great start in 2011," Laura Sen, the company's chief executive, said in a statement. "Our stronger-than-expected performance for the first three months of 2011 reflects net sales above plan, continued margin expansion and excellent cost control."
By region, sales at its more established stores soared across its five primary regions, particularly in upstate New York, the Southeast and Mid-Atlantic, with demand surging for bakery, dairy, deli, frozen and health foods, as well as meat, milk, prepared foods, produce and small appliances.
In light of the strong performance, BJ's lifted its fiscal earnings to a range of $2.68 to $2.88 a share. Analysts are looking for earnings of $2.80.
The wholesaler sees second-quarter earnings in the range of 74 cents to 78 cents a share, ahead of Wall Street estimates of 73 cents.