BJ's Restaurants, Inc. Stock Up Big on Earnings: Key Takeaways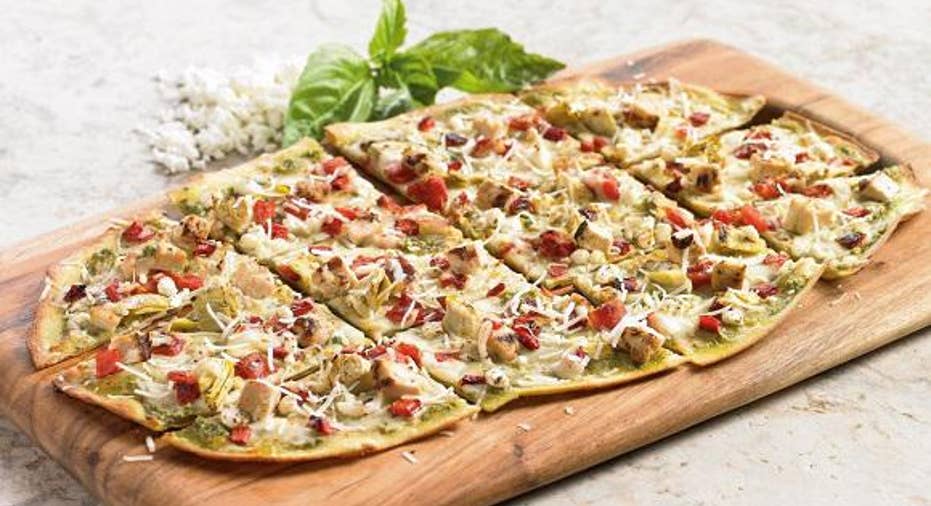 Flatbreads have been a traffic driver for BJ's. Can it find a way to push more revenue, too? Image source: BJ's Restaurants.
BJ's Restaurants shares rose briskly on April 22, as much as 11% early in the day, following the April 21 after-hours release of the company's first-quarter earnings. As of this writing around 2:15 p.m. ET, the stock price is up about 9%, a respectable haul, all things considered. Let's take a closer look at the earnings results, particularly the things investors should pay close attention to.
The numbers
| Metric | Q1 2016 | Q1 2015 | Change |
| --- | --- | --- | --- |
| Revenue | $243.4 | $225.1 | 8.1% |
| Net income | $11.6 | $9.6 | 21.1% |
| Earnings per share | $0.47 | $0.36 | 32% |
Revenue and net income in millions. Source: BJ's Restaurants,
Share buybacks continue to drive earnings-per-share growthNote that earnings per share increased at a much higher rate in the quarter than net income did. That's because BJ's management has been incredibly aggressive with share buybacks in recent years, primarily because of pressure from several large investors. Since April 2014, the company has repurchased 5.5 million shares, reducing the share count significantly:
BJRI Shares Outstanding data by YCharts
The company repurchased another 600,000 last quarter, bringing the share count down more than 8% since the beginning of the first quarter in 2015.
Operating leverage also key to profit growthRevenue increased 8% in the quarter, almost entirely on new restaurant openings, with comparable sales increasing only 0.6% in the quarter. Nonetheless, BJ's was able to increase net income by 21%, largely by keeping its costs in line. Total costs increased 6% in the quarter, with cost of sales, labor and benefits, occupancy and operating costs, and general and administrative expenses all falling as a percentage of sales.
Combined, the improved restaurant-level expenses led to a 120-basis-point increase in restaurant-level operating margin of 20.1%. This marked the seventh quarter in a row of improvement in this important operating efficiency metric,and is evidence that the company's "Project Q" plan to lower costs and improve efficiency in the restaurants continues to pay off.
Comps growth bears watchingThere's no getting around the reality for casual sit-down dining: More competition from both traditional casual as well as "fast casual" eateries means that competition has never been greater than it is today. BJ's has thus struggled to grow sales at its existing restaurants. Over the past six quarters, comps growth has been 0.6%, 0.7%, 2.3%, 0.5%, 3.2%, and 1.2%.
For comparison,Darden Restaurants, Inc, which owns Olive Garden, Longhorn Steakhouse, Yard House, and Bahama Breeze restaurants, among others, has regularly reported comps growth near or above 3% over the same period, and it reported 4.2% comps growth in its most recent quarter,, a key driver behind its 7% revenue growth on a much larger base of over 1,500 restaurants, versus 175 BJ's locations. Darden also reported a 3% increase in comparable guest traffic in the quarter, while BJ's management was a little cagey on disclosing changes in traffic count in the quarter.
Darden's Olive Garden has reported higher comps growth than BJ's for more than one year. Source: Darden.
The key here for BJ's is that the chain continues to try to strike a balance between offering the right value to drive traffic, while also maximizing what it can charge. Over the past two years, the company has done a solid job getting better profitability from its restaurants, but it has yet to find a way to effectively drive up average ticket prices while also seeing increased traffic levels.
Looking aheadBJ's balance sheet stayed largely unchanged in the quarter, with cash falling $8 million to $26.9 million, and total debt falling $5 million to $95.5 million. The company also has $29.9 million left on its authorization for share buybacks, so it's possible debt could go up slightly in the second quarter if management is aggressive in buying back shares at a price that -- even after today's increase -- is still well off its recent high price.
The company has opened only four restaurants in 2016, but it plans to open another three in Q2 and as many as 12 more in the second half of the year, which would put the company right at its long-term goal of growing operating weeks by 10% per year.
CEO Greg Trojan also said that when it comes to cost reduction, it's not clear just how much more leverage it can squeeze out, saying the company is starting to pick the fruit "at the top of the tree" with regard to easily identifiable cost improvement. To put it another way, it will take higher comp sales to push restaurant-level operating margins higher than the 20% level they've been at over the past several quarters, as improved operating efficiencies are doing just about all they can at these levels.
Can the company maintain its excellent operating leverage and also ignite sales growth? Only time will tell.
The article BJ's Restaurants, Inc. Stock Up Big on Earnings: Key Takeaways originally appeared on Fool.com.
Jason Hall owns shares of BJ's Restaurants. The Motley Fool recommends BJ's Restaurants. Try any of our Foolish newsletter services free for 30 days. We Fools may not all hold the same opinions, but we all believe that considering a diverse range of insights makes us better investors. The Motley Fool has a disclosure policy.
Copyright 1995 - 2016 The Motley Fool, LLC. All rights reserved. The Motley Fool has a disclosure policy.