Biotech's Dumbest CEO Moves in 2016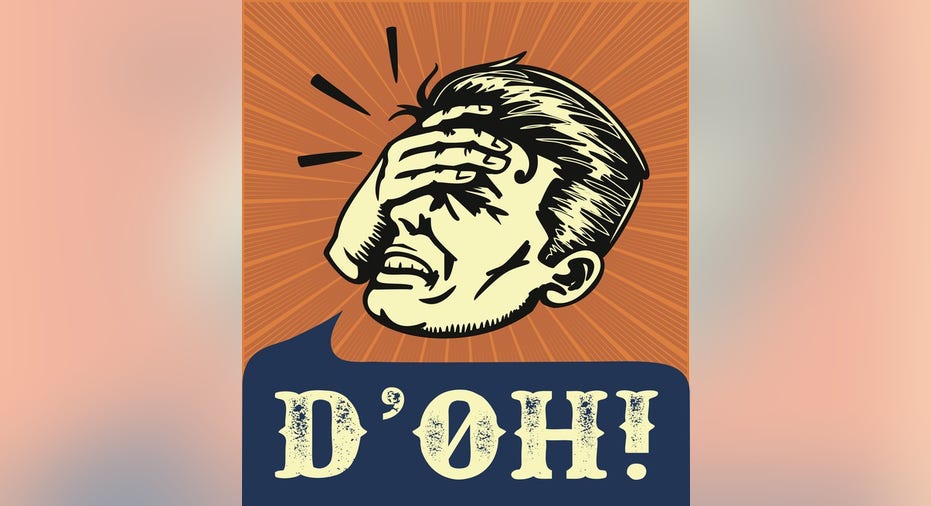 Image source: Getty Images.
Investing in biotech companies isn't easy, but it seems likely that leading them is even harder. Ultimately the destiny of the company is mostly out of the CEO's hand once the clinical trial starts; either the drug candidate works or it doesn't.
But that doesn't excuse decisions made outside of waiting for clinical trial data that are just dumb. Here are a few that happened this year.
We'll let the FDA tell you
In October, Cempra's(NASDAQ: CEMP)shares got crushed after disclosing that the Food and Drug Administration had issues with a manufacturing plant owned by Wockhardt, the contract manufacturer responsible for making Cempra's antibiotic solithromycin that is currently under review by the FDA.
You could argue that the manufacturing issues were out of the company's hands, although picking a manufacturer that was following good manufacturing practices certainly would have avoided the issue. Unfortunately, that wasn't even the dumbest move by Prabhavathi Fernandes, Cempra's president and CEO this year.
Less than a week later, the FDA released documents for Cempra's advisory committee meeting to review solithromycin that highlighted potential liver damage solithromycin might be causing. Not disclosing the potential liver issues before the FDA briefing documents was a huge mistake as the 61% decline after the FDA disclosure clearly showed. Managing investors' expectations is one of the top jobs of a CEO.
Taking the long road
Keeping with the theme of managing investors' expectations, shares of Amicus Therapeutics (NASDAQ: FOLD) tumbled this week after announcing that it'll need to run a new trial before applying for FDA approval of its Fabry disease drug, migalastat, which goes by the brand name Galafold. The drug is already on the market in Europe, but the FDA decided that the kidney biomarker data used to gain approval in Europe wasn't enough for a stateside approval.
When asked about how the discussions with the FDA were going earlier this month, Amicus' chairman and CEO John Crowley declined to comment, "We'll only confirm that we will provide an update by the end of this quarter." Perhaps a better description of how negotiations with the FDA were going would have softened the blow.
Going it alone
The year didn't start out all that well for MannKind (NASDAQ: MNKD), with Sanofihanding back rights to MannKind's inhaled insulin, Afrezza, but Matthew Pfeffer, Mannkind's CEO, made it worse by continuing the marketing of Afrezza.
Sanofi, an insulin marketing powerhouse, sold about $5.5 million worth of Afrezza through the first nine months of 2015, but Pfeffer believed MannKind could do better on its own. The biotech started selling Afrezza in late July and managed $0.6 million in sales during the remaining two months of the third quarter.
While things could turn around, Mannkind would likely have been better off shelving Afrezza and investing whatever it will spend on selling the insulin on developing another drug using its inhaled drug technology.
I guess that wasn't the problem
Image source: Getty Images.
In July, the FDA put Juno Therapeutics' (NASDAQ: JUNO) ROCKET trial on clinical hold after two patients died from cerebral edemas. Juno believed the side effect was due to a protocol change that added fludarabine as part of the treatmentgiven to patients before the JCAR015 CAR-T cells are infused into the patient.The FDA agreed and quickly removed the hold after Juno said it would stop using fludarabine.
But then two more people died of cerebral edemas, and ROCKET went back on a clinical hold. Clearly, it wasn't the fludarabine that was the problem -- or, at least, the only problem.
It's tough to say Hans Bishop, Juno's president and CEO, made a dumb move, since fludarabine seemed like the likely culprit. But assuming the obvious possibility was the case and not investigating further cost the company time and money.
Lessons to be learned
From an investor's perspective, many of these "dumb" moves were hard to avoid investing in because either companies willfully kept information from investors or they proceeded down seemingly obvious paths that would have resulted in benefits for the company and investors if they turned out to be correct. Many dumb decisions only look so in hindsight.
The moral of the story here is thatinvestors need to remember that the risk of these CEO decisions are real and set their risk-adjusted valuations accordingly.
10 stocks we like better than Cempra When investing geniuses David and Tom Gardner have a stock tip, it can pay to listen. After all, the newsletter they have run for over a decade, Motley Fool Stock Advisor, has tripled the market.*
David and Tom just revealed what they believe are the 10 best stocks for investors to buy right now... and Cempra wasn't one of them! That's right -- they think these 10 stocks are even better buys.
Click here to learn about these picks!
*Stock Advisor returns as of November 7, 2016
Brian Orelli has no position in any stocks mentioned. The Motley Fool recommends Juno Therapeutics. Try any of our Foolish newsletter services free for 30 days. We Fools may not all hold the same opinions, but we all believe that considering a diverse range of insights makes us better investors. The Motley Fool has a disclosure policy.