Biotech Stocks: What to Watch in 2017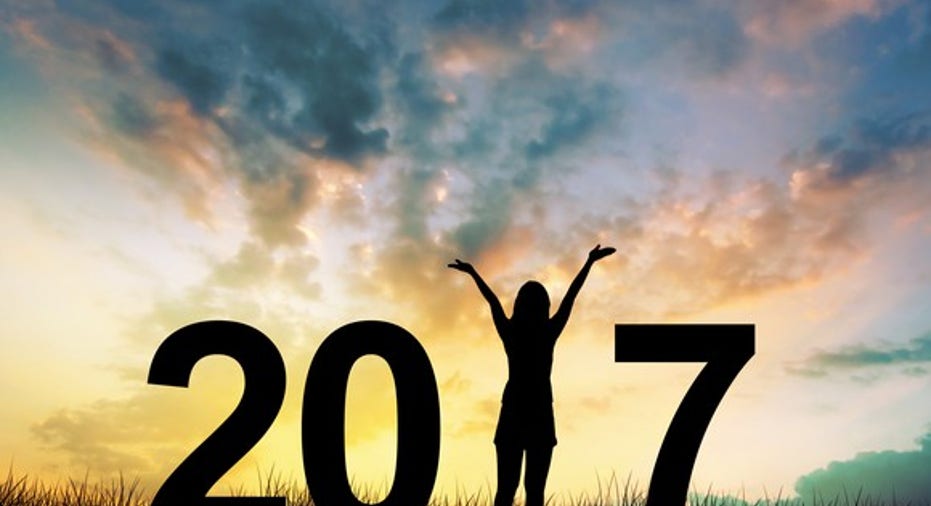 You probably didn't like 2016 very much if you owned biotech stocks. Many biotech stocks, including some solid ones, performed dismally. A new year is now upon us, though, bringing with it hope, opportunity, and threats, too. Here are the most important things to watch in 2017 for biotech stocks.
Image source: Getty Images.
Acquisitions
Biotech investors love a good acquisition. Look for plenty of action on the buyout scene in 2017. Why? Several large companies need to bolster their pipelines and have plenty of cash to spend doing so.
The poster child for an acquisition-needy biotech has to be Gilead Sciences (NASDAQ: GILD). If there was a biotech equivalent to the "Bad News Bears" from the 1976 comedy movie, Gilead would probably be it. Gilead experienced multiple clinical failures on top of seeing sales of its biggest-selling drugs tank. The company enters the new year needing something to reenergize investors. A smart acquisition just might do the trick.
Which smaller company could be scooped up by Gilead? Incyte (NASDAQ: INCY) is perhaps the favorite target among the investment community. Gilead CEO John Milligan has publicly expressed his desire to beef up the company's cancer drug lineup. Incyte's Jakafi and pipeline of candidates targeting various forms of cancer would certainly check off that box.
However, my prediction is that Gilead will instead pick one or more biotechs with smaller market caps. There are plenty of alternatives that would come at a cheaper price than Incyte. I expect we'll see Gilead (and others) buy several of these smaller biotechs during 2017.
New launches
Several potential blockbuster drugs will launch in a significant way in the new year. How well they perform should be big news for biotech stocks.
A great example is spinal muscular atrophy drug Spinraza. Biogen (NASDAQ: BIIB) and Ionis Pharmaceuticals (NASDAQ: IONS) received just a few days ago. Ionis first developed theantisense oligonucleotide drug, but Biogen exercised its option to commercialize Spinraza in August after positive results were announced from a late-stage clinical study.
Analysts project that Spinraza could reach peak sales between $1 billion and $2 billion. A strong launch for the drug would help Biogen, which has experienced some clinical setbacks and needs a new source of growth outside of its multiple sclerosis franchise. Ionis would also reap rewards if Spinraza storms out of the gate. The biotech stands to receive up to $150 million in milestone payments plus tiered royalties from sales of the drug.
Clinical updates
Updates from drugs that haven't been approved yet will also be very important to biotech stocks in 2017. Late-stage clinical updates will be especially critical.
There are far too many key clinical updates to watch in 2017 to mention them all. However, I plan to watch at least two very closely: cardiovascular outcomes study results for cholesterol drugs Repatha and Praluent.
Amgen (NASDAQ: AMGN) expects to announce results from its cardiovascular study of Repatha in the first quarter of 2017. Regeneron (NASDAQ: REGN) and Sanofi (NYSE: SNY) won't have preliminary results from a cardiovascular outcomes trial for Praluent until Dec. 2017.
Both studies come with major consequences. Although Repatha and Praluent are already on the market, payers have erected barriers that have limited the drugs' success. If the clinical updates show that the drugs lower cardiovascular risk, those barriers could be removed -- paving the way for Amgen, Regeneron, and Sanofi to enjoy big revenue increases from their potential blockbuster PCSK9 inhibitors.
Washington, D.C.
We can't leave out watching the politicians in Washington, D.C. One of the primary reasons that many biotech stocks didn't perform well in 2016 was the threat of legislative changes that could limit how much companies charge for prescription drugs. It's possible, if not probable, that this threat carries over into the new year.
President-elect Donald Trump has stated that he will "bring down drug prices." He has also previously supported allowing Medicare to negotiate directly with pharmaceutical companies, a move that could reduce many drugmakers' revenue and earnings.
There could be positive developments for biotechs as well, though. If Trump's proposals to reduce corporate taxes and allow a one-time repatriation of cash held overseas with a heavily discounted tax rate are enacted, it would benefit several big biotechs.
Better or worse?
My hunch is that acquisitions will help some big biotechs like Gilead Sciences improve their prospects -- while enriching shareholders of their buyout targets. I look for several strong product launches, including Spinraza. Just as in previous years, some clinical studies will succeed and some will fail.As for what happens in Washington, D.C., there will be changes -- good, bad, and ugly.
Will 2017 be better for biotech stocks than 2016? I think so. A new year always bring hope.
10 stocks we like better thanWal-MartWhen investing geniuses David and TomGardner have a stock tip, it can pay to listen. After all, the newsletter theyhave run for over a decade, the Motley Fool Stock Advisor, has tripled the market.*
David and Tomjust revealed what they believe are theten best stocksfor investors to buy right now... and Wal-Mart wasn't one of them! That's right -- theythink these 10 stocks are even better buys.
Click hereto learn about these picks!
*StockAdvisor returns as of December 12, 2016The author(s) may have a position in any stocks mentioned.
Keith Speights owns shares of Gilead Sciences. The Motley Fool owns shares of and recommends Biogen, Gilead Sciences, and Ionis Pharmaceuticals. Try any of our Foolish newsletter services free for 30 days. We Fools may not all hold the same opinions, but we all believe that considering a diverse range of insights makes us better investors. The Motley Fool has a disclosure policy.