Biogen Quietly Abandons a Key Next-Gen Multiple Sclerosis Drug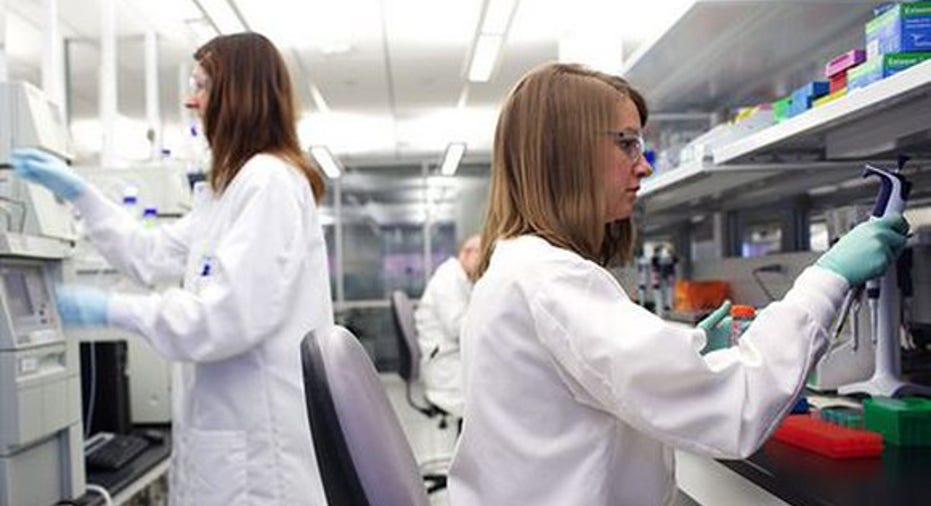 Biogen Inc. (NASDAQ: BIIB)controls over 30% of market share in the $19 billion (and growing) multiple sclerosis drug market, but a recent decision to abandon development of MT-1303 calls into question whether or not Biogen can maintain its dominance in the indication over time -- especially due to advancing MS programs at competitors Novartis (NYSE: NVS) and Celgene (NASDAQ: CELG).
Image source: Biogen, Inc.
Improving treatment
MS is a central nervous system disorder caused when the immune system incorrectly damages the protective myelin sheath surrounding nerve fibers, causing nerves to lose their ability to transmit information quickly and efficiently.
Over the past five years, there's been a significantshift from injection drugs to oral MS drugs that reduce patient burden, boost adherence, and slow disease progression. One of the most intriguing of these oral drugs is Novartis' Gilenya, Gilenya is a S1P modulating drug that the FDA approved in 2010. It works by targeting four of the five S1P receptors to prevent immune cells from leaving a patient's lymph nodes so that they can't damage the myelin sheath.
Studies in human trials suggest that Gilenya can significantly reduce disease progression. In 2015, pooled trial data evaluating patient relapses, MS-related brain shrinkage, MRI lesions, and disability progression over a certain period of time found that27.1% of the patients treated with Gilenya met these criteria at the year one mark versus 9.1% who were treated with placebo.
Gilenya's solid efficacy has turned it into the second best-selling oral MS therapy behind Biogen's Tecfidera. In the first nine months of this year, Gilenya's sales were 15% year over year to $2.3 billion.
However, Gilenya isn't a perfect drug. Some patients see their heart rate drop considerably after their first dose, and that's kept doctors from prescribing Gilenya to patients with cardiac risk factors. Additionally, a rare brain disease, PML, has occurred in a very small number of Gilenya patients.
In recognition of the fact that the Gilenya provides strong efficacy, but its safety concerns crimp its peak sales potential, researchers at Novartis, Celgene, and Biogen (via a license with Mitsubishi Tanabe), have been working hard to develop more selective S1P therapies that target fewer S1P receptors.
Image source: Biogen Inc.
Perhaps the most widely known of these next-generation S1P modulators is Celgene's ozanimod. Celgene acquired ozanimod when it bought Receptos for $7.2 billion in 2015.
While Gilenya interacts with four out of five S1P receptors, ozanimod is specific to S1P1 and S1P5 receptors. In trials, ozanimod, which has a much shorter half-life than Gilenya, has so far proven to be effective without causing a drop-off in heart rate. Currently, ozanimod is in phase 3 studies and data is expected next year.
Novartis' selective S1P drug, BAF312, is also advancing through human trials. In August, Novartis' reported that BAF312, which also interacts with S1P1 and S1P5, appears safe and effective in patients diagnosed with secondary progressive MS. Most MS patients eventually progress to the secondary progressive MS and these phase 3 findings suggest Novartis will be discussing with regulators the potential to commercialize the drug soon. Novartis is also studying BAF312 in relapsing-remitting MS patients and positive phase 2 findings were reported in September.
Since a better S1P targeting MS therapy could significantly reshape MS treatment and Celgene and Novartis S1P programs are racing forward, it's probably not surprising that Biogen stepped up and licensed its own S1P therapy from Mitsubishi Tanabe in September 2015.
In that deal, Biogen gave Mitsubishi $60 million upfront and agreed to pay up to $484 million in milestone payments to get its hands on MT-1303, a drug withpotent selectivity for S1P1, high selectivity for S1P5, minimal agonist activity for S1P4, and no distinct agonist activity for both S1P2or S1P3. When Biogen licensed MT-1303, Biogen's chief medical officer, Alfred Sandrock, said, "Webelieve that MT-1303 could be a best-in-class S1P modulator."
Changing tune
When Biogen licensed MT-1303, some questioned why Biogen was able to pay so little when Celgene had to pay so much for Receptos.
Now, we appear to have our answer. WhileBiogen's previous comments suggested management believed MT-1303 had billion dollar blockbuster potential, and that MT-1303 could hold its own against ozanimod and BAF312, a recent assessment led Biogen's management to back sharply away from that position during the company'sQ3 earnings conference call.
Clearly, Ehlers, who joined Biogen from Pfizer in April, and who was referred to, by Biogen CEOScangos, as "a brilliant neuroscientist," isn't nearly as confident in MT-1303's ability to differentiate itself from competitors S1P drugs. Instead, Ehlers plans to focus the company's research and development efforts on other programs, including alternative MS drugs and therapies for Alzheimer's disease and Parkinson's disease.
Tying it together
Ehlers' decision may have been influenced by a number of things. First, MT-1303's mid-stage studies didn't involve patients with cardiac risks, so he might've worried that comparing MT-1303's safety profile versus other S1P's might not be accurate without further research. Second, MT-1303 had yet to enter phase 3 MS trials, meaning that any additional research could push the drug's commercialization timeline even further behind competitors. And thirdly, MT-1303 appears to be somewhat less-specific in targeting S1P receptors than ozanimod and BAF312, which may have raised concerns.
Overall, Biogen hasn't offered up specific insight into its decision, so we're left to guess. However, assuming that Biogen's decision was driven by the competitive landscape, and not a classwide safety concern, then it appears that Novartis and Celgene will face off against one less competitor. Given the size of the MS market, that R&D development could prove to be worth billions of dollars in sales to these two companies over time.
A secret billion-dollar stock opportunity The world's biggest tech company forgot to show you something, but a few Wall Street analysts and the Fool didn't miss a beat: There's a small company that's powering their brand-new gadgets and the coming revolution in technology. And we think its stock price has nearly unlimited room to run for early in-the-know investors! To be one of them, just click here.
Todd Campbellowns shares of Celgene.Todd owns E.B. Capital Markets, LLC. E.B. Capital's clients may have positions in the companies mentioned.Like this article? Follow him onTwitter where he goes by the handle@ebcapitalto see more articles like this.
The Motley Fool owns shares of and recommends Biogen and Celgene. Try any of our Foolish newsletter services free for 30 days. We Fools may not all hold the same opinions, but we all believe that considering a diverse range of insights makes us better investors. The Motley Fool has a disclosure policy.