Biogen Inc Earnings Explode Higher, Revenue Not So Much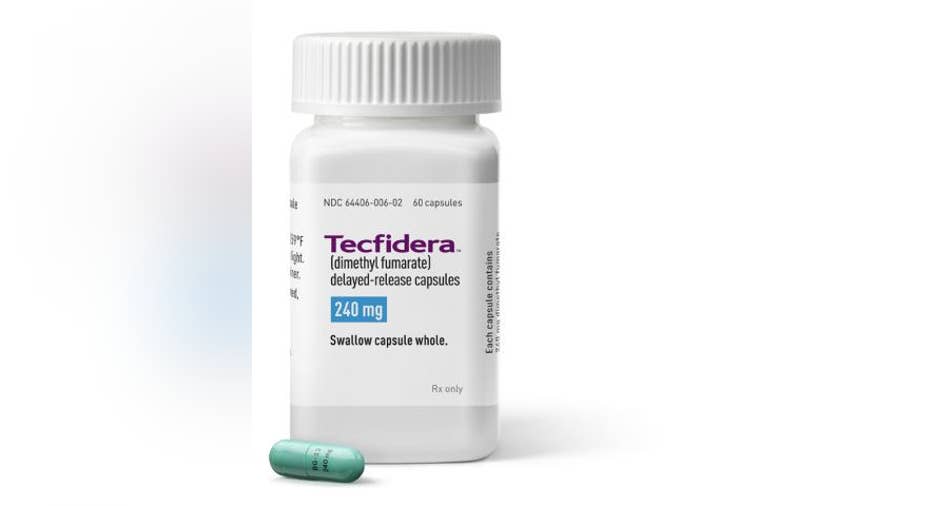 Biogen reported earnings on Thursday with revenue that fell short of expectations, but the biotech was able to cut enough costs to produce a substantial increase in earnings.
Biogen results: The raw numbers
| | Q1 2016 Actuals | Q1 2015 Actuals | Growth (YOY) |
| --- | --- | --- | --- |
| Revenue | $2,727 million | $2,555 million | 7% |
| Income From Operations | $1,378 million | $1,118 million | 23% |
| Earnings Per Share | $4.43 | $3.49 | 27% |
What happened with Biogen this quarter?
Image source: Biogen. Top-selling Tecfidera saw sales up 15% year over year, but sales decreased 5% quarter over quarter. The sequential drop was expected because there was an increase in inventory in the fourth quarter of 2015 that was drawn down in the first quarter, but it's still clear that growth in sales of the multiple sclerosis medication is waning.
Sales of interferons -- Biogen's older Avonex and newer Plegridy -- decreased 11% year over year as multiple sclerosis patients prefer oral medications such as Tecfidera, Sanofi's Aubagio, and Novartis' Gilenya to injected interferons.
If you look at Biogen's entire multiple sclerosis franchise, including Tysabri and Fampyra, sales were up 2.4% year over year, which isn't particularly great. It appears that, while Tecfidera is still growing, Biogen is losing overall multiple sclerosis market share to Novartis, which reported a 12% increase in sales of Gilenya. Sanofi is scheduled to report first-quarter results on April 29, so we'll have to wait until then to see how Aubagio is performing.
The launch of Biogen's hemophilia drugs are still going well, with Aprolix and Eloctate growing 74% and 101% year over year, respectively. Unlike most of Biogens' drugs, sales of the pair were up quarter over quarter as well, but they remain a small portion of Biogen's product sales, and therefore, their growth doesn't move the revenue needle much.
Cost-cutting measures put in place last year are taking effect with selling, general, and administrative costs dropping 11% year over year. Research and development costs also fell year over year, which also helped the bottom line, but management noted that the decrease was due to a lack of acquisitions and licensing deals, and R&D spending will likely go up in future quarters.
What management had to say Recent articles have claimed Biogen is looking for a buyer for its hemophelia business, but CEO George Scangos wasn't willing to confirm or deny the rumor: "Like you, we read the media reports about our hemophilia business and the subsequent analyst reports. As a matter of policy, we do not comment on speculation, and will not do so in this instance."
Anti-LINGO, which now has a generic name (opicinumab), remains a transformative event for Biogen, with phase 2 data due in the middle of this year. The hope is that opicinumab can take market share if it can improve multiple sclerosis (MS) patients' functioning. "For many MS patients, [drugs that down-regulate the immune system] don't stop the progression. They slow the progression but they don't stop the progression. And so we believe things like LINGO actually are the types of compounds that could actually transform that market and give it additional vibrancy as we move out through the 2020s," Scangos said.
Looking forwardBeyond opicinumab, Biogen's Alzheimer's disease candidate, aducanumab, has the potential to be transformative for the company. The phase 3 trials continue to enroll patients, but we should get some safety data from a phase 1b trial later this year. Biogen has another Alzheimer's drug, BAN2401, that it licensed from Eisai, but it's further back in the clinic.
Nusinersen, which Biogen is developing with Ionis Pharmaceuticals for treatment of spinal muscular atrophy, is scheduled to read out two phase 3 trials early next year. Updated phase 2 data presented this week by Biogen and Ionis Pharmaceuticals showed that the babies getting the drug continue to develop. Both Biogen and Ionis Pharmaceuticals have downplayed the possibility for an accelerated approval based on the uncontrolled phase 2 data, but Scangos noted that the companies "need to do everything that we can to minimize the time to see data from the phase 3 trials," suggesting an interim look at the data might be in order.
The article Biogen Inc Earnings Explode Higher, Revenue Not So Much originally appeared on Fool.com.
Brian Orelli has no position in any stocks mentioned. The Motley Fool owns shares of and recommends Ionis Pharmaceuticals. The Motley Fool recommends Biogen. Try any of our Foolish newsletter services free for 30 days. We Fools may not all hold the same opinions, but we all believe that considering a diverse range of insights makes us better investors. The Motley Fool has a disclosure policy.
Copyright 1995 - 2016 The Motley Fool, LLC. All rights reserved. The Motley Fool has a disclosure policy.