Bill would significantly cut Michigan's high auto premiums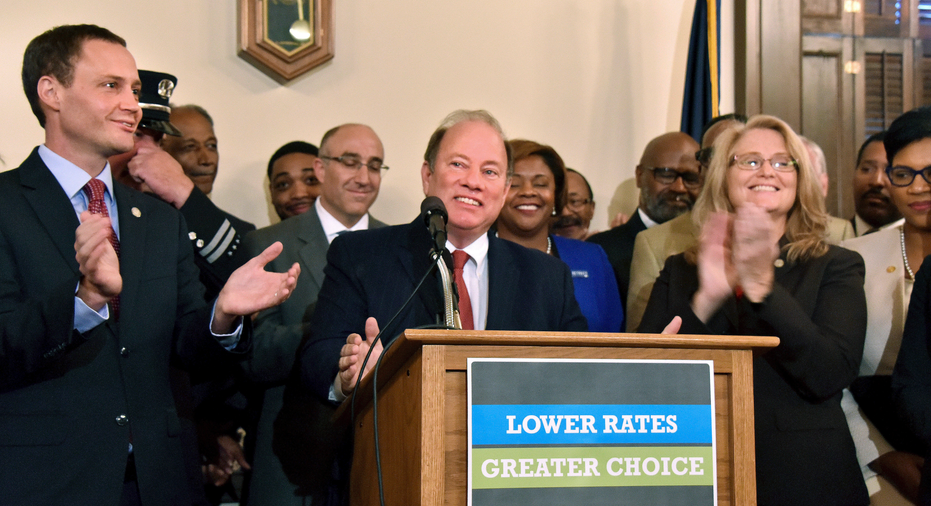 Michigan drivers would no longer be required to buy unlimited medical insurance to cover serious crash injuries under legislation that high-ranking supporters proposed Tuesday to significantly reduce the country's most expensive auto premiums.
Michigan is the only state to mandate unlimited benefits. The bill backed by House Speaker Tom Leonard, Detroit Mayor Mike Duggan and others would let motorists stick with unlimited coverage or instead choose $250,000 or $500,000 of coverage — still a much higher level than is required in all but one other state, New Jersey, where it is $250,000.
Michigan drivers buying $250,000 of coverage would be guaranteed a 40 percent cut in personal injury protection fees, equaling a 20 percent reduction in the overall cost of a comprehensive policy and a nearly 50 percent cut on a basic policy. Those age 62 and older who have Medicare or other retiree health insurance — such as teachers, police and firefighters — could opt out entirely of personal injury protection, saving 35 percent.
"Forty-nine other states are doing just fine without this unlimited system," Duggan, whose city has the highest car insurance rates in the U.S. and where many residents "drive dirty" with no insurance, said at a Capitol news conference. He outlined scenarios where an average driver could save $604 a year under the measure and a senior motorist could save $1,105.
Under another cost-saving provision in the bill, auto insurers would reimburse set fees to health providers for treating people injured in car crashes, similar to how Medicare works. Car insurers now pay three to four times more for X-rays and other medical services than health insurers do.
Many Republican lawmakers, some Democrats, black civil rights leaders, the head of the state Chamber of Commerce and a prominent trial lawyer joined in pushing changes. But the new bill was immediately opposed by a coalition of health providers, plaintiffs' lawyers and patient advocates — whose concerns have blocked past legislative attempts to overhaul the insurance law, including legislation backed by Gov. Rick Snyder four years ago.
Critics said people with paralysis and brain injuries would not "get the care they need" and warned the legislation would shift costs to Medicaid. Proponents countered that their treatment would not stop but would be covered by their health insurer — not their auto insurer — once expenses exceeded $250,000 or $500,000.
In the Senate, Republican Majority Leader Arlan Meekhof opposes government-imposed rate rollbacks and fee schedules for auto-related injuries.
"We have a very broad coalition. That's what it's going to take to get this done," said Leonard, a Republican. The GOP bill sponsor, House Insurance Committee Chairwoman Lana Theis, will begin hearings next week.
Michigan's annual average auto insurance premium is $2,394, highest in the nation, according to Insure.com. The national average is $1,318.
Michigan Health & Hospital Association CEO Brian Peters called the legislation a "nonstarter," saying it would not guarantee rate relief for all drivers, including those choosing unlimited personal injury coverage. Oakland County Executive L. Brooks Patterson, who was seriously injured in a 2012 crash and who holds sway with Republican legislators in Detroit's northern suburbs, called the bill a "robbery" that would benefit high-paid insurance executives.
But Pete Kuhnmuench, executive director of the Insurance Alliance of Michigan, said the system is "broken" and "outdated." The industry group supports three elements to curtail costs: targeting fraud, stopping medical providers from overcharging car insurers and giving consumers a choice in their level of medical coverage. Auto insurers have previously opposed required cuts in premiums but did not immediately weigh in on that component of the bill Tuesday.
___
Follow David Eggert on Twitter at https://twitter.com/DavidEggert00 . His work can be found at https://apnews.com/search/David%20Eggert