Biggest Stock Losers of 2016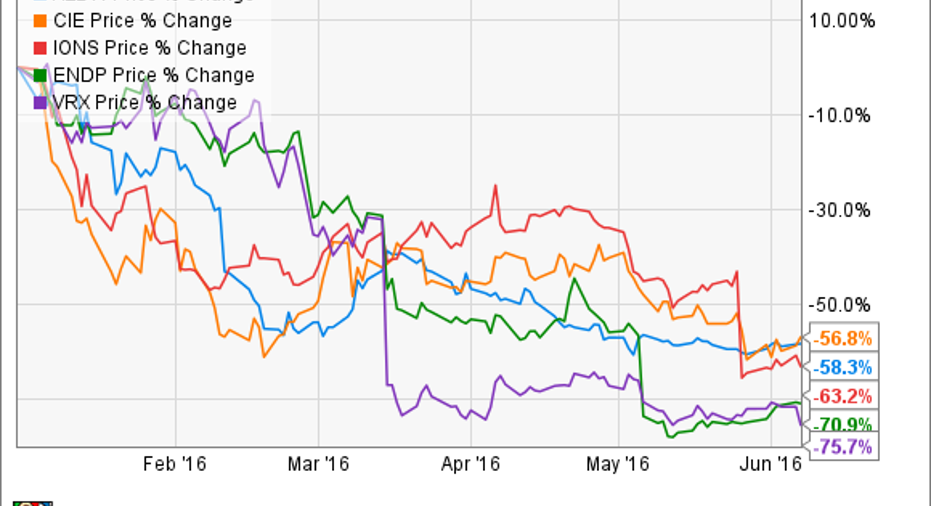 Image source: Getty Images
The S&P 500 is up by 3.5% so far in 2016, but many stocks have performed much worse. Here are the biggest stock losers of 2016 so far, listed in descending order of performance:
Cobalt International Energy
Alon USA Partners
Ionis Pharmaceuticals
Endo International PLC
Valeant Pharmaceuticals
Note: This list only considers stocks listed on the NYSE or NASDAQ with market capitalizations of $500 million or more.
It is unsurprising that all these companies belong to either the energy sector, which suffered from unusually low oil prices, or biotech, a notoriously volatile industry.
1. Cobalt International Energy -- Down 56.7% in 2016
Cobalt is an oil exploration company that has gotten absolutely crushed as a result of falling oil prices. The company has focused its efforts on discovering new oil deposits, and then developing them, a process that takes a long time. A speculative stock, Cobalt recently took another hit when it reported that its planned sale of two exploration blocks is still in negotiations. Since the company needs to sell these assets to meet its funding obligations, this has investors justifiably nervous.
2. Alon USA Partners -- Down 58.3% in 2016
A subsidiary of Alon USA Energy, Alon Partners is a limited partnership that owns and operates an oil refinery in Texas. Essentially the company refines oil into finished products (like gasoline) and markets them through its distribution network. The profits are then distributed to shareholders.
After an excellent year in 2015 -- profit margins remained strong (crude prices fell more than those of finished products) -- things aren't going well so far in 2016. In fact, Alon Partners reported a net loss of $0.14 per share for the first quarter, down from income of $0.58 a year ago. Profit margins were way down -- $7.77 per barrel as compared with $14.43 for 2015 due to narrowing spreads.
3. Ionis Pharmaceuticals -- Down 63.3% in 2016
Formerly known as Isis Pharmaceuticals, Ionis is a biopharmaceutical company focused on RNA-targeted drug discovery and development. In a nutshell, a delay of the phase three trial of one of the company's drugs (IONIS-TTRRx) was announced in May, and caused a massive drop in the stock, on top of an earlier plunge brought on by a wider-than-expected loss in the first quarter. However, the company still has lots of cash on hand with which it can focus on its rather deep development pipeline.
4.Endo International PLC -- Down 71.1% in 2016
Endo is a specialty pharmaceutical company, producing a variety of branded and generic pharmaceuticals, ranging from nasal sprays to painkillers. The main reason for Endo's terrible performance so far this year is the downward revision of its full-year earnings forecasts, which were released with the company's first-quarter earnings. In fact, the company's 2016 earnings estimates dropped to a dismal $0.25 to $0.55 per share range from a previous $2.25 to $2.60. Simply put, this company has been losing money for some time now, and the dramatically lower estimates were the last thing investors wanted to hear.
5. Valeant Pharmaceuticals -- Down 75.7% in 2016
After an already turbulent year full of scrutiny over its accounting and business practices, Valeant is trading for more than 90% less than its 52-week high, and is the market's biggest loser so far in 2016. The recently released first-quarter earnings report isn't helping Valeant repair its reputation. The company told investors in December 2015 that it was expecting $12.5 billion in sales for 2016, and this has now been trimmed to a range of $9.9 billion to $10.1 billion. Earnings estimates were also cut by 22%. With a massive debt load and ongoing accounting issues, it remains to be seen if Valeant can get back on investors' good side.
Are any of these stocks worth buying?
No stock that can shed more than half of its value in just over five months is for the faint of heart, so none of these should be purchased with money you can't afford to lose (like retirement savings). However, all of these companies have the potential to turn things around, so they may be worth a closer look if you have some cash on the sidelines, you're hunting for a bargain, and an antacid for potential heartburn.
The article Biggest Stock Losers of 2016 originally appeared on Fool.com.
Matthew Frankel has no position in any stocks mentioned. The Motley Fool owns shares of and recommends Ionis Pharmaceuticals and Valeant Pharmaceuticals. Try any of our Foolish newsletter services free for 30 days. We Fools may not all hold the same opinions, but we all believe that considering a diverse range of insights makes us better investors. The Motley Fool has a disclosure policy.
Copyright 1995 - 2016 The Motley Fool, LLC. All rights reserved. The Motley Fool has a disclosure policy.