Big Signs That Under Armour Growth Is Ready to Skyrocket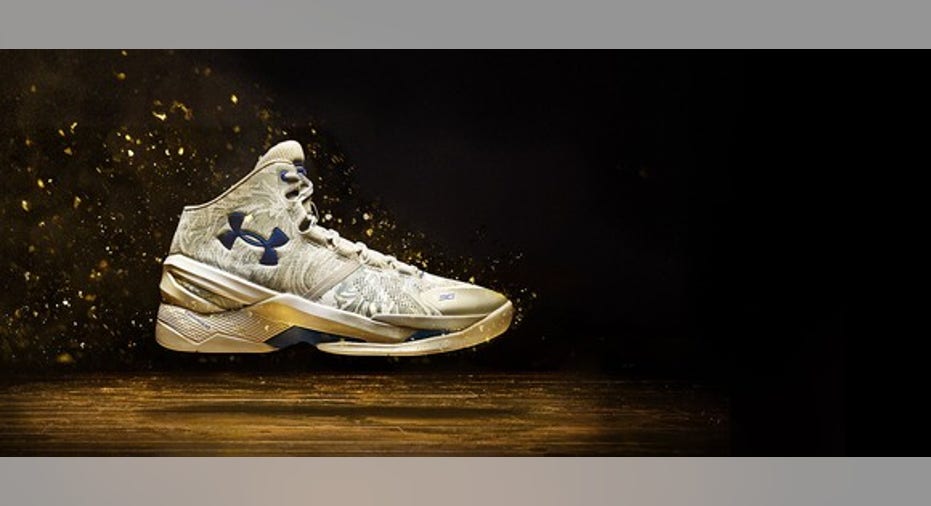 Image source: Under Armour.
Athletic-apparel company Under Armour has increased sales at a rapid pace since going public in 2005, helpingits valuation grow roughly 2,000% across the stretch. And its growth story could still be heating up.
Brand strength and visibility continue to improve, and the company appears to be on a sustainable upward swing, delivering 31% year-over-year revenue growth in its last fiscal year and guiding for 24% sales growth in the current quarter compared to the prior-year period. Given the right conditions, the business has even more room to run.
To get an idea of what Under Armour's growth path might look like, we assembled a panel of Motley Fool contributors to discuss some of the signs that indicate the company's sales are headed for the stratosphere.
Demitri Kalogeropoulos: Last quarter, Under Armour earned more revenue in China than it had over the full year of 2014. That's just one example of the game-changing opportunity the retailer has in its international business.
Sales in that segment spiked higher by 56% last quarter, which contributed to UA's 30% overall revenue boost. It collected 14% of sales from international markets, up two percentage points from the year-ago period. Compare that to the 54% of sales thatNike gets from geographies outside the United States, and its clear that there is a long runway for growth ahead. For its part, Under Armour targets having roughly 20% of sales come from international markets by 2018.
It won't be easy to hit that target. After all, Nike spends $3 billion every year on making sure its name is constantly in front of sports fans around the world. Branding events, advertising, and marketing all factor into what the apparel and footwear titan calls its "demand creation expense," which is nearly equal to Under Armour's entire sales base.
Still, Under Armour doesn't need to reach Nike-level brand status to produce strong global growth. It just has to keep up the solid momentum it's already seeing. In 2015, "every region, every category and every channel exceeded our plans for our international business," CEO Kevin Plank told investors earlier this year. A few more years of that kind of performance could power significant overall sales growth.
Jeremy Bowman: Given its sponsorships with stars such as Stephen Curry, Tom Brady, and Jordan Spieth and a strong following among competitive athletes, Under Armour has made itself a force to be reckoned with in the performance-apparel market, on par with competitors such as Nike and Adidas.
But the brand has lagged with the more casual, fashion-conscious customer, arguably Under Armour's biggest opportunity going forward. In the basketball shoe market, for example, roughly 85% of purchases are intended for style rather than sport.
Under Armour is taking its first major step to change that this fall with the launch of its new sportswear or casualwear line. The company rehired footwear designer Dave Dombrow, who created the Curry One, after a brief stint with Nike, and has been boosting its ranks to design and promote the new line.
Under Armour's senior vice president of sportswear, Ben Pruess, who joined the company last year after running Adidas Originals, called the new line "the tip of the spear" as an opportunity to redirect the brand into the greater fashion market.
Nike and Adidas derive about 25% of their total revenue, or $12.5 billion, from sportswear, meaning the opportunity is substantial for a company with just around $4 billion in sales last year. Under Armour has proved its ability to penetrate new markets in the past with soaring footwear sales this year, thanks in part to the popularity of the Currys. If the company can make a similar move in sportswear and the larger fashion market, Under Armour should be well on its way to becoming the next Nike.
Keith Noonan:Under Armour is doing a commendable job of building its roster of celebrity endorsers, and success in this area points to huge growth opportunities. At the core of UA's endorsement team is NBA star Stephen Curry, and the partnership with the Golden State Warriors guard looks to be a driving asset in the years to come.
To get an idea ofthe upper range potential that an endorsement deal can offer an apparel company, look toNike's relationship with basketball legend Michael Jordan. He signed with Nike in 1984, and his first Air Jordan sneaker did more than $130 million in sales in the year following its 1985 release. By 1998, Jordan products had done approximately $2.6 billion in sales. Skip ahead to today, and Nike's Jordan brand segment delivers roughly that much in sales annually. By 2020, Nike is targeting $4.5 billion in sales for the brand.
Even though the Golden State Warriors came up short of winning the NBA Finals two years in a row, Curry's back-to-back regular season MVP performances and record-setting play indicate that he is a game changer who deserves to be discussed in the same breath as Jordan and LeBron James, and sales of the Curry 2 are already trending ahead of Nike's most recent LeBron signature shoe. The Curry endorsement also looks to be a key driver in China, where the NBA is the most followed sports league; sales of the athlete's jersey are topping those of every other player, and Under Armour has lots of room to grow.
With Curry acting as MVP of the company's endorsement team, alongside other notable endorsers including Tom Brady and Dwayne "The Rock" Johnson, Under Armour continues to build positive brand associations that could translate into huge sales growth.
The article Big Signs That Under Armour Growth Is Ready to Skyrocket originally appeared on Fool.com.
Demitrios Kalogeropoulos owns shares of Nike. Jeremy Bowman owns shares of Nike. Keith Noonan has no position in any stocks mentioned. The Motley Fool owns shares of and recommends Nike and Under Armour (A Shares). The Motley Fool owns shares of Under Armour (C Shares). Try any of our Foolish newsletter services free for 30 days. We Fools may not all hold the same opinions, but we all believe that considering a diverse range of insights makes us better investors. The Motley Fool has a disclosure policy.
Copyright 1995 - 2016 The Motley Fool, LLC. All rights reserved. The Motley Fool has a disclosure policy.