Big Lots Inc. Posts Smaller Operating Loss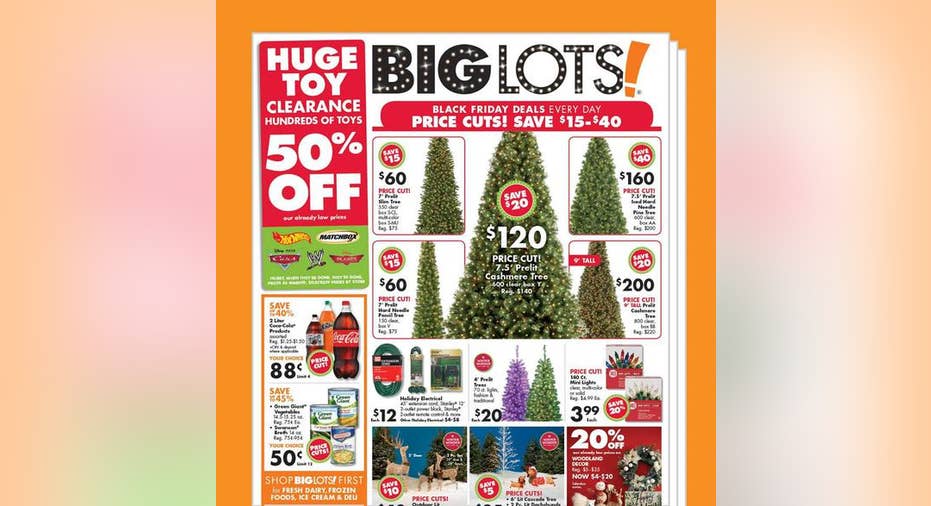 Closeout retailer Big Lots posted third-quarter earnings results on Dec. 4 that showed a smaller net loss and steady sales growth. Yet the company also forecast soft gains ahead for the holiday season, which was probably the reason shares slipped immediately following the announcement.
Here's how the headline numbers stacked up against the prior-year period:
The raw numbers
Source: Big Lots' financial filings.
What happened with Big Lots this quarter?Decent sales growth wasn't quite enough to push Big Lots into the black this quarter, as rising expenses outweighed an improvement in gross profitability. Highlights of the quarter include:
Comparable-store sales rose 2.6%, consistent with management's guidance for between 2% and 3% but slightly below the prior quarter's 2.8% boost.
Gross margin improved to 39.4% of sales from 38.9%.
Operating expenses worsened to 36.9% of sales from 36.6%, producing an operating loss of $2.2 million, or almost half of the prior year's $4 million of red ink.
Net loss also fell sharply, dropping to $1.5 million from $3.4 million.
Inventory levels ticked down to $1 billion.
Big Lots closed a net of one store in the quarter, and the total store count fell to 1,463 from 1,495 a year ago.
What management had to sayCEO David Campisi said he and his executive team were happy with the third-quarter performance. "I'm pleased with the results we reported today as [our core customer] continues to respond positively to our strategic improvements in merchandising, marketing, and in-store execution," he said.
Image source: Big Lots.
Following consistently negative comps in 2012 and 2013, Campisi noted that Big Lots has managed nearly two straight years of steady growth. "For the seventh consecutive quarter, our sales comps were positive with notable strength in our ownable and winnable merchandise categories," he said.
Management believes the company is poised to perform well in the fourth quarter. "Our inventory levels were lean and on forecast to end Q3 and we are well-positioned by merchandise category for the all-important Q4 selling season."
Looking forwardBig Lots affirmed its earnings and sales growth guidance for the fourth quarter, projecting non-GAAP adjusted income of $2 per share, up 14% from the prior year. But profitability isn't expected to repeat its encouraging third-quarter performance: The company sees gross margin staying flat in the current quarter.
Comps are still forecast to grow by between 1% and 2% in Q4, which would represent the second quarter in a row of Big Lots posting a declining growth pace. And the projected fourth-quarter uptick would be below the prior year's 3% comps jump.
Still, that gain would mark the retailer's eighth straight quarter of positive comps, demonstrating that the retailer is succeeding in its long-term goal to boost store traffic as it prepares to launch its online business next year.
The article Big Lots Inc. Posts Smaller Operating Loss originally appeared on Fool.com.
Demitrios Kalogeropoulos has no position in any stocks mentioned. The Motley Fool recommends Big Lots. Try any of our Foolish newsletter services free for 30 days. We Fools may not all hold the same opinions, but we all believe that considering a diverse range of insights makes us better investors. The Motley Fool has a disclosure policy.
Copyright 1995 - 2015 The Motley Fool, LLC. All rights reserved. The Motley Fool has a disclosure policy.