Big Gains for Ford in Europe Come at Volkswagen's Expense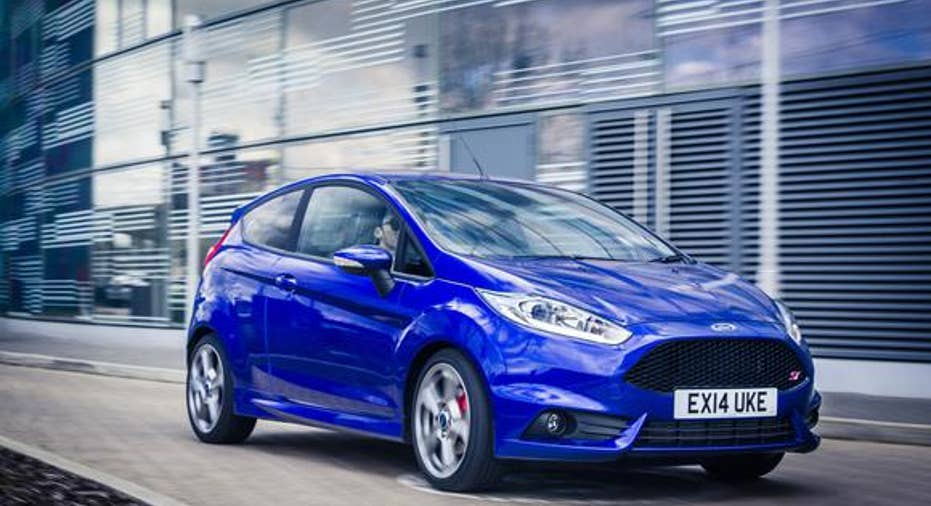 Look familiar? It should: Ford's new-to-Europe Mondeo is a near-twin of the Fusion. Sales are up 76% this year through November. Image source: Ford Motor Company.
Ford Motor Company may not be turning a consistent profit in Europe yet. But its European turnaround effort is still bearing fruit: Sales are up in a big way.
Ford said its sales in Europe rose a whopping 20% in November, on rising demand for its latest models and continued strong sales of commercial vehicles.
That's well ahead of the overall European market's 13.7% gain, and it looks like a lot of that gain came at the expense of a heavyweight rival: Volkswagen .
How Ford is gaining ground in the Old WorldFord has lost billions in Europe over the last few years. Back in 2012, then-CEO Alan Mulally launched a major turnaround effort for Ford's European branch, seeking to bring it back to profitability by mid-decade.
Mulally's plan had several key components. Cost cuts were part of it, but the essence of the plan was to bring a slew of new models to Europe to help Ford increase its retail market share.
That's now happening. Ford has tapped its global product portfolio to expand its European lineup into market segments that it didn't contest before, and to revamp its existing offerings with strong new entries from around the world.
For instance, Ford sold a model called the Mondeo in Europe, a midsize sedan that was dated and somewhat expensive to produce. Ford closed the underutilized Belgian factory that made it and set up a new production line in Spain to produce an all-new Mondeo that is essentially a Europeanized Fusion.
That car gets the benefit of global economies of scale -- and because the Fusion/Mondeo was planned from the start as a global model, Ford was able to spend more on it, resulting in a very good, very competitive car. That Fusion-based Mondeo was launched in Europe at the end of last year, and results have been great: Sales in 2015 are up 76% over the old model.
Europe's best-selling small car in 2015: Ford's Fiesta. Image source: Ford Motor Company.
Meanwhile, sales of the Kuga SUV, twin to the Escape, are up 19% year to date. Sales of the revamped C-Max are up 25%, and the Fiesta continues to be Europe's top-selling small car in 2015. And Ford's commercial vans and Ranger pickup have given the Blue Oval its largest share of Europe's commercial-vehicle market since 1996.
Still, if Ford's sales gains are outpacing the finally recovering European market's, that means someone else is losing ground. And that "someone else" appears to be Volkswagen.
Volkswagen, on the other hand, had a hard month in EuropeEuropean sales for the overall Volkswagen Group were up just 4.2% in November, well behind the overall market's gain. It appears that while many in Europe's media seem to see VW's diesel-emissions scandal as mostly a United States matter, European car shoppers suddenly seem to be wary of the German auto giant's offerings.
Sales at the core VW brand were up just 3.1% in November, and its market share fell to 12.2% from 13.5% a year ago. The premium Audi brand managed just a 4.1% gain, and even Porsche appeared to have been affected, with European sales up just 4.9% in November.
Analysts think this might be just the beginning. The sales made by VW in November represent orders made as much as three months ago. Given that the scandal broke in mid-September, VW's sales results in its home market might look even worse over the next few months.
The upshot: Ford is well-positioned to take advantage of VW's woes With a number of new and recent models in its European lineup, and with many dealers freshly revamped to be more welcoming to retail buyers (another part of Mulally's turnaround plan), Ford is in a good position to pick up sales from past VW customers looking for alternatives.
If Ford's sales gains in Europe continue, a sustainable profit might soon follow. That would be very welcome news for Ford shareholders.
The article Big Gains for Ford in Europe Come at Volkswagen's Expense originally appeared on Fool.com.
John Rosevear owns shares of Ford. The Motley Fool recommends Ford. Try any of our Foolish newsletter services free for 30 days. We Fools may not all hold the same opinions, but we all believe that considering a diverse range of insights makes us better investors. The Motley Fool has a disclosure policy.
Copyright 1995 - 2015 The Motley Fool, LLC. All rights reserved. The Motley Fool has a disclosure policy.