Better Value Play: Western Digital Corp. or Seagate Technology PLC?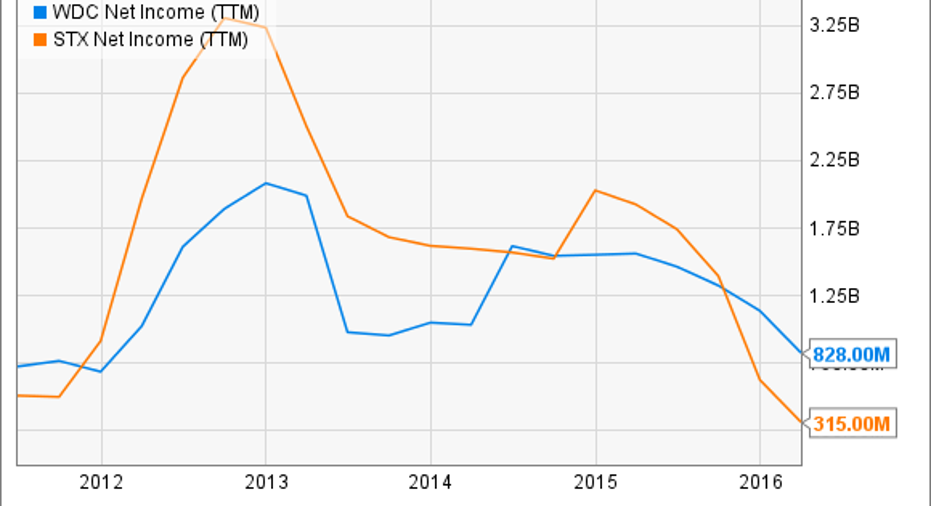 Hard-drive makers Western Digital and Seagate were both recently pummeled after reporting dismal third-quarter earnings. Both companies were hit hard by a slowdown in PC sales and the cannibalization of HDDs (hard-disk drives) by SSDs (solid-state drives).
Image source: Pixabay.
Shares of WD and Seagate have both declined more than 60% over the past 12 months, which boosted their dividend yields to historic highs. But does that make either stock an attractive income-generating value play?
How bad were the numbers?During the first quarter, WD's revenue fell 20.6% annually to $2.82 billion, which missed forecasts by $40 million. Seagate's revenue dropped21.9% to $2.6 billion, which matched estimates. Both companies' revenues have been falling ever since 2013 and aren't expected to bottom anytime soon.
Source:YCharts.
WD's hard drive shipments declined 21% annually to 43.1 million as sales into notebooks, desktops, consumer electronics, branded devices, and enterprise products all weakened. Seagate's shipments declined 22% to 39.2 million, with enterprise and client computing drive sales falling but consumer electronics and branded shipments slightly rising.
Both companies' non-GAAP gross margins narrowed. WD's declined from 30.5% a year ago to 28.1%, while Seagate's fell from 28.9% a year ago to 22.7%. That decline caused WD's non-GAAP net income to fall 26% annually to $283 million, or $1.21 per share, missing estimates by $0.07. Seagate's non-GAAP net income plunged 82% to $66 million, or $0.22 per share, which came in $0.15 below expectations. The long-term chart also reveals a clear downtrend in earnings growth.
Source:YCharts.
Pivoting toward new marketsWD is trying to offset its losses in HDDs by pivoting toward SSDs and flash memory. It's doing this inorganically through the acquisitions of Hitachi's hard drive business, SSD maker STec, enterprise storage company Virident Systems, storage software maker Velobit, flash storage array maker Skyera, and flash storage giant SanDisk . After the SanDisk deal closes, WD will control around 14% of the global SSD market, making it the second largest vendor after market leader Samsung.
WD also expects the full integration of HGST (Hitachi Global Storage Technologies) -- which was cleared by Chinese regulators last October -- to generate $800 million in cost savings by the end of 2017, up from its prior guidance of $650 million.
Seagate spent a lot of money consolidating the fragmented HDD market over the past decade, but it's spent a lot less money on SSDs and flash memory. The company's main foothold in that market is a multi-year NAND supply and enterprise SSD alliance with Micron , which controls around 10% of the SSD market. It also produces SSHDs (solid-state hybrid drives), which boot up faster than an HDD but cost much less than an SSD. Like WD, Seagate will generate some cost savings from its full integration of Samsung's HDD operations, whichwas also approved by Chinese regulators last year.
But investing in SSDs might not be enoughWD and Seagate are trying to counter the cannibalization of their core HDD businesses by diversifying into SSDs, but both companies could merely be shifting from one commoditized market into another.
DRAMeXchange claims that 2.5" SSDs cost 11 times more than HDDs on a dollar per GB basis in 2012, but they now only cost about 6.5 times as much. The company expects that gap to narrow to 2.8 times in 2017 and potentially achieveprice parity a few years later. If this happens before WD and Seagate diversify enough of their business away from HDDs, their core businesses could collapse.
Valuations and dividendsWD trades at 9 times earnings, and Seagate has a higher P/E of 18, but both ratios remain lower than the industry average of 23 for data storage companies. Looking ahead, analysts expect WD's earnings to fall 1.5% annually over the next five years, while Seagate's earnings are expected to decline 6%.
WD's forward dividend yield of 5.1% looks sustainable with a payout ratio of 44%, but the company suspended buybacks to pay off debt related to the SanDisk acquisition. Meanwhile, Seagate's forward dividend yield of 13% looks completely unsustainable with a payout ratio well over 200%.
The better value play: Western DigitalWD and Seagate are both in bad shape, but WD is clearly the better pick. Its margins are higher, its valuations are lower, its dividend is sustainable, and it's better invested in the future through its acquisition of SanDisk. Seagate must make big changes to keep up -- otherwise it could be left in the dust by WD, Samsung, and other major storage players within the next few years.
The article Better Value Play: Western Digital Corp. or Seagate Technology PLC? originally appeared on Fool.com.
Leo Sun has no position in any stocks mentioned. The Motley Fool owns shares of Western Digital.. Try any of our Foolish newsletter services free for 30 days. We Fools may not all hold the same opinions, but we all believe that considering a diverse range of insights makes us better investors. The Motley Fool has a disclosure policy.
Copyright 1995 - 2016 The Motley Fool, LLC. All rights reserved. The Motley Fool has a disclosure policy.