Better Turnaround Play: Square Inc. or Twitter Inc.?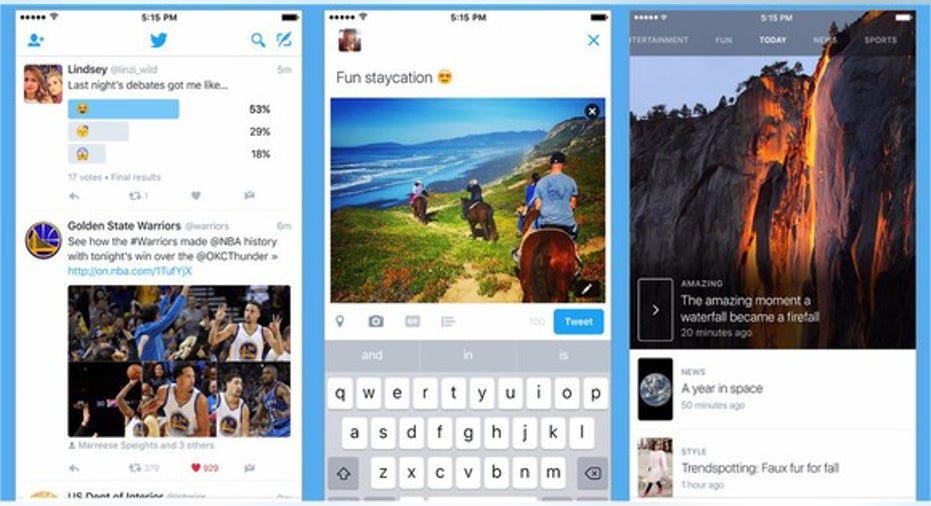 It's been a rough year for Jack Dorsey, the CEO of payments processor Square and social network Twitter . Shares of Square and Twitter have respectively fallen 28% and 36% since the the beginning of the year.
Both stocks were hammered by concerns about growth, profitability, and their ability to compete against bigger rivals. Many investors have also questioned Dorsey's abilityto simultaneously lead two troubled companies. But if we take a closer look at Square and Twitter, is one stock a better turnaround play than the other?
A tale of two underdogs
Square and Twitter are both underdogs in their respective industries. Square processes fewer payments than PayPal , and Twitter has a smaller user base than Facebook .
Square Register. Image source: Square.
Square's total payment volume (TPV) rose 45% annually to $10.3 billion last quarter. By comparison, PayPal's TPV grew31% annually to $81 billion (on a constant currency basis) last quarter. Square only operates in four markets -- the United States, Canada, Japan, and Australia. PayPal is available in over 200 markets.
Twitter's monthly active users (MAUs) grew just 3% annually to 310 million last quarter. That anemic growth compares poorly to Facebook, which reported that its MAUs rose 15% annually to1.65 billion last quarter. This makes advertising on Facebook a top priority for many companies, while Twitter likely becomes a second-tier afterthought.
The problem with Square's business
Square's growth in payment volume looks solid, but its mobile payment business is built on thin margins. Square charges 2.75% percard swipe or paid invoice, 2.9% plus $0.30 for online store transactions, or 3.5% plus $0.15 per manually entered transaction. But after backend costs are deducted, Square only retains about 1% of each payment.
Square's total revenue rose 51% annually to $379.3 million last quarter, beating estimates by $35.7 million. However, that total includes revenue from a lopsided partnership with Starbucks . To secure that partnership, Square gave Starbucks an undisclosed discount on payment fees. In its S-1 filing, Square admits that it lost $56 million on the deal with Starbucks over the past three years. That's why Square won't renew the deal with Starbucks when it expires in the third quarter of this year. Excluding Starbucks revenue and transaction costs, Square's adjusted revenue rose 64% to $146 million.
Profitability remains elusive for Square. Its GAAP net loss widened from $48 million a year earlier to $96.8 million, due to its business model's thin margins. Another major weight on the bottom line was stock-based compensation, which rose 132% annually to $31.2 million. However, its adjusted EBITDA was a loss of just $9 million, a considerable improvement from a loss of $20 million a year earlier.
The problem with Twitter's business
Twitter's biggest problem is its lack of user growth. Back in 2013, former CEO Dick Costolo claimed that the social network would have400 million MAUs by the end of the year. Twitter still hasn't hit that target, since the site arguably serves a niche of self-promoters instead of mainstream users.
Twitter's mobile app. Image source: iTunes.
Twitter tried to broaden its appeal by adding new services, including live videos, mobile payments, group chat, and curated stories. Those new features boosted average revenue per user (ARPU) for several quarters, but ARPU growth has since stalled due to its lack of MAU growth. Twitter also tried to reach smaller advertisers by letting them only pay for the engagements (likes, retweets, follows) that they wanted, but that move enabled existing customers to pay less money for fewer ads.
Twitter's revenue rose 36% annually to $594.5 million last quarter, but that came in $13.3 million below expectations and represented a slowdown from 48% growth in the previous quarter and 74% growth a year earlier. Its GAAP net loss narrowed from $162.4 million in the prior year quarter to $79.7 million, partially due to a 17% decline in stock-based compensation expenses. Adjusted EBITDA rose 73% to $180.5 million.
So which is a better turnaround play?
Square's EV/Sales ratio of 2 is lower than Twitter's ratio of 3.3, meaning that it's slightly cheaper relative to its past sales growth. Looking ahead, analysts expect Square's revenue to improve 27% this year, and for Twitter's to rise 23%.
Neither company will achieve GAAP profitability anytime soon, but Square expects its adjusted EBITDA to turn positive this year with earnings between $8 million to $14 million. Twitter expects its adjusted EBITDA to rise 39% to 49% annually for the current quarter, and to finish the year with an adjusted EBITDA margin between 25% and 27% -- which is comparable to its margin of 27% in 2015.
Square looks cheaper, but Twitter's stronger brand recognition will likely keep it relevant in the social networking market, while Square could disappear in the crowded mobile payments market. Twitter's beefier non-GAAP margins are more attractive, and its gradual reduction of stock-based compensation expenses is encouraging. I'm not saying Twitter will recover anytime soon, but it has a better shot at doing so than Square, which lacks a meaningful moat against bigger competitors.
The article Better Turnaround Play: Square Inc. or Twitter Inc.? originally appeared on Fool.com.
Leo Sun has no position in any stocks mentioned. The Motley Fool owns shares of and recommends Facebook, PayPal Holdings, Starbucks, and Twitter. Try any of our Foolish newsletter services free for 30 days. We Fools may not all hold the same opinions, but we all believe that considering a diverse range of insights makes us better investors. The Motley Fool has a disclosure policy.
Copyright 1995 - 2016 The Motley Fool, LLC. All rights reserved. The Motley Fool has a disclosure policy.